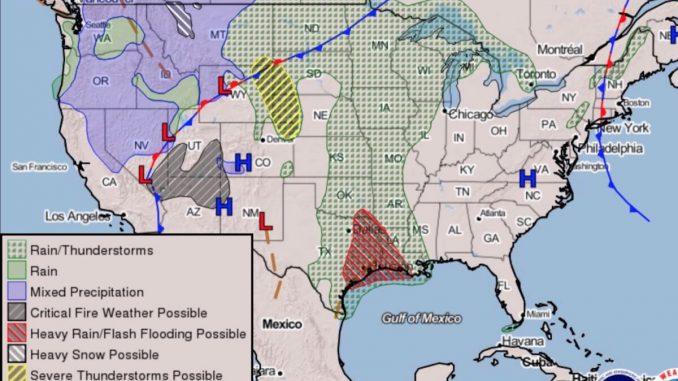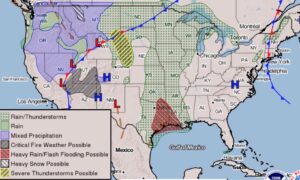 At least two people have died in floodwaters in Louisiana after parts of the state saw over a foot of rain on Monday, according to state authorities.
The Louisiana Department of Health said in a tweet Tuesday that a coroner had confirmed the death of a 33-year-old man found in a flooded vehicle, bringing the number of storm-related deaths to two. Earlier, the state health department confirmed that a 40-year-old man died after crashing into a flooded canal in Port Allen.
Parts of Louisiana have been hit with heavy rainfall, with the National Weather Service saying that Baton Rouge saw more than 10 inches of rain and Lake Charles saw over 12 inches on Monday.
More rain is forecast for parts of Louisiana and other states, with the National Weather Service (NWS) issuing a continued "widespread and significant flood risk" across the south-central United States "from repeated rounds of intense rain and strong to severe thunderstorms."
"The danger of flash flooding will persist for portions of Texas, Oklahoma, Arkansas, Louisiana, and Mississippi tonight and tomorrow," the NWS said in a tweet late Tuesday.
"You never know what condition that familiar road is in beneath murky floodwaters," the agency added.
The Lake Charles office of the National Weather Service said in a tweet that another 10 inches of rain could fall in the area through Thursday.
Our area is in a Flash Flood Watch until Thursday evening. Tuesday through Thursday rainfall totals up to 10 inches will be possible for western areas. #txwx #lawx pic.twitter.com/Jo5DTrygcu

— NWS Lake Charles (@NWSLakeCharles) May 18, 2021
The New Orleans office of the National Weather Service warned in a tweet Tuesday that "a flash flood watch remains in effect and any additional heavy rainfall could lead to flash flooding, especially in areas where the ground is already saturated."
The severe weather prompted Louisiana Gov. John Bel Edwards to issue a State of Emergency Declaration on Monday.
"The Governor's Office of Homeland Security and Emergency Preparedness (GOHSEP) stands ready to support our local partners with any emergency resources needed beyond their capabilities," Edwards said in a statement. "We are only a few weeks away from the start of hurricane season, but this threat is the latest in a string of recent weather threats that remind us of the importance of preparedness and staying informed."
Edwards said in a Tuesday tweet that, "there is still severe weather in the forecast for much of Louisiana over the next few days. Remain prepared for whatever this weather may bring, continue to heed the instructions of local officials, and don't drive through floodwaters."