The Israeli military on Tuesday announced a fresh barrage of strikes targeting the Hamas network of so-called "terror tunnels," further degrading the group's ability to launch attacks against Israel.
Hidai Zilberman, a spokesperson for the Israel Defense Forces (IDF), told reporters that at around 10 p.m. local time, dozens of Israeli planes dropped 122 bombs in less than half an hour on some 40 underground targets along an eight-mile stretch of the tunnel, The Times of Israel reported.
Zilberman said the targets included a command center and weapons storage facilities, adding that he estimates at least 10 members of Hamas and Palestinian Islamic Jihad terror groups were killed.
He said the strikes were concentrated on locations in the southern Gaza Strip, from where most of the rockets targeting Israeli cities were launched.
Earlier on Tuesday, the official IDF Twitter account announced, "Since 8:00 this morning, we have identified and struck 9 underground & above-ground rocket launch sites in Gaza," adding, "We will continue to operate against terrorism."
Zilberman's announcement comes after the IDF said on Monday that it had destroyed 9.3 miles of the tunnel system.
"Our fighter jets neutralized 9.3 miles of the Hamas 'Metro' terror tunnel system overnight. That's 9.3 miles that can no longer be used for terror," the IDF said in a statement on May 17.
Israeli military officials have described the tunnel system as a vast underground network that is enabling Hamas to fight a "war of attrition."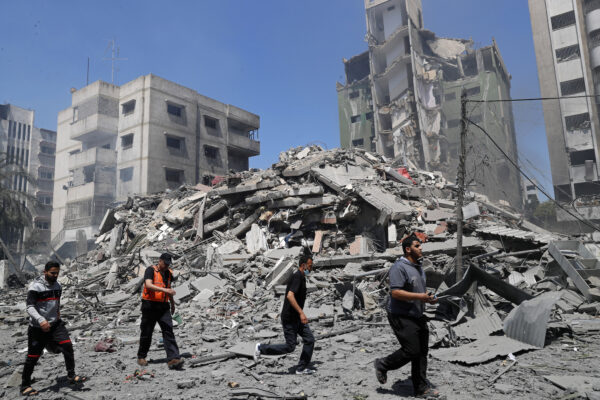 Hostilities broke out on May 10, when Hamas, Islamic Jihad, and other Islamist terrorist groups fired long-range rockets at Jerusalem after weeks of clashes in the holy city between Palestinian protesters and Israeli police. Hamas said its rocket assault was in response to weeks of tensions over a court case to evict several Palestinian families in East Jerusalem, and in retaliation for Israeli police responding to Palestinian protests.
In response, Israel has launched more than 1,000 precision air and artillery strikes aimed at Hamas and other targets that are often built close to civilian landmarks in the densely populated coastal strip.
According to an Associated Press tally, since May 10, at least 217 Palestinians have been killed in Gaza, including 61 children and 36 women, while more than 1,440 people have been wounded. Twelve people in Israel, including a young boy and a soldier, have been killed in Hamas rocket attacks.
While ceasefire moves continue behind the scenes, they have made little progress.