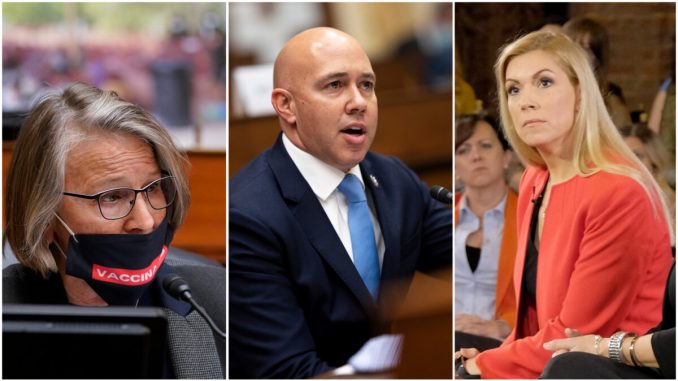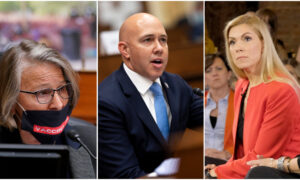 A group of Republican lawmakers, including Rep. Marjorie Taylor Greene (R-Ga.), on Tuesday defied mask rules on the House floor, saying that the face coverings are "oppressive" and "nothing but a political tool."
"Best $500 I ever spent," said Rep. Brian Mast, R-Fla., after he exited the chamber, referring to the House floor mask mandate that penalizes violators $500 for a first offense and $2,500 if they violate the rules again.
It's part of a resolution passed Jan. 12 that states that the sergeant-at-arms "is authorized and directed to impose a fine against a Member, Delegate, or the Resident Commissioner for the failure to wear a mask in contravention of the Speaker's announced policies of January 4, 2021."
The resolution was embedded as an amendment to H.R. Res. 21, which called on then-Vice President Mike Pence to invoke the 25th Amendment to remove former President Donald Trump from office. The House approved that resolution 223–205, even though Pence told House Speaker Nancy Pelosi (D-Calif.) directly he wouldn't invoke the amendment.
Reps. Brian Mast (R-Fla.), Beth Van Duyne (R-Texas) and Mariannette Miller Meeks (R-Iowa) defied the mask mandate Tuesday, as well as Reps. Thomas Massie (-Ky.), Marjorie Taylor Greene (R-Ga.), Lauren Boebert (R-Colo.), Chip Roy (R-Texas), Bob Good (R-Va.), Mary Miller (R-Ill.) and Louie Gohmert (R-Texas).
"Masks are oppressive and nothing but a political tool. End the oppression!" Greene said on Twitter, positing a selfie of herself and three other mask-less lawmakers.
According to a Capitol official cited by the Hill, Mast, Van Duyne, and Miller-Meeks will be fined $500 after ignoring previous warnings about violating the chamber's mask rules, while the rest will be issued a formal warning.
The group of lawmakers refused to wear masks on the House floor after the Centers for Disease Control and Prevention (CDC) updated its guidance to state that people fully vaccinated against COVID-19, the disease caused by the CCP (Chinese Communist Party) virus are generally no longer required to wear masks or social distance.
Previous guidance from the CDC had recommended that people wear masks if they were within six feet of others outside, regardless of their vaccination status.
Following the CDC's recommendation update, Rep. Bob Gibbs (R-Ohio) led a group of 34 Republican lawmakers in urging Pelosi to end pandemic-related restrictions on the House floor, including staggered voting and mask-wearing.
In a letter (pdf) on May 14, Gibbs and his colleagues called on Pelosi to end COVID-19-related restrictions on House operations, with Gibbs adding in a statement that, "it is time to set an example for the American people" and that Pelosi should "follow the science, stop the Mask-erpiece Theatre."
Pelosi told CNN on May 13 that she has no immediate plans to lift the mask mandate, while her spokesperson, Drew Hammill, told Bloomberg that same day that she isn't easing the requirement because it's unknown how many House members and their staff members are vaccinated.
Pelosi's office didn't immediately respond to a request by The Epoch Times for comment.
The Capitol's attending physician, Brian Monahan, meanwhile has said that the mask mandate on the House floor won't be rescinded until all members and floor staff are inoculated.
Zachary Stieber and Tom Ozimek contributed to this report.