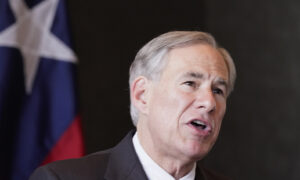 Texas, Indiana, and Oklahoma on Monday announced that they will be joining a growing number of GOP-led states in ending the expanded federal unemployment benefits that were implemented during last year's pandemic relief efforts.
In a letter (pdf) to the Biden administration, Texas Gov. Greg Abbott said that the $300 weekly extra payments under the president's new $1.9 trillion stimulus plan will end on June 26, ahead of its September expiration date.
He joins at least a dozen other governors, all Republicans, who are opting out of the additional federal unemployment benefits this summer. Republicans argue that these benefits have discouraged people from returning to the workforce and have become a drag on the recovery.
Abbott said in his letter that the Texas economy is "booming" and employers are hiring in communities throughout the state. Citing the Texas Workforce Commission (TWC), the Republican governor said that the number of job openings in the state is almost identical to the number of Texans who are receiving unemployment benefits.
That assessment, Abbott said, doesn't include the voluminous jobs that typically are not listed, such as construction and restaurant jobs.
"In fact, there are nearly 60 percent more jobs open (and listed) in Texas today than there was in February 2020, the month before the pandemic hit Texas," the governor said.
Abbott said the state must focus on helping unemployed Texans connect with the more than a million job openings, rather than paying unemployment benefits to remain off the employment rolls.
Action must also be taken to tackle the high level of fraudulent unemployment claims being filed, he said.
"TWC estimates that nearly 18 percent of all claims for unemployment benefits during the pandemic are confirmed or suspected to be fraudulent, which totals more than 800,000 claims, worth as much as $10.4 billion, if all claims had been paid," his office asserted.
Other expanded unemployment benefits in Texas, including one making gig workers and the self-employed eligible for assistance for the first time, will also end in June.
Indiana and Oklahoma announced similar measures on Monday, and will be ending the weekly payments on June 19 and June 26 respectively.
Responding to pleas from businesses to encourage Americans to return to work, Republican leaders from the states of Arkansas, Georgia, Montana, and South Carolina have also said recently that they will be slashing the extended weekly unemployment benefits. Other states that have announced similar moves include Alabama, Arizona, Idaho, Iowa, Mississippi, Missouri, North Dakota, South Dakota, Tennessee, Utah, and Wyoming.
The American Action Forum, a center-right policy institute, said in a February report that 37 percent of workers could make more on unemployment at the $300 level than they would earn if they returned to work.
The Department of Labor reported earlier this month that jobs growth in the nation was much lower than predicted, with only 266,000 jobs being added in April compared to an estimated 1 million. The national unemployment rate rose from 6 percent in March to 6.1 percent in April.
President Joe Biden meanwhile has warned that Americans must accept suitable job offers or risk losing their financial assistance.
"If you're receiving unemployment benefits and you're offered a suitable job, you can't refuse that job and just keep getting unemployment benefits," the president said last week.
The Associated Press contributed to this report.