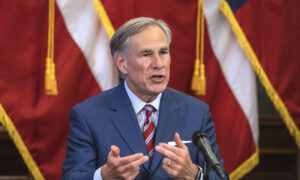 Texas Gov. Greg Abbott on Tuesday issued an order barring local governments and schools from requiring face masks indoors, coming just days after federal health officials relaxed guidance around face coverings for vaccinated people.
Local Texas governments have to get rid of their mask mandates by May 12, said Abbot's executive order, and schools have to do the same by June 4. If local governments fail to comply, they could face fines of up to $1,000, said a press release from the governor's office.
"The Lone Star state continues to defeat COVID-19 through the use of widely-available vaccines, antibody therapeutic drugs, and safe practices utilized by Texans in our communities," the Republican governor said in a news release. "Texans, not government, should decide their best health practices, which is why masks will not be mandated by public school districts or government entities."
Abbott, in a tweet, said that it should be up to Texans, not the government, to "decide their best health practices."
It comes as Texas recorded zero COVID-19 deaths for the first time since tracking pandemic data, Abbott said on May 16. He also noted that the state reported the fewest number of CCP (Chinese Communist Party) virus, or novel coronavirus, cases in more than 13 months and the lowest number of hospitalizations for the virus in 11 months.
When the governor announced that the state would lift its mask statewide mandate on March 2, Democrat lawmakers and President Joe Biden lashed out at him and alleged the number of CCP virus cases would rise.
Abbott on Tuesday explained that Texans "can continue to mitigate COVID-19 while defending Texans' liberty to choose whether or not they mask up."
The U.S. Centers for Disease Control (CDC) and its director, Rochelle Walensky, last week said that fully vaccinated individuals don't have to—in most cases—wear a mask indoors or outdoors. Walensky later told news outlets that she believes children, who cannot receive the COVID-19 vaccine, should wear masks indoors.
After Abbott ended the statewide requirement for masks in March, school systems were allowed to keep their own mask-wearing policies intact, but Tuesday's order stipulates that "no student, teacher, parent, or other staff member or visitor may be required to wear a face covering."
According to a March Lancet study, it found that children especially "remain at low-risk of COVID-19 mortality."
A number of GOP-led states in recent months have either moved to ease restrictions around masks, banned so-called "vaccine passport" systems, or have rescinded local pandemic emergency mandates.