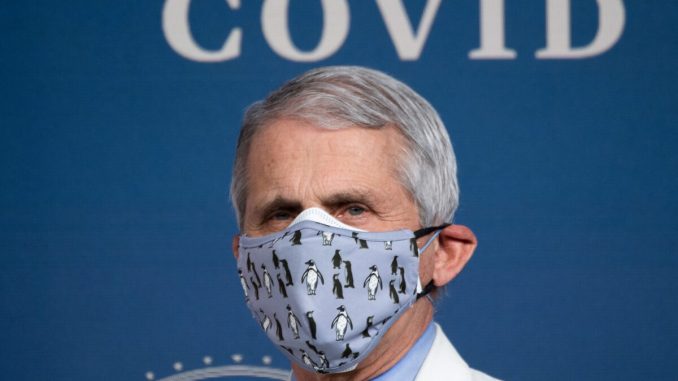 Infectious disease expert Dr. Anthony Fauci said in a Monday interview that, despite being confident that as a fully vaccinated individual he was at low risk of COVID-19 infection, he wore a mask indoors because he did not want to send "mixed signals."
Fauci made the remarks in an interview with ABC's George Stephanopoulos, who asked how the recently updated mask guidance from the Centers for Disease Control and Prevention (CDC) affected Fauci's mask-wearing practices. The CDC recently announced masks and social distancing were generally no longer necessary for those who are inoculated against the CCP (Chinese Communist Party) virus, the pathogen that causes COVID-19.
"I'm obviously careful because I'm a physician and a health care provider," Fauci replied, adding that he is now "much more comfortable in people seeing me indoors without a mask."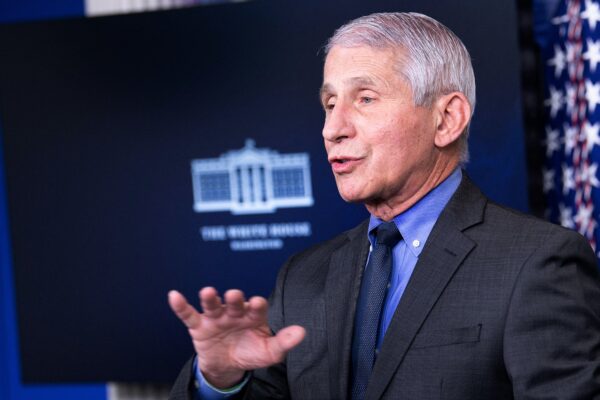 Fauci said that, prior to the CDC's recommendation change on May 13, he didn't want to undermine public confidence in the guidelines despite mounting scientific evidence that made him increasingly confident that, being fully vaccinated, he was at very low risk of infection.
"I didn't want to look like I was giving mixed signals. But being a fully vaccinated person, the chances of my getting infected in an indoor setting is extremely low," Fauci said.
"And that's the reason why in indoor settings now I feel comfortable about not wearing a mask, because I'm fully vaccinated," Fauci added.
Fauci elaborated on the matter by saying that, "even if you have a breakthrough infection, the chances of your transmitting to someone else is extremely low. Very, very low."
At the same time, since businesses don't know who's been vaccinated and who hasn't, Fauci said it's "perfectly reasonable and understandable for the owner of that establishment to say … we're going to keep the mask mandate up."
Fauci's remarks are likely to reinforce the view that some public officials wear masks not as a precaution borne out of bona fide health concerns, but to send a message and to avoid being out of step with official CDC guidance.
Following the CDC's recommendation update, Rep. Bob Gibbs (R-Ohio) led a group of 34 Republican lawmakers in urging House Speaker Nancy Pelosi (D-Calif.) to end pandemic-related restrictions on the House floor, including staggered voting and mask-wearing.
In a letter (pdf) on May 14, Gibbs and his colleagues called on Pelosi to end COVID-19-related restrictions on House operations, with Gibbs adding in a statement that, "it is time to set an example for the American people" and that Pelosi should "follow the science, stop the Mask-erpiece Theatre."
Pelosi told CNN on May 13 that she has no immediate plans to lift the mask mandate, while her spokesperson, Drew Hammill, told Bloomberg that same day that she isn't easing the requirement because it's unknown how many House members and their staff members are vaccinated.
Pelosi's office didn't immediately respond to a request by The Epoch Times for comment.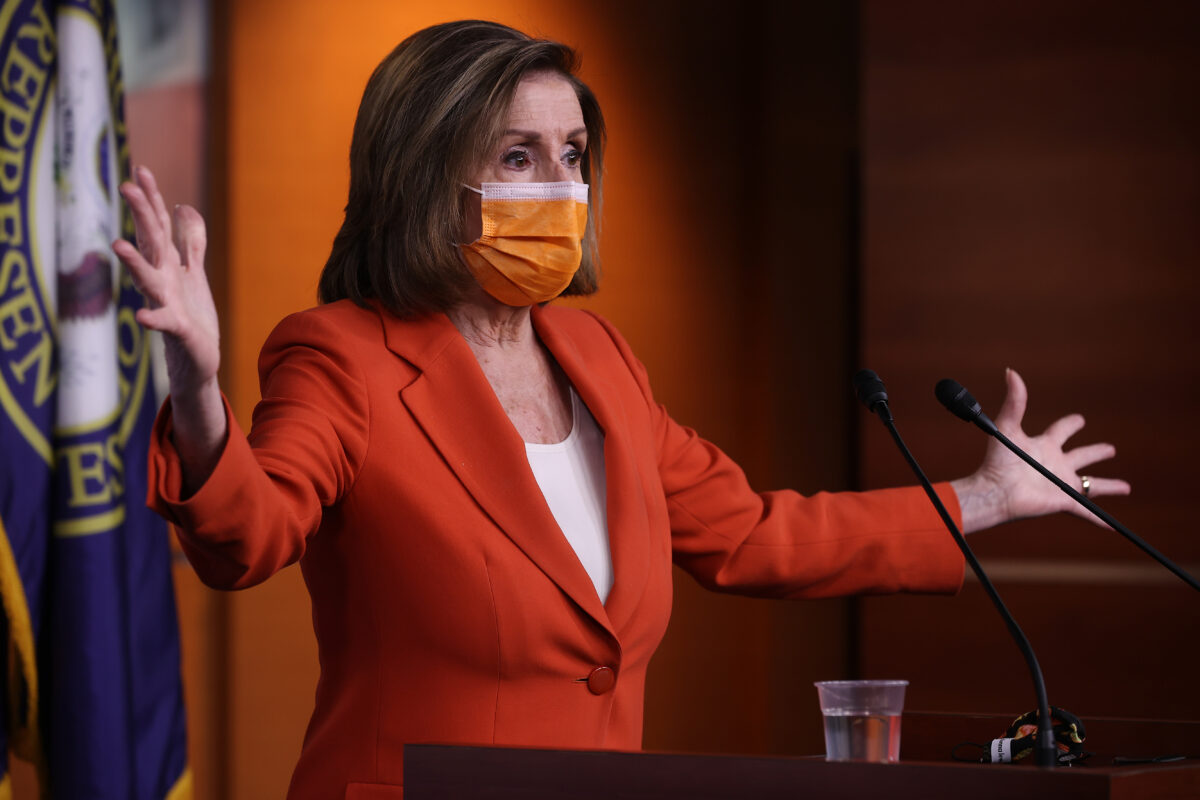 Before the CDC updated its guidelines on May 13, the agency recommended fully vaccinated people wear a mask outdoors when in crowded venues and settings and that they should also wear a facial covering indoors, unless visiting with other fully vaccinated people or with unvaccinated people from the same household who are not at high risk of severe COVID-19.
CDC Director Dr. Rochelle Walensky on May 13 announced that the agency had eased those recommendations, telling a press conference that, "anyone who is fully vaccinated can participate in indoor and outdoor activities, large or small, without wearing a mask or physical distancing."
At the same time, she said there are instances where individuals may need to wear masks, such as in a health care setting or at a business that requires masks. Fully vaccinated people are still required to wear masks on buses, trains, airplanes, and other public transportation.
The CDC's updated mask-wearing guidelines have prompted some states to lift restrictions, while others, like California, have opted to keep them in place for the time being.
President Joe Biden recently issued a plea for "kindness and respect" in regards to vaccinated people who want to keep on wearing masks despite new federal guidance that says there's no need.
Masks became a political flashpoint during the pandemic, with Republicans arguing that mandates on facial coverings infringed on individual liberties and that fully vaccinated people insisting on wearing them amounted to little more than "virtue signaling."