Rep. Val Demings (D-Fla.) is considering taking on Sen. Marco Rubio (R-Fla.) for the U.S. Senate seat he holds representing the state of Florida.
"I'm humbled at the encouraging messages I'm seeing today. I know the stakes are too high for Republicans to stand in the way of getting things done for Floridians, which is why I'm seriously considering a run for the Senate. Stay tuned," Demings said in a missive on social media on Tuesday.
Multiple reports, citing anonymous sources, said Demings is planning to challenge Rubio next year.
Demings, 64, was the first black police chief of Orlando before being elected to Congress in 2016. She has since gained attention for being a House impeachment manager during the first trial against former President Donald Trump and was reportedly considered by President Joe Biden for a running mate during his successful campaign.
Demings recently attacked Rubio, calling him "a flip-flopper."
The congresswoman noted that Rubio once claimed Trump would "shatter" the Republican Party but later backed the Republican.
Rubio, 49, is one of several Hispanics in Congress. The son of Cuban immigrants, he was elected to Congress in 2010 after serving in the Florida House of Representatives and teaching at Florida International University.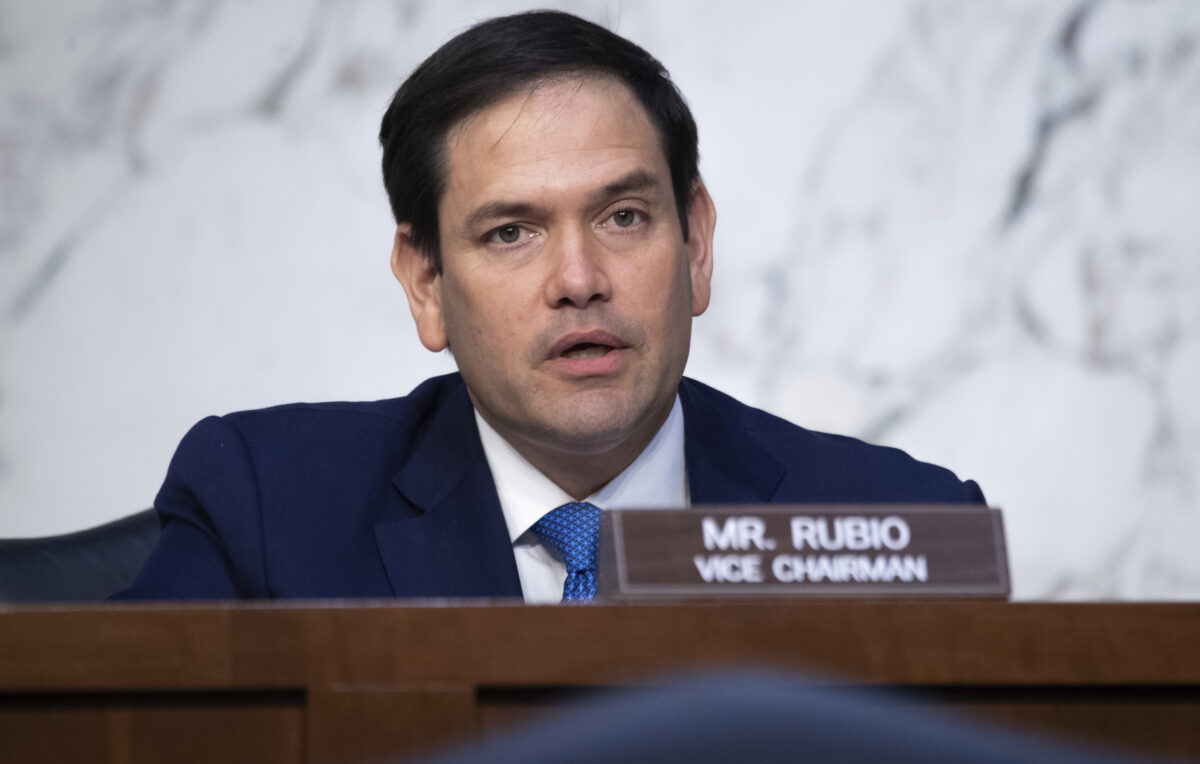 Rubio won another term in 2016 by about 700,000 votes out of 9.3 million cast, beating Democrat nominee Patrick Murphy.
In an emailed statement regarding Demings, a Rubio campaign spokesperson told The Epoch Times: "Democrats are tripping over themselves in a race to the left to find a candidate who will help advance [House Speaker] Nancy Pelosi's socialist agenda."
"Senator Rubio's record of results for Florida is unmatched, from passing the bipartisan PPP program that saved millions of Florida jobs to providing critical tax relief for hard working families. While Democrats are flailing to find their next candidate to advance their radical agenda, Senator Rubio is focused on delivering wins for the people of Florida," the spokesperson added.
Republicans hope to regain the Senate in 2022 and flip the House of Representatives. The GOP last year lost several seats in the upper chamber, which is currently divided between 50 Republicans and 50 Democrats or nominal independents who regularly vote with the left. It is controlled by the Democratic Party through Vice President Kamala Harris, who can cast tiebreaking votes in her position as president of the Senate.
Republicans flipped 15 seats in the House, stunning political observers, but were unable to wrest control of the lower chamber. The divide is 219-211 in favor of Democrats, with five vacancies, after Rep. Steve Stivers (R-Ohio) left this week to become president of the Ohio Chamber of Commerce.
The Collective PAC, or political action committee, said Tuesday that it was endorsing Demings.
The group, which promotes black candidates and lawmakers, described Demings as "a dedicated public servant who has spent her career on the front lines improving communities and protecting Floridians."
"There has never been a more crucial time for us to elect leaders who are committed to criminal justice reform, safeguarding voting rights, and ensuring government officials are held accountable for unethical behavior," it added in a Facebook post. "Just as we believed in 2016, we KNOW that Val is the changemaker that the U.S. Senate needs to meet the moment and continue the movement of progressive policies going forward."