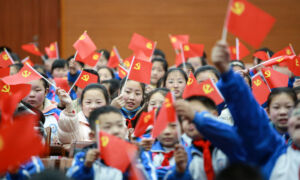 Chinese education providers saw a slump in stock prices as Beijing announced that private schools should adhere to the leadership of the Communist Party under a new law. Experts consider that the regime plans to further erode the operational independence of the education system.
The amended Private Education Promotion Law highlights the leadership of the Chinese Communist Party (CCP), requiring party members to take part in decision-making and supervisory processes, as well as specified educational activities at private schools.
"The supervisory body should include representatives of grassroots organizations of the Party," said in a press release from China's State Council on May 14.
"[Private schools should] adhere to the direction of socialism, … to strengthen the education of the core socialist values of the educated," according to Article Four of the new regulation, which will come into effect on Sept. 1.
The policy indicates that foreign-invested or foreign-controlled organizations may not be involved in the privately-run compulsory education institutions.
Similar provisions also target Internet technology, teaching materials, and teachers, who are supposed to receive "appropriate ideological and political training."
The announcement caused the Chinese education stock market to plunge during the day.
New Oriental Education & Techno, a leading private education service provider in China, commonly known as New Oriental, fell over 14 percent, hitting a new low since its listing at the Hong Kong Stock Exchange. Its affiliated online teaching platform, New Oriental Online (Koolearn), was down over 4 percent.   https://www.epochtimes.com/gb/21/5/16/n12953931.htm
Another Hong Kong stock exchange-listed company, China Chuanglian Education Financial, also plunged 20 percent.
Ge Bidong, independent scholar and China commentator, told The Epoch Times that the decline in education stocks is "an instinctive reaction" of the market, reflecting the history of CCP's curtailing basic rights to private property and enterprise.
"People saw the return of the extreme ideological control of the Cultural Revolution … in which the CCP robbed and eliminated private capital," he said.
Growing private schools had taken up one-third of domestic educational institutions, educating nearly one-fifth of all students in China by 2020, China's state media reported.
Private education institutions have popularized introducing advanced international education models, Ge said, which may go against CCP ideology and are to be called off.
Renamed University
Following the announcement, Hupan University, an elite business school founded by Jack Ma, former CEO of Chinese e-commerce giant Alibaba, was confirmed to be renamed as "Zhejiang Hupan Entrepreneurship Research Center," after being forced to suspend the first-year classes by Chinese authorities, which were to begin in late March.
The University responded on May 17 that the name change was to avoid being misunderstood as an institution not being able to offer authorized certification to graduates.
Frank Tian Xie, a professor at the University of South Carolina Aiken, said the regime would not be upset by the losses of the stock market, nor the development of the education industry, but would maintain its rule.
"What these institutions will teach, what kind of textbooks will be taught, what kind of teachers will be hired, and whether the teaching is approved and under the control of CCP, they are the most critical issues."
He suspects that independent private schools will vanish in China. "Basically, they became Communist Party-run schools, not even state schools."
He said, "The CCP is very afraid of the collaboration of these private entrepreneurs and intellectuals," mentioning any group upholding anything other than the communist ideology "will certainly not be tolerated."
From thousands of applicants, former Hupan University only accepts about 40 students per term. Ma once claimed that he wishes to run the school for 300 years.