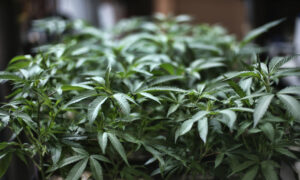 Elected officials in California are urging the U.S. Department of Justice to address the state's illegal marijuana growing operations.
In a May 11 letter to Attorney General Merrick Garland, the lawmakers said the abundance of marijuana grow operations in the state make the surrounding areas "untenable" and "dangerous for the residents in the surrounding neighborhoods."
"We have heard from our constituents of heinous incidents of intimidation, coercion, and violence being used by illegal growers to ensure that their operations continue unimpeded," the letter said.
About a dozen California representatives signed the letter, including Orange County congresswomen Michelle Steele and Young Kim.
The letter said the grow sites have been the scene of multiple homicides; in September 2020, seven bodies were discovered at an illegal grow operation in Riverside County.
As well, the illegal operations are stealing water from California residents, the representatives said.
"It's estimated that at the end of 2020, illegal marijuana grows were illegally consuming between 3 and 9.5 million gallons of water daily," the letter said. "Water is already a precious resource in California, we cannot allow these illegal operations to exacerbate the problem further."
Illegal grow operations increased as much as 300 percent in some areas last year, the letter said.  The politicians attributed the growth to lax consequences, accusing prosecutors of failing to charge offenders unless they commit additional "more serious" crimes as well.
Without intervention, the letter said, the problem will only worsen.
The group of California representatives urged Garland to do more to address the issue.
"We request that you utilize whatever authority is available to you to address this growing crisis in our communities, including prosecuting these criminals to the fullest extent allowable under the law to cut off the escalating fear and violence in our districts," the letter said. "Decisive action is needed now. Every day these criminals continue to operate with impunity hurts our constituents and California as a whole."