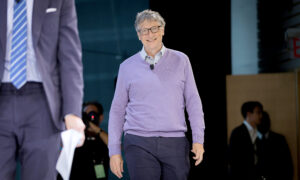 Microsoft board members determined in 2020 that Bill Gates had to leave the company's board while they were conducting an investigation into his affair with an employee of Microsoft.
WSJ reported that the board members employed a law firm in 2019 to investigate the relationship after an engineer working in the company claimed that she'd had a sexual relationship with Gates, one that allegedly lasted years, people familiar with the subject told the outlet.
"Microsoft received a concern in the latter half of 2019 that Bill Gates sought to initiate an intimate relationship with a company employee in the year 2000," a Microsoft spokesperson told The Epoch Times in a statement. "A committee of the Board reviewed the concern, aided by an outside law firm, to conduct a thorough investigation. Throughout the investigation, Microsoft provided extensive support to the employee who raised the concern."
Gates resigned on March 13, 2020, before the investigation was finalized, soon after his reelection for the board seat.
"There was an affair almost 20 years ago which ended amicably," a spokeswoman for the billionaire told the WSJ, adding that his "decision to transition off the board was in no way related to this matter. In fact, he had expressed an interest in spending more time on his philanthropy starting several years earlier."
This comes after the billionaire on May 3 said in a tweet that he and his wife of 27 years, Melinda Gates, are getting divorced.
"After a great deal of thought and a lot of work on our relationship, we have made the decision to end our marriage," a statement from the two said. "Over the last 27 years, we have raised three incredible children and built a foundation that works all over the world to enable all people to lead healthy, productive lives."
They didn't provide any other details about the split.
According to WSJ, the divorce had been in the works for years, partly driven by Melinda's concerns about her husband's dealings with convicted sex offender Jeffrey Epstein, who died in a New York jail in August 2019 while awaiting trial on federal charges related to sex trafficking.
The two reportedly started dating in 1987 after meeting at a New York trade show. They got married on New Year's Day in 1994.
Melinda Gates briefly worked for Microsoft and was ultimately made general manager of information products but left the company in 1996.
The two started the Bill and Melinda Gates Foundation in 2000 and have donated tens of billions of dollars to various causes.
According to Forbes magazine, Bill Gates is the fourth richest person in the world. Melinda Gates was No. 5 on Forbes' world's most powerful women list compiled in 2020.
Jack Phillips contributed to this report.