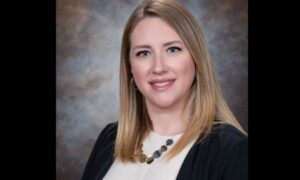 A Texas mother of two young children, who works as a school principal, was shot and killed by her husband in an alleged murder-suicide incident.
Investigators said that 40-year-old Nicholas Allen shot and killed his wife, Erica Rene Allen, in a neighbor's home in League City, Texas, last week.
"The investigation determined that the initial call of a home invasion was untruthful, and the incident stemmed from a domestic problem," said a statement from the League City Police Department.
The department added that on May 12, officers responded to an alleged home invasion, and when they arrived, they found Erica Allen "dead in the front yard of a home."
Witnesses told the department that they saw Nicholas Allen "shoot her and then go back into his home."
When officers were not able to establish contact with Nicholas Allen, they deployed the tactical team. At around 1:30 a.m., the team "made entry into the home and located the Allen's two children, ages 7 and 2, unharmed," according to the police department.
Then, they discovered the husband dead with an apparent self-inflicted gunshot wound.
The superintendent of Texas City Independent School District, Melissa Duarte, confirmed that Erica Allen was the principal of the school district.
"It's important that we help support each other in the coming days," Duarte wrote in a statement. "Please keep Mrs. Allen's family and friends in your thoughts."
Meanwhile, reports said that Nicholas Allen was an assistant principal at the Spring Independent School District.
The school district told Newsweek: "Our entire Spring ISD community is devastated and shocked to hear about the passing of Nicholas Allen, who had served as an assistant principal at Wells Middle School since joining the district in July 2020. Our thoughts are with the couple's children and extended family as they face overwhelming grief and sorrow in the days ahead.