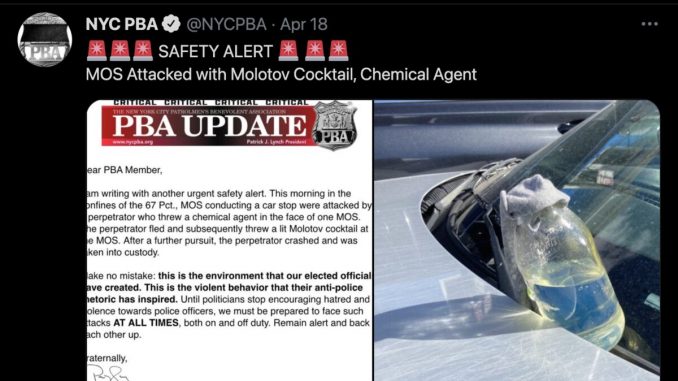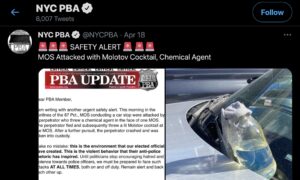 More than 5,300 New York police officers resigned or retired last year—a sharp increase of 75 percent over the previous year—as morale fell following widespread unrest and calls to defund the police in response to the police-involved death of George Floyd in May 2020. Resigning officers accounted for 15 percent of total officers leaving their posts.
According to the Law Officer website, between May 25 and June 24, 2020, 272 police officers resigned from the New York Police Department (NYPD).
On March 25, the New York City Council voted to pass various police reform bills to abolish the qualified immunity provision for police, opening the way for citizens to sue police over claims of excessive use of force and unreasonable searches and seizures.
In a Twitter statement posted on the same day, Bernard Kerik, a former NYPD commissioner who served during the time of the Sept. 11 terror attacks, slammed the ruling.
"No police officer should work in a jurisdiction where they do not have the support of those they work for. Beginning today, I will no longer recommend young people consider the NYPD as a career," he wrote.
Qualified immunity is a judicial doctrine created 50 years ago that shields government officials from being held personally liable for constitutional violations like the right to be free from excessive police force under federal law so long as the officials did not violate "clearly established" law.
Law Officer recently ran a commentary explaining what police qualified immunity is and why ending it signals "the start of a new era of crime."
"There may not be a more dangerous 'reform' for law enforcement than the ending of qualified immunity for America's heroes behind the badge," the article stated. "To the uneducated, it sounds like a great thing to do—until you recognize it's a complete scam."
The author reminded everyone that police qualified immunity has been deliberated, approved, and upheld time and again by the U.S. Supreme Court. That means many confused individuals who want to abolish it have ignored an important question: "Why would the U.S. Supreme Court, which has largely been divided among political points of view for decades, want to 'protect bad cops,' as the liars suggest," the article challenged.
The truth is, qualified immunity "protects good cops from doing the right thing and then facing a huge financial burden from fighting frivolous lawsuits. Qualified immunity does not protect cops who do something beyond the law," it explained.
"If the commonsense protections that protect politicians, teachers, and other officials are revoked from law enforcement, it will be the end of law enforcement as we know it—and the start of a new era of rampant crime. And while this may not mean that cities across America will no longer have police officers, they just won't have police officers that engage in effective law enforcement activities. Violent crime is already surging in cities across America, so it doesn't take much to imagine what cities will look like in this new era of rampant crime."
Lawyer Lance LoRusso described one impossible situation that could face a police officer without qualified immunity.
"You're at the free throw line 15' away from a person with a knife under the backboard lunging at your teammate 8' away. If your TASER fails, your teammate is dead and before you can drop the TASER and draw your gun, you will be stabbed too. Now you understand qualified immunity," he wrote on Twitter.
Without qualified immunity, police officers faced with never-ending lawsuits will be unable to do their jobs.
Poll: Majority of Black Americans Support Law Enforcement
A CBS News/YouGov poll released late April indicated that 70 percent of black Americans said that local police are doing a "very good" or "somewhat good" job in their community. Meanwhile, 82 percent of whites and 77 percent of Hispanics said police were doing a "very or somewhat good job."
The combined results among all races indicate that law enforcement received a 79 percent favorable rating, echoing a recent Gallup poll which found a 76 percent favorable rating.
Such high percentages are very different from what some politicians and media have portrayed.
Citing the results, Law Officer pointed out that such high percentages are very different from what politicians and the leftist media have portrayed.
"Those with the lowest trust rankings (politicians, journalists) seem quite eager to undermine those with the highest trust rankings (law enforcement professionals), for whatever reason," the article read.
City Council Candidate: Politicians Protecting Criminals, Not Civilians
Zang Donghui, a Queens resident who is running for city council in the 29th District, commented that the city's politicians kept qualified immunity for themselves and other public servants, while only removing it for police officers. He is concerned that under the current anti-police public opinion and policies, young people are even more unwilling to consider the police as a career.
In a recent interview with The Epoch Times, Zang mentioned that after the Floyd incident, hundreds of police vehicles in New York were damaged and the city council immediately introduced a series of restrictive measures on police enforcement. First, the 600-staff plainclothes police department specializing in combating gun crimes was removed. Secondly, NYPD's budget was slashed by $1 billion, leading to a manpower shortage. When the number of police officers at subway stations was reduced, it had a direct impact on public order, Zang said.
He pointed out that minority communities, including black communities, suffered the most from the lack of law enforcement.
"These policies are extremely irresponsible to society, especially to African Americans. They should know that most blacks commit crimes against other blacks. These leftists just dare not face this fact squarely," he said.
He added that in late April, the NYPD lost three police officers in two days. A 34-year-old police officer shot himself at his Manhattan home, 45-year-old Michael Mundy died from COVID-19, and 43-year-old Anastasios Tsakos was hit and killed by a drunk driver while directing traffic on the Long Island Expressway. The driver livestreamed herself verbally abusing police and drinking just hours before she hit the officer.
Zang said that in a normal society, only criminals are afraid of the police. But nowadays, many politicians look at everything from the standpoint of criminals, instead of from the standpoint of the other law-abiding citizens.
He said he is running for city council because he hopes to bring "common sense" into the council to protect the interests of the majority in the community.