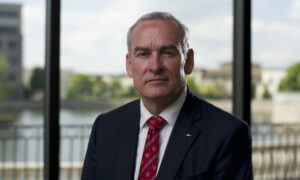 An Alabama man who worked in former President Donald Trump's administration is attempting to win a seat in Congress to continue the work Trump carried out.
Casey Wardynski was Trump's assistant secretary of the Army.
He's launching a bid for the seat in the House of Representatives representing Alabama's 5th Congressional District.
"I'm running for Congress to continue the work that President Trump started," Wardynski told The Epoch Times in an email.
"We need leaders in D.C. that put America First, not weak Republicans that will cave to pressure from the radical left. Americans are tired of seeing weak Republicans abandon their campaign promises and not support a strong America First agenda," he added.
Rep. Mo Brooks (R-Ala.) currently represents the district, but he is not running for another term. Instead, he is vying for a Senate seat that is becoming vacant thanks to the upcoming retirement of Sen. Richard Shelby (R-Ala.).
Brooks was endorsed by Trump.
Wardynski has a good shot of succeeding Brooks in deep-red Alabama—Brooks won nearly every vote in 2020—but at least two other Republicans have declared their candidacies.
Andy Blalock, a middle school science teacher who describes himself as conservative on fiscal policy and a moderate on social issues, and Dale Strong, a businessman who says he was an early supporter of Trump and would work on enacting many Trump-endorsed policies, are running.
Wardynski told The Epoch Times that he's an outsider like Trump, as opposed to a career politician.
"I have a proven record as a tough, results-oriented leader. For example, President Trump asked the Army to build the wall. As the Assistant Secretary of the Army, my office revamped policy to quickly put the right people on the ground at the border. When I found out that West Point was teaching cadets Critical Race Theory as a belief system, I shut it down. As Superintendent of a large urban school system, I turned a $19 million deficit into a surplus—without raising taxes and while raising graduation rates by a third! Many candidates talk a great talk, but few fight to get the job done right," he said.
The former official said the United States must finish the southern border wall, bring back Trump's foreign policy posture, and "stop caving to Iran and China."
He also called to "cancel the 'cancel culture' and end the teaching of Critical Race Theory in our schools and government agencies."
The primary date in the race is not set yet. The general election takes place on Nov. 8, 2022.
At least one other former Trump administration official is also running for Congress. Catalina Lauf is challenging Rep. Adam Kinzinger (R-Ill.), a fierce Trump critic, in Illinois's 16th congressional district.
"This is a very Trump Republican district. So now he's in a fight, because we're coming in, we have the resources and then we have the groundswell of support to be challenging him," she told The Epoch Times in March.