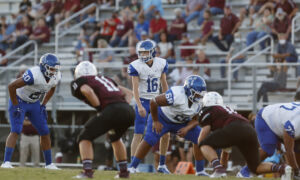 A bill has advanced in the Texas state legislature that would allow homeschooled children to participate in sports competitions and other extracurricular activities through the state's public school system.
The Texas House on Thursday approved House Bill 547, which seeks to give homeschooled students equal access to University Interscholastic League (UIL) activities, from sports to orchestra, debate, robotics, and more. If passed by the state Senate and signed into law by Gov. Greg Abbott, the bill would make Texas the 36th state to offer homeschoolers the opportunity to play sports at public schools.
The bill, and those of its kind, are popularly referred to as "Tim Tebow" bills, in honor of the college football legend who was also the first homeschooled athlete to be nominated for the Heisman Trophy. Tebow played for a high school football team as quarterback while being homeschooled, and went on to play for the University of Florida and as a professional player with the Philadelphia Eagles and the Denver Broncos.
Texas Homeschool Coalition (THSC), the most prominent homeschooling advocacy group in the state, said it is unfair that homeschoolers are barred from UIL programs while their families pay taxes to fund UIL, the main league that hosts public extracurricular activities.
The Tim Tebow bill would "allow individual families, not the government, to determine the educational and developmental activities in which their children participate," the THSC said on its website. The organization has helped to introduce the same bill five times consecutively in each of the 2013, 2015, 2017, and 2019 legislative sessions.
Meanwhile, some teacher and coach advocacy groups spoke against the bill, arguing that it would give homeschooled students an unfair advantage over their public school competitors, who have to meet a whole set of standards, such as academic performance and attendance requirements, in order to participate in UIL activities.
"We believe that the permissive language added to the bill, further blurs the lines of statewide standards for participation and broadens the gap for circumventing UIL standards for eligibility," said the Texas High School Coaches Association (THCSA) in a statement following the House vote.
Joe Martin, the executive director of THCSA, told the Dallas Morning News that just because homeschooling families pay property taxes doesn't mean their children should have equal access to public school activities.
"Our taxes go to that fire station down the road, but I've yet to see them let me drive that truck," Martin said.