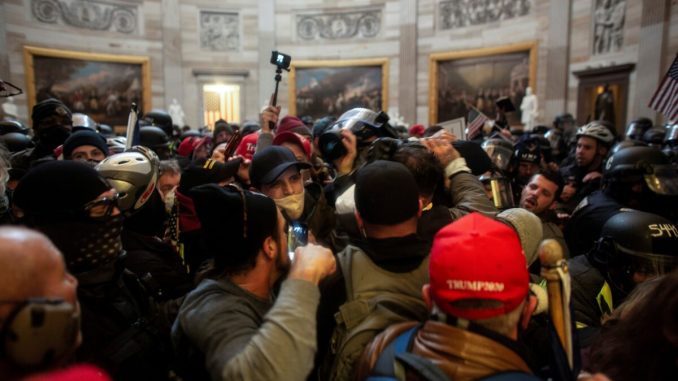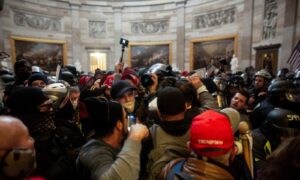 An active-duty U.S. Marine Corps officer was arrested on Thursday for his alleged involvement in the breach of the U.S. Capitol on Jan. 6, the Justice Department said.
Maj. Christopher Warnagiris, who is a commissioned officer stationed at the Marine Corps Base Quantico, has been accused of entering the Capitol building after pushing through a line of police officers. He then used his body to keep the door open to allow others to enter the building, prosecutors said.
He has also been accused of resisting U.S. Capitol Police's efforts to keep the doors closed, according to court documents (pdf).
Authorities identified Warnagiris through photographs and footage of the incident. A former coworker of Warnagiris initially recognized the 40-year-old through the FBI photos. Agents then confirmed his identity with a different coworker during an interview at Warnagiris's military command.
Warnagiris, who appeared before a court in the Eastern District of Virginia on Thursday, has been charged assaulting, resisting, or impeding certain officers. He has also been charged with one count of obstruction of law enforcement during civil disorder, one count of obstruction of Justice, one count of knowingly entering or remaining in any restricted building without lawful authority, and one count of violent entry and disorderly conduct on Capitol grounds.
In a statement to media outlets, the Marine Corps confirmed that Warnagiris is an active-duty member who joined the Marines in 2002 and has been deployed at least four times.
The Marine Corps did not immediately respond to The Epoch Times' request for comment.
Marine Corps spokesperson Maj. J.A. Hernandez said in a statement to media outlets after the arrest that there was no place for extremism in the service.
Pentagon press secretary John Kirby would not comment on any action the department may take, stressing that the matter is currently with the Justice Department, during a press conference on Thursday. He told reporters that he is not aware of any investigations or inquiries into whether any of Warnagiris's coworkers were aware of his alleged involvement in the incident.
"This is right now a federal law enforcement matter. That process needs to continue. At this stage, it's too early to speculate about any UCMJ actions that may or may not be taken. Right now, this is squarely in the Justice Department lane and we're going to respect that," Kirby said.
The Justice Department said they have arrested about 440 individuals on charges related to the Jan. 6 Capitol breach, including over 125 individuals charged with assaulting or impeding law enforcement. A majority of cases are related to entering a restricted building, obstruction of an official proceeding, and civil disorder. Federal authorities are still looking for suspects connected to the breach.