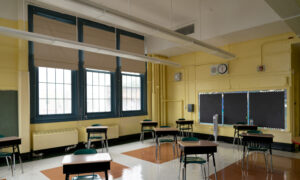 A Chinese teenager was found dead on his high school campus. Thousands of people are now joining his mother's call for transparency. But police have started arresting protesters.
Nearly 300 Chinese maritime militia ships are sailing in Philippine waters. It marks Beijing's largest-ever incursion in the area.
China angers another of its neighbors. The regime warns Bangladesh not to join a U.S.-led alliance that's working to counter Beijing's influence.
A U.S. Senate committee votes in favor of a new bill, which seeks to prevent communist China from exploiting loopholes in key technology sectors.
More construction problems surface in China. Glass is missing from a 850-foot glass-bottom bridge, and a pavilion is toppled by strong winds—leading to injuries and even deaths. The accidents are caused by the country's so-called "tofu buildings"—known to crumble because of extremely poor construction.
Subscribe to our YouTube channel for more first-hand news from China.
For more news and videos, please visit our website and Twitter.