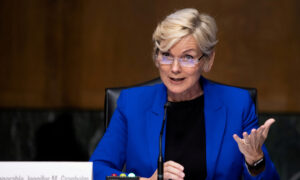 More Americans are feeling the effects of the crippling cyber attack on the major U.S. pipeline Colonial Pipeline. Gas prices continue to rise, and some are warning it's not the end. The national average price for a gallon of gas hit $3 on Wednesday, the highest in six and a half years.
Energy Secretary Jennifer Granholm is trying to allay fears about what might be yet to come. She said Tuesday, "let me just be really clear: The crunch is in the areas that are affected by the pipeline—the main spurs of the pipeline. So, that really is the Southeast. About 70 percent of the supplies of North Carolina, South Carolina, Tennessee, Georgia, and especially southern Virginia are impacted the most. "
Businesses are struggling. The number of job openings far outstrips the number of people applying, and people are trying to figure out the reason why. President Joe Biden says it's not due to the pandemic unemployment benefits.
But some governors disagree. They're ending unemployment benefits several months early. Alabama is joining a growing list of states rolling back unemployment benefits. Arkansas, Mississippi, Missouri, Montana, and South Carolina are also ending the government benefits early, and Florida is set to follow.
Tune into Deep Dive as we explore these topics and more.
Subscribe to our YouTube channel for more in-depth coverage. For more news and videos, please visit our website and Twitter.