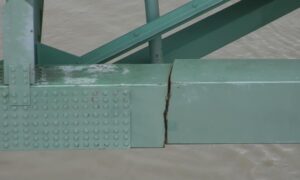 Authorities were forced to close a bridge spanning the Mississippi River between Arkansas and Tennessee after a crack was discovered on the bottom of the bridge truss, prompting the U.S. Coast Guard to halt boat traffic in the area.
The Hernando de Soto Bridge, which includes Interstate 40, connecting West Memphis, Arkansas, and Memphis, Tennessee, was shut down after the Tennessee Department of Transportation said in a news conference on Wednesday. Emergency repairs started on the bridge on Tuesday, officials told local media.
"A routine inspection of I-40 MS River Bridge revealed a crack that requires further investigation … we're working with [Tennessee officials] to make sure the bridge is safe for motorists before we reopen it," the Arkansas Department of Transportation also wrote.
The crack, authorities said, is critical to the bridge's structural integrity.
"This fracture had the potential of becoming a catastrophic event," Lorie Tudor, director of the Arkansas Department of Transportation, said in a news conference, as reported by the Memphis Commercial Appeal.
The Tennessee Department of Transportation also released photos on social media of the damaged bridge, showing a significant crack in the truss. Officials said a contractor discovered it.
In the meantime, the state agency said that an "inspection is still underway" and may "take a couple" of weeks to complete. It urged motorists to "use alternate routes."
Regarding how long the bridge will remain shut down, a chief engineer with the Tennessee Department of Transportation, Paul Degges, said, "Right now we just don't know," according to the Commercial Appeal.
"It's plausible that this can be months rather than weeks," Degges said.
The U.S. Coast Guard on Wednesday confirmed it closed a portion of the lower Mississippi River near the bridge.
"There are currently 16 vessels with a total of 229 barges in the queue," the Coast Guard said in a news release.
All boat traffic on the Mississippi River was halted until further notice, said Capt. Ryan Rhodes, captain of the Port of Memphis, reported WREG.
"The Coast Guard is currently working with Arkansas Department of Transportation, Tennessee Department of Transportation and river industry stakeholders on this developing situation," Rhodes said. "Based on the current information available, we have closed a portion of the Lower Mississippi River out of an abundance of caution. The captain of the port is monitoring the situation and will continue to ensure the safety of the maritime environment and surrounding community."
Meanwhile, traffic website IdriveArkansas.com suggested that while I-40 is closed, it recommends drivers take Interstate 55, which appears to be severely backed up.