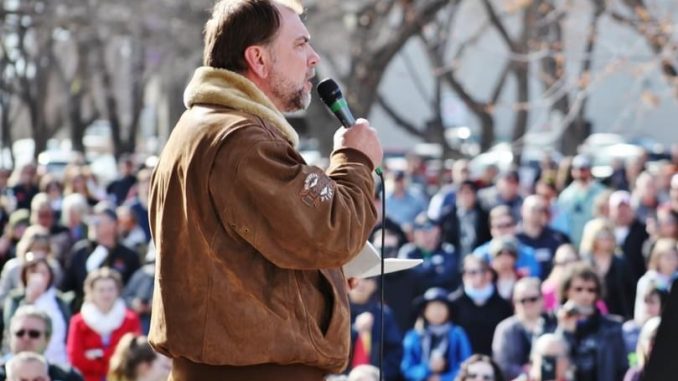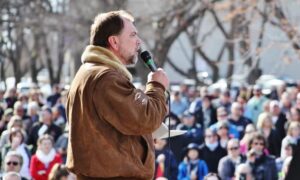 The arrest of an Alberta pastor and his brother under a new public health order as they were heading home from church has serious implications for people's rights and freedoms, a political scientist and author-researcher says.
Pastor Artur Pawlowski and his brother, Dawid Pawlowski, were arrested on a Calgary highway on May 8 for holding a church service that violated provincial pandemic restrictions.
Calgary Police Service said in a statement that the two were in violation of a new Alberta Health Services (AHS) court order "in relation to mandatory compliance of public health orders for gatherings."
The brothers, who were charged with allegedly organizing an illegal in-person gathering as well as "requesting, inciting, or inviting others" to join them, were released on bail on May 10. They will have a court hearing on May 20 to determine if a contempt trial will proceed.
Marco Navarro-Génie, president of the think tank Haultain Research Institute, takes issue with the order under which the Pawlowskis were arrested, calling it "a grotesque abuse of power."
On May 6, a judge granted AHS a pre-emptive injunction to stop various gatherings and anti-lockdown or anti-mask rallies, which are now deemed illegal if they do not comply with the order of the chief medical officer of health (CMOH) and its requirements on masking, attendance limits, and physical distancing. The AHS can also have businesses that flout the restrictions closed.
"There's a distinction here … and that's really to me the more grievous issue. People flout the laws, they're going to have consequences. But when those consequences arrive and they are deemed to be unjust, people now do not have the recourse to assemble to protest those draconian rules," Navarro-Génie said in an interview.
"That is the kind of stuff which authoritarian regimes traffic on a day-to-day basis," he added. "I question the draconian nature of the response."
The AHS order was initially issued against the owner of Whistle Stop Café, a restaurant in Mirror Landing, Alberta, who according to AHS has continued to breach local COVID-19 health restrictions and had planned to hold a protest.
"AHS has taken this step due to the ongoing risk to Albertans created by those breaching COVID-19 public health restrictions and advertising social gatherings which, if held, breach current and active CMOH Orders and pose a risk to public health," the service said in a statement announcing the court injunction.
Navarro-Génie said oftentimes people can be conflicted between obeying the law and standing up for their rights.
"Because many of us believe that people should follow the law, and when people are said to, or appear to, be flouting the law, there are concerns. But the issue also is whether these new changes in law are legitimate. … In a liberal democracy, people have the constitutional right to challenge rules and to oppose rules that they believe are unjust or ill-intended," he said.
"The second issue, of course, is that lockdowns have no basis in science. These are absolute experiments. We have never in the history of humankind done this kind of thing where entire societies, entire countries, are locked down."
The police said in their statement that they warned Pastor Pawlowski prior to the church's May 8 service, but he "chose to ignore requirements for social distancing, mask wearing, and reduced capacity limits for attendees, and continued with the event."
Pawlowski has repeatedly defied public health restrictions by holding church services. He told The Epoch Times in a previous interview that Canada now reminds him of his home country of Poland when it was under communist rule. He fears people are losing their liberty amid ever-expanding COVID restrictions.
"When they are telling us right now, social distance, physical distance, don't meet together, don't pray. I mean, you're talking about family, you're talking about the structure that keeps us all sane, all together and strong," he said.
"That's the state telling the people what they can do, what they cannot, with whom they can, and how. … Seeing what they're doing, which is a repetition of history in front of my eyes, it scares me. Very scary stuff, what is happening."
Navarro-Génie said the medical establishment has no business advising governments to constrain and confine the population of healthy individuals.
The recently released book he co-authored, "COVID-19: The Politics of a Pandemic Moral Panic," states that "political actors" and "moral entrepreneurs" saw an opportunity to use the pandemic as a means to expand and consolidate their power.
He suggests that the best approach for the Alberta government is to reopen the province and put the focus on protecting the most vulnerable.
"If people are still afraid, those who are afraid, they have the right to be afraid. They should stay home and figure out ways for themselves," he said, but "this forcible confinement of entirely healthy populations in a liberal democracy needs to stop."