Gas stations in multiple U.S. states ran out of gas on Monday after hackers attacked a pipeline that runs from Texas to New Jersey.
Stations in Florida, Georgia, South Carolina, North Carolina, and Virginia were out of fuel after customers rushed to fill vehicles following the hack of Colonial Pipeline.
Approximately seven percent of stations in Virginia had run out of gas as of 11 p.m. Central Time on Monday, Patrick De Haan, an analyst with GasBuddy, which lists prices and availability at U.S., Canadian, and Australian stations, said on Twitter.
At the same time, over two percent of stations in North Carolina, about 1.5 percent of stations in Georgia and Florida, and about 0.5 percent of stations in South Carolina had no gas, he added. A small portion of stations in Alabama also ran out of fuel.
Bags covered pumps at stations across Pensacola in northwest Florida on Monday, while stations that still had gas saw long lines of drivers waiting to fill their gas tanks.
"It's kind of scary when it's raining because I don't want to be stuck on the side of the road with my daughter with no gas," Pensacola resident Tieisha Brown told WEAR-TV. "So this is my second attempt and I'm slowly but surely running low on gas trying to find a gas station."
Nikki Fried, Florida's agriculture and consumer services commissioner, urged people in a video statement not to panic buy or hoard gas.
Along with the cyberattack on Colonial, a shortage of truck drivers for fuel trucks has contributed to shortages, she said.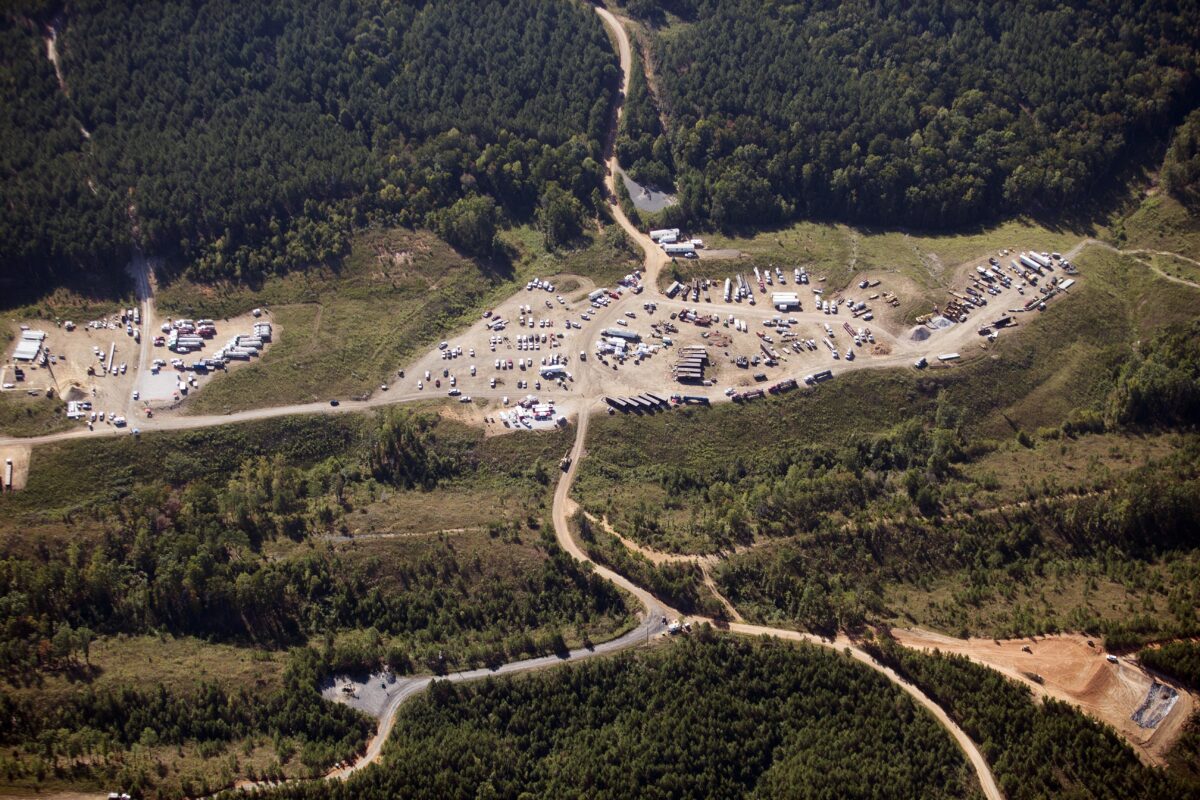 In North Carolina, people reported struggling to find gas in the Asheville area, as some stations ran out of fuel. A clerk at a Shell station in Robbinsville told a local reporter her manager told her it could be five days until a fresh supply comes in. Ingles CFO Ron Freeman told the Citizen Times that some of the company's stations were seeing occasional outages.
"We are working non-stop to precure fuel for all our stores that have a Gas Express and hope the pipeline is fully operational as soon as possible," he said.
Gov. Roy Cooper issued a state of emergency on Monday, temporarily suspending all fuel regulations to try to ensure adequate supply throughout the state.
RaceTrac, which operates some stations, confirmed to WSB-TV that some Georgia stations were unable to provide people with gas.
Atlanta drivers posted pictures on social media of stations they'd gone to where gas was not available.
People across multiple counties in South Carolina told WPDE that gas was out at some stations.
"What we're understanding from our tankers is the terminals where they get gas, aren't getting the gas which is then not able to give to our tankers who can't give it to us because they don't have it," Angel Lodice, a representative of a Circle K gas station in Myrtle Beach, told the broadcaster.
The American Automobile Association (AAA) warned of gas shortages and rising fuel prices after hackers targeted Colonial Pipeline, which typically transports about 45 percent of the fuel consumed by the East Coast, or 100 million gallons per day.
"Areas including Mississippi, Tennessee, and the East Coast from Georgia into Delaware are most likely to experience limited fuel availability and price increases, as early as this week. These states may see prices increase three to seven cents this week," a spokesperson said.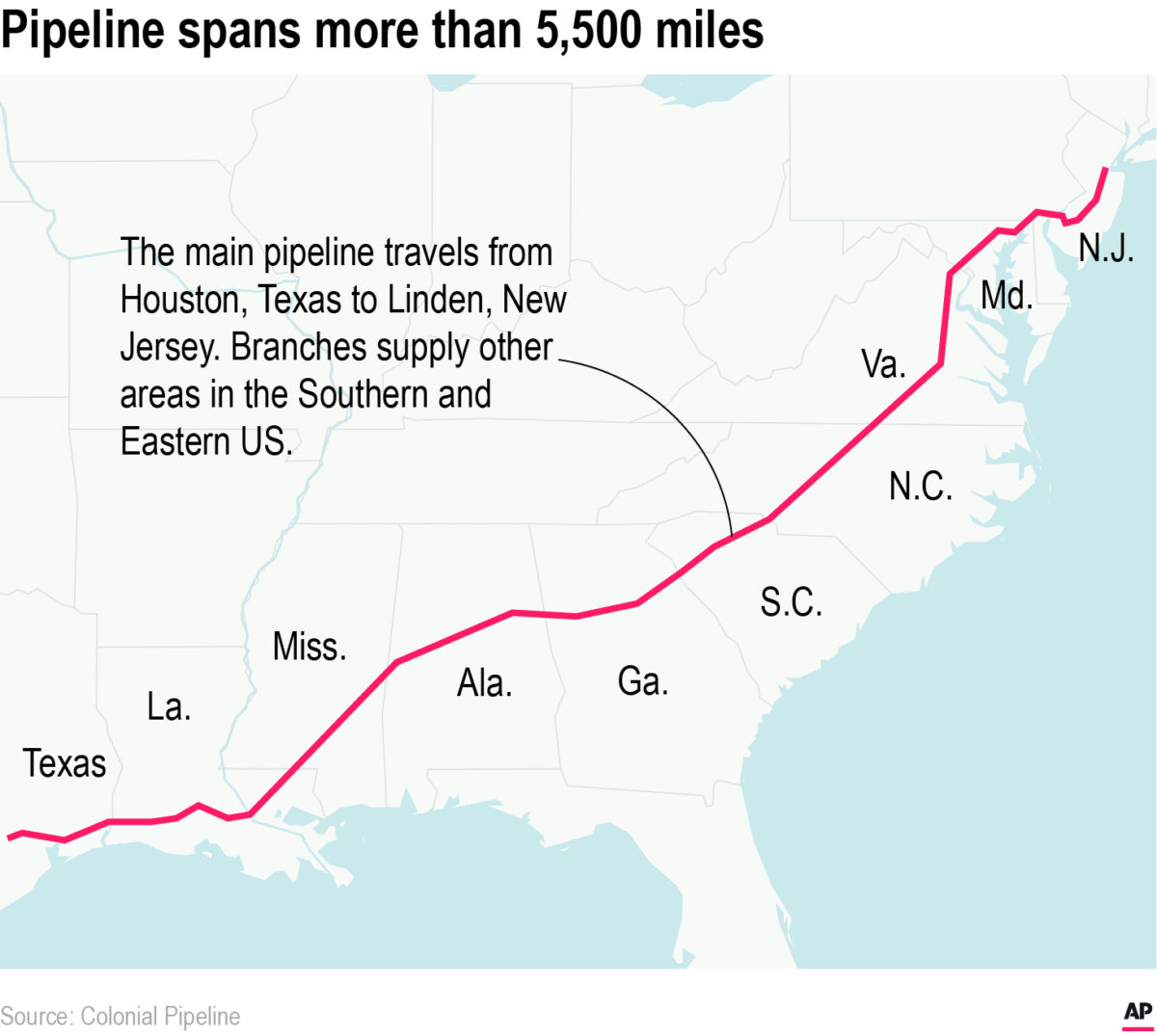 The national average price per gallon was $2.98 as of May 11, with West Coast states seeing prices as high as $4.10 per gallon and some southern ones seeing prices as low as $2.64.
Colonial has said that it took some of its systems offline last week to contain the threat following the intrusion, which temporarily halted all of its pipeline operations.
The company plans on resuming operations in a "phased approach."
It was not clear whether it planned on paying money to the hackers, which carried out a so-called ransomware attack.
The White House declined to weigh in directly on the matter when asked whether Colonial should pay a ransom.
"So, typically, that is a private-sector decision, and the administration has not offered further advice at this time. Given the rise in ransomware, that is one area we're definitely looking at now to say, "What should be the government's approach to ransomware actors and to ransoms overall?'" Anne Neuberger, deputy national security adviser for cyber and emerging technologies, told reporters in Washington.
President Joe Biden is being regularly briefed on the pipeline incident and the administration is "continually assessing the impact of this ongoing incident on fuel supply for the East Coast," White House press secretary Jen Psaki offered in a statement later Monday.
"We are monitoring supply shortages in parts of the southeast and are evaluating every action the administration can take to mitigate the impact as much as possible," she said. "The president has directed agencies across the federal government to bring their resources to bear to help alleviate shortages where they may occur."