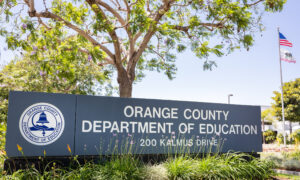 An Orange County school was named the best in California in a nationwide survey of nearly 18,000 public high schools.
Oxford Academy in Cypress placed eleventh nationally in U.S. News' ranking of 17,857 high schools in 50 states. The Anaheim Union High School District educational institute reported a 100 percent advanced placement rate and 100 percent graduation rate.
The survey indicated that 36 percent of students at the school are economically disadvantaged.
"This achievement recognizes some of the great work at Oxford and throughout our district, such as academic excellence, civic engagement, career readiness, and 21th century skills including collaboration, creativity, critical thinking, communication, and compassion," Anaheim Union High School District superintendent Michael Matsuda said in a press release.
Oxford's ranking also reflects that 93 percent of students are proficient in math, and 99 percent are proficient in reading, said Carlos Hernandez, the school's family and community engagement specialist.
Schools are ranked by the U.S. News based on college board and U.S. Department of Education common core data, including state testing scores, graduation rate, and college preparedness, he said.
Said Hernandez: "This is extra special because it highlights the determination and resilience from our graduating class during the embryonic stages of the pandemic."