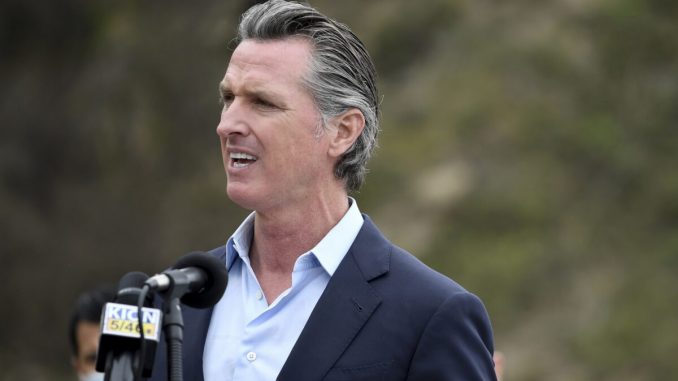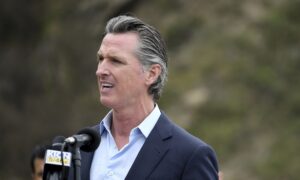 California Gov. Gavin Newsom, in the face of a recall effort against him, announced Monday that the state is projected to have a $75.7 billion surplus and wants to use it to provide stimulus checks to about two-thirds of its residents.
His budget proposal, if passed by the California legislature, would send $600 tax rebate checks to households making up to $75,000 as well as an additional $500 to families with children, according to a news release. The plan would also give $500 to illegal immigrant families.
"California's recovery is well under way, but we can't be satisfied with simply going back to the way things were," Newsom said in a statement (pdf).
The plan will "triple the state's investment—for a total of nearly $12 billion—in the Golden State Stimulus by expanding the stimulus to middle-class families," the statement continued to say, adding that two out of three Californians will benefit. The cost of the new checks will cost about $8.1 billion, said H.D. Palmer, a spokesman for the state Department of Finance, to media outlets on Monday.
Officials said that the $75.7 billion surplus is largely due to tax revenues from wealthy residents in California. According to Forbes magazine, California had the highest estimated debt of any state, or about $363 billion.
Newsom's office said in a statement that "the state would also offer the largest renter assistance package of any state in America, with billions of dollars to help low-income Californians pay back 100 percent of their back-rent, their rent for the months to come and overdue water and utility bills."
The plan comes amid a push to recall Newsom in an election that will likely be held later this year. Recall proponents have said that the Democrat governor has imposed unfair lockdown orders that triggered a significant loss of employment.
"Gavin Newsom is making one-time payments to Californians to avoid being recalled—and only because the law requires him to," John Cox, one of several Republicans running against Newsom, wrote on Twitter. "But, Californians can't be bought."
A law passed in the 1970s requires California to give back some of the money to taxpayers if the surplus hits a certain limit. Officials said that the state is $16 billion over that threshold.
Kevin Faulconer, the former mayor of San Diego, plans to roll out a tax cut proposal later this week.
"One-time payments for just one year isn't enough, not nearly enough," Faulconer said. "We need permanent, lasting tax relief for middle-class families."
The Associated Press contributed to this report.