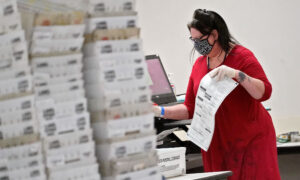 A group of 20 Arizona citizens filed a writ of Quo Warranto to the state Supreme Court on May 6 against a number of Arizona state officials, alleging that state elections from 2018 through 2020 were not in compliance with state election laws.
The Arizona Supreme Court is being asked to order the state officials named in the complaint to be removed from the allegedly unlawfully held seats, and order a pro-tempore ("for the time being") seat to the citizens who filed the suit, "until such time as free, fair, and secure elections can be held."
"As average citizens of Arizona, from all walks of life, we have discovered that our past elections in 2018 thru 2020 are out of compliance per the U.S. Election Assistance Commission [EAC]," the group of citizens said in a release obtained by The Epoch Times.
The group asserts that the contractor labs that conduct checks to certify voting machine equipment in elections were not accredited to do so by the EAC in elections 2018 through 2020. Such accreditation is mandated by federal and state law.
In its press release, the citizens group said that the state of Arizona "went out of compliance in February of 2017 (or possibly sooner) and was only recently purported to be re-certified in January 2021." As such, any machine certification conducted by the allegedly non-accredited contractor labs in elections 2018 through 2020 would be invalidated, according to the group.
The EAC is an independent and bipartisan U.S. government agency that was created by the Help America Vote Act of 2002 (HAVA), a federal law that made reforms to the country's voting process. The EAC acts to develop guidance to meet the requirements of the law. The agency also adopts voting systems guidelines and provides information on election administration. Other EAC roles include accrediting testing laboratories and certifying voting systems.
The EAC refers to contractor labs as "Voting System Test Laboratories," or VSTLs, and sets forth its standards and rules to be abided by in its manual for contractor labs (pdf), which reads, in part, "A grant of accreditation is valid for a period not to exceed two years."
According to Arizona law, machines or devices used at any election may only be certified for use if they comply with HAVA and if those machines or devices have been "tested and approved by a laboratory that is accredited pursuant to the [HAVA]."
The writ of Quo Warranto complaint alleged that "Valid, ratified, contractual relationship between contractor labs and the EAC have not existed since 2016 and possibly earlier." It adds, "If the contractor labs did not renew their contracts, then how can they be allowed access to our most critical infrastructure? How can they certify anything when they have not agreed to abide by law, and have not entered into valid contract to do so?"
Two contractor labs, Pro V&V and SLI Compliance, are currently listed on the EAC website as having had their accreditations renewed in early February this year. Jerome Lovato, the voting system testing and certification director at the EAC, issued on Jan. 27 memos for each of the contractor labs notices that their companies "remain in good standing" to be granted renewal of their accreditation. "Due to the outstanding circumstances posed by COVID-19, the renewal process for EAC laboratories has been delayed for an extended period," he wrote in the memos.
Jan. 27 was the same day that the Maricopa County Board of Supervisors voted unanimously to authorize a forensic audit of ballot tabulation equipment used in the 2020 elections in the county. The board chose Pro V&V and SLI Compliance to conduct the audit. A separate Senate-ordered audit of the 2020 election in Maricopa county is currently underway.
The citizens group in the complaint redacted their individual names "due to a reasonable concern for their safety."
They are asking the state Supreme Court for a full review of the matter within five days, and are demanding a response from the respondents named in the suit "within 3 days of completion of review and upon being notified by the court."
In a courtesy notice on May 7, the citizens group informed Attorney General Mark Brnovich of the filing of the writ of Quo Warranto, saying that their complaint "asserts widespread usurpation" across the state that includes elections since 2018 that, by implication, would include Brnovich on the list of "inadvertent usurpers" although he is not a named respondent in the filing. They said they chose to avoid putting Brnovich's office "in any situation that may be a conflict of interest."
Respondents in the suit include Governor Doug Ducey, Secretary of State Katie Hobbs, State Treasurer Kimberly Yee, Maricopa Sheriff Paul Penzone, Pima Sheriff Chris Nanos, Phoenix Mayor Kate Gallego, Tucson Mayor Regina Romero, Maricopa Recorder Stephen Richer, Superintendent of Public Instruction Kathy Hoffman. There are also three corporations commissioners, two state senators and four state representatives named in the complaint.
Gov. Doug Ducey's office did not immediately respond to an email requesting comment. Secretary of State Katie Hobbs' office did not immediately respond to a request for comment.
Zachary Stieber contributed to this report.