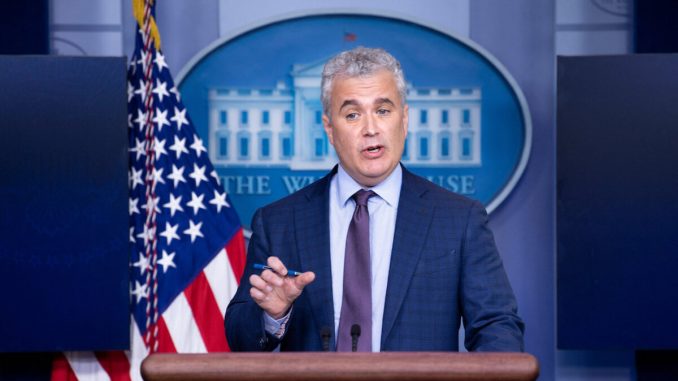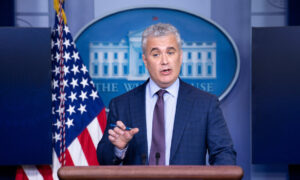 Jeff Zients, the White House COVID-19 response coordinator, told CNN in an interview on Sunday that the United States is rounding a key inflection point in its fight against the CCP (Chinese Communist Party) virus and is "turning the corner."
Zients was asked by host Jake Tapper to assess the dynamics of the outbreak in the United States, given progress in vaccinations and the sharp 40 percent drop in new daily infections in the past month.
"I would say we are turning the corner. We now have, as of this morning, 58 percent of adult Americans with at least one shot, over 110 million Americans fully vaccinated," Zients responded.
The official hinted at the administration's desire to overcome vaccine hesitancy while noting President Joe Biden's new goal of 70 percent of adult Americans getting vaccinated with at least one shot by July 4.
"We're at 58 percent today, so we've got a path ahead of us, which will involve getting people even easier access to the vaccine, making sure that people build their confidence, those who have questions about the vaccine, that we answer their questions," Zients added.
Declining demand for COVID-19 vaccines in the United States is leading states across the country, from South Carolina to Washington, to refuse their full federal allocations of doses, despite the Biden administration's efforts to raise take-up rates.
Wisconsin health officials have asked for just eight percent of the 162,680 doses that had been set aside for the state next week, according to The Associated Press, with the report citing a state health department official as saying that vaccinators are looking to reduce existing inventories before ordering more doses in the face of softening demand. Kansas officials asked for less than nine percent of their 162,000-dose allotment this past week, South Carolina plans to order 21 percent of its doses, while Washington state reduced its order by 40 percent, according to the report.
A survey by the Census Bureau found that a quarter of adults in Wyoming said that they will "definitely not" or "probably not" get the CCP virus vaccine, while more than 20 percent of adults said the same in Kentucky,  Montana, and North Dakota.
Reduced vaccine demand comes as nearly 46 percent of the total U.S. population has received at least one dose of a two-shot vaccine and about 34 percent are fully vaccinated, according to the CDC.
In a bid to overcome vaccine hesitancy and boost take-up, Biden announced on Tuesday that federal officials will push education campaigns and expand smaller and mobile vaccination clinics to make inoculations more readily accessible. Biden also touted incentive programs, as officials in some states have rolled out programs that essentially pay people to get the jab.
West Virginia recently announced $100 savings bonds for people between the ages of 16 and 35 if they get the vaccine or have gotten it.