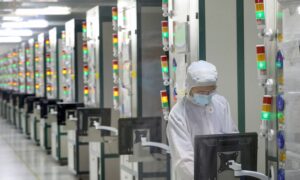 China's Taiwan intimidation and its domestic chipmaking threaten US tech sector
Commentary
The ongoing global chip shortage has highlighted the United States' dependence on a fragile global supply chain of semiconductor manufacturing concentrated in Asia.
Amid this environment, China's increasingly combative stance against Taiwan—along with its massive domestic investment into chipmaking—is a key risk to the security of America's chip supply.
The worsening global computer chip shortage has been destructive to several industries and hurt consumer pocketbooks.
U.S. automakers initially shut production late last year due to chip shortages. But more recently, automakers have resumed production, just without certain "smart" features that require such chips. The domino effect is a lower supply of new cars, which drive up car prices. Japan's Sony Corp. recently blamed a lack of supply of its PlayStation 5 console on production stoppages due to a shortage of chips. There is also supply constraints seen in other home appliances—all driving up consumer prices—due to the ongoing chip scarcity.
What is causing this shortage? There are several factors, but a key reason is last year's semiconductor chip production stoppage due to the CCP (Chinese Communist Party) virus pandemic. That supply shock is worsened by pent up demand from businesses as consumer spending ramps up globally. The demand is augmented due to consumer products from toothbrushes to coffee makers now requiring chips due to "smart" features and internet connectivity.
This issue has brought to fore the American strategy of mostly outsourcing its chip manufacturing. While the United States is home to several semiconductor companies such as Intel, AMD, Qualcomm, and Nvidia, these chip designers have outsourced actual production to Asian fabricators or foundries.
The U.S.-based Semiconductor Industry Association estimated that only 12 percent of global chip production is U.S.-based as of late 2020, compared to almost 40 percent in 1990.
Like most other outsourced products, computer chips are cheaper to produce in Asia. But unlike other manufacturing processes, making computer chips cannot be easily moved. It is an immensely complicated process and takes tens of billions of dollars of upfront investment.
That is why the world's biggest chip fabrication company, Taiwan Semiconductor Manufacturing Co. (TSMC), plays such an important role in global chipmaking, and why China—and most recently the United States—have feverishly invested in chip manufacturing capabilities.
U.S. technology firms such as Apple, Google, AMD, and Amazon rely on Taiwanese contract chipmakers to produce up to 90 percent of their chips, technology analyst Sebastian Hou of Hong Kong-based CLSA told CNBC on April 13.
Such dependence on one country for critical infrastructure is eye-opening. And China sees this weakness clearly.
The CCP is desperate to achieve semiconductor independence as soon as feasible. This serves two goals. One is to alleviate the impact of U.S. sanctions against Chinese companies suspected of military links such as Huawei. The other is to gain an upper hand in China's ongoing technology competition with the United States; having a domestic supply of quality chips would ensure Chinese products can continue to flow to the global markets while the chip shortage cripples competing foreign production.
Beijing's Tsinghua University recently set up a dedicated semiconductor chip college for training computer chip engineers. Despite government-backed investments in chipmaking plants, China has a shortage of qualified staff to operate these companies.
To close the talent gap, China has been courting semiconductor workers from Taiwan. Shanghai-based Semiconductor Manufacturing International Corp. (SMIC), the biggest chip fabricator in China, last year more than quadrupled the salary of its Taiwanese-born CEO Liang Mong-song, according to a South China Morning Post report. SMIC, a key Huawei supplier, was blacklisted by the Trump administration in December 2020.
The semiconductor brain drain from Taiwan to China is indirectly damaging to the United States. It threatens the fabrication capabilities of Taiwan and could impact the quality of its production.
Taiwan's ministry of labor recently ordered the country's online job boards to remove all listings uploaded by Chinese employers, to stem the outflow of semiconductor talent to mainland China.
"The ministry's notice stated that the development of China's semiconductor industry has been adversely affected by the U.S.-China technology war, so Beijing has resorted to stealing technology and poaching talent from Taiwan to build its own semiconductor supply chain," according to the English-language Taipei Times in a May 1 report.
TSMC, Taiwan's largest chipmaker and a massive U.S. contract manufacturer, also has concentration risk within the country. Bloomberg reported that more than 94 percent of TSMC's production capacity are located at three facilities all within a 100-mile radius in central Taiwan.
That's dangerous for the United States if Taiwan's security is ever threatened. In recent years, CCP regime leader Xi Jinping has stepped up threats to invade Taiwan. The rhetoric is matched by the increasing number of People's Liberation Army fighter planes China has recently sent into Taiwan's airspace.
If China ever successfully seizes Taiwan or destroys the massive chipmaking factories clustered within that 100-mile radius, the vast majority of America's computer chip supply chain is immediately at risk of being shut off. This is not a favorable position for the United States.
In the Biden administration's $2 trillion infrastructure investment proposal, up to $50 billion is dedicated to domestic chip manufacturing incentives. While critics have pointed to the wastefulness of some portions of the $2 trillion plan, one can certainly argue that $50 billion allocated to chipmaking is not enough.
In March, Intel Corp.—one of the biggest integrated chipmakers in the world that had been losing ground to Asian manufacturers—announced a $20 billion investment plan for two new facilities in Arizona. Days later, TSMC announced its own $100 billion plan over three years to invest in manufacturing capacity, which is expected to include expansion of its U.S. footprint. South Korea's Samsung had previously committed more than $100 billion over a decade to expand its foundry operations.
It will be a "challenging and long journey for them to diversify away (from Taiwan), and thinking about how long it takes for the chip development and cooperation, it's going to take a while," CLSA's Hou told CNBC.
For the sake of the U.S. technology sector, diversification efforts should begin as soon as possible.
Views expressed in this article are the opinions of the author and do not necessarily reflect the views of The Epoch Times.