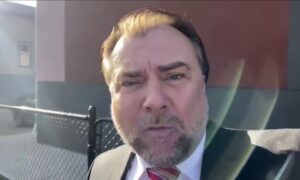 Officials in Calgary, Canada, said they arrested Artur Pawlowski, a street preacher who allegedly defied local lockdowns, over the weekend.
"Earlier today, police arrested two organizers of a church service who were in violation of a new court order obtained by Alberta Health Services (AHS) in relation to mandatory compliance of public health orders for gatherings," said the Calgary Police Service in a statement on Saturday.
His brother, David Pawlowski, was also taken into police custody.
Both were charged with allegedly organizing an illegal in-person gathering as well as  "requesting, inciting or inviting others" to join them, according to police.
The force said that Alberta's provincial government obtained a bench order from a court that applies to "protests, demonstrations and rallies" that imposes "new restrictions on organizers of protests and demonstrations requiring compliance with public health orders including masking, physical distancing and attendance limits."
"It is important to understand that law enforcement recognizes people's desire to participate in faith-based gatherings as well as the right to protest. However, as we find ourselves in the midst of a global pandemic, we all must comply with public health orders in order to ensure everyone's safety and wellbeing," the police service added.
A video uploaded on Twitter that appeared to show his arrest on a highway included Pawlowski's voice: "If you are watching this video, it means that they have successfully arrested me." It included a link to a crowdfunding website for his legal defense.
During the COVID-19 pandemic, the Pawlowski brothers have held gatherings and have denied officials' entry into their church located in Dover, Calgary, according to reports.
Pawlowski drew headlines several weeks ago after he compared police with the Nazi Gestapo paramilitary forces and fascists.
"And they did it again! Today, the Gestapo Attacked our Church Again! History is being repeated in front of our eyes! Another sad day for Freedom and democracy!" Pawlowski wrote on April 24.
Before that, in a viral clip, he was seen in a video telling officers: "I do not cooperate with Gestapo!"
"I'm not interested in any word that you have to say. I do not cooperate with Gestapo, I do not talk to the Nazis," Pawlowski told officers on Easter Sunday weekend, adding, "Brown shirts of Adolf Hitler. You are Nazi, Gestapo, communist, fascists! I do not cooperate with Nazis!"
On April 3, Pawlowski was fined $1,200 for allegedly holding a public gathering of more than 15 people at his Street Church, in violation of COVID-19 health orders.
Pawlowski, who emigrated from Poland to Canada in the 1990s, told Fox News in April that Canadian police are engaging in Soviet-like activity during the pandemic. He has also been fined repeatedly for violating public health orders by holding church services.
"I grew up under a communist dictatorship behind the Iron Curtain, under the boot of the Soviets, and I'm telling you that's no fun at all. It was a disaster," he said in the interview. "So, it was like a flashback when those police officers showed up at my church. Everything kind of came back to life from my childhood, and the only thing I could do is to fend off the wolves as a shepherd, and I used my voice to get rid of them," Pawlowski added.