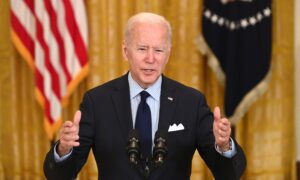 The Biden administration needs to move faster to launch a comprehensive campaign to counter threats posed by the Chinese Communist Party (CCP), according to China expert Gordon Chang.
On the whole, the administration is "moving in the right direction," Chang told The Epoch Times' "American Thought Leaders" program. "But we're not moving fast enough."
This is dangerous, Chang said, because "what China is doing can bring down our system."
"We are not adopting the right posture with the right tools fast enough," he said.
After more than three months into President Joe Biden's term, many key China policies initiated by the Trump administration are still "under review," to use the White House's terminology.
According to Chang, some of the policies enacted by Biden so far have been "atrocious" in relation to dealing with the regime, while others have been "really good." The positive developments included U.S. sanctions on Chinese supercomputing companies, he said.
But one measure Chang took issue with was Biden's executive action in January aimed at combating racism and xenophobia toward Asian-Americans amid the pandemic. The measure was partly enacted in response to then-President Donald Trump using the term "China virus" to describe the CCP (Chinese Communist Party) virus, which originated from Wuhan, China. The memorandum directed federal agencies to ensure that language used "do not exhibit or contribute to racism, xenophobia, and intolerance against Asian Americans and Pacific Islanders."
Biden's action was in fact echoing a CCP narrative that claimed that using the term "China virus" or "Wuhan virus" fuels a rise in discrimination and violence toward overseas Chinese and ethnic Chinese populations, Chang said. This narrative was propagated as part of the regime's bid to deflect attention away from its coverup of the early outbreak, as well as the possibility that the virus leaked from a lab in Wuhan.
"The president of the United States should not be repeating what China is saying, especially because what China is saying is not correct," Chang said. "So I find that horrible."
Chang also decried Biden's suspension of Trump's executive order of May 2020, which paved the way for grid operators and utilities from buying equipment from countries deemed to pose a risk to U.S national security, such as China. On Jan. 20, Biden suspended Trump's order for 90 days while asking the energy secretary and director of the White House's Office of Management and Budget to "jointly consider whether to recommend that a replacement order be issued."
"I can understand he wants to review Trump policy … but at least he should have left the protections in place while he conducted that review," Chang said.
"China has been probing our critical infrastructure," he said. "They could do … in the U.S. what they did in India's financial capital late last year."
In February, a New York Times report said that the power outage in Mumbai, India, on Oct. 12, 2020, was part of a Chinese cyber campaign against India, as the two countries were locked in a fierce border battle. At the time, local authorities said the failure was caused due to "technical problems," but an Indian minister said in March that it could have been the result of cyber sabotage, adding that it was being investigated.
Chang said that Biden himself is predisposed to pursuing a cooperative relationship with the Chinese regime, but has been forced to adopt a tougher stance due to both Beijing's aggressive conduct internationally and American public opinion which has turned against the regime.
"What's occurring is that China's engaging in conduct that nobody can really abide," he said. "It's forcing him [Biden] to adopt policies that are more robust."
Chang expressed concern over Biden's personal approach toward the regime and its leader Xi Jinping.
"It's just a mystery that Biden has given the Chinese a lot of gifts. He hasn't asked for anything in return," he said. "I just don't understand why he would do that."
He was particularly troubled by "the way [Biden] speaks in loving terms with his meetings with Xi Jinping."
"I don't know why the Chinese leader has some spell over Biden," Chang said.
Biden often brings up his long relationship with Xi when speaking about the Chinese regime. While Biden was vice president, Xi was the regime's vice chair, and thus Biden's counterpart at the time. The two had spent more than 24 hours in private meetings and 17,000 miles traveling together during that time, according to Biden.
In February, Biden said of Xi, "I know him well. We spent a lot of time together over the years I was vice president."
Chinese Infiltration
Chang sounded the alarm on the broadness of the CCP's efforts to infiltrate American politics and society.
"China's just overwhelmed our society," he said. "They've overwhelmed the FBI, they've overwhelmed local law enforcement, local governments."
He raised the example of Rep. Eric Swalwell (D-Calif.), a member of the House Intelligence Committee, who previously had ties to an alleged CCP spy, named Fang Fang or Christine Fang.
A report by Axios in December 2020 claimed that Fang built up an extensive network of contacts with up-and-coming politicians in the San Francisco Bay Area, including Swalwell. The report said Swalwell cut ties with her after investigators gave him a "defensive briefing," and that he provided information about her to the FBI.
Chang noted that Fang first contacted Swalwell when he was a councilman for the city of Dublin in California from 2010 until 2012.
"That means they probably were just looking at Swalwell on the off-chance that someday he might become valuable to them," he said.
"This suggests that there's more than one Eric Swalwell. There could be dozens, there could probably hundreds of Swalwells, which means that there are dozens and hundreds of Christine Fangs."
It's time to start removing the CCP's influence from American society, Chang said.
"They have infiltrated government, they've infiltrated media, academia, business, you name it.
"If it's an institution, China has tried to penetrate it."