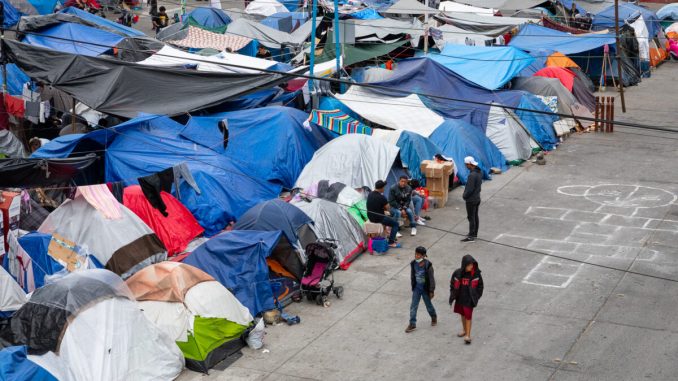 TIJUANA, Mexico—In a dim church auditorium with three-story ceilings, nestled at the bottom of a steep, trash-strewn canyon in Tijuana, Mexico, the loud cries of hundreds of children pierce the air.
Huddled inside, some sleeping on mats, over a thousand migrants from Central and South America have sought shelter in the Iglesia Embajadores de Jesús, one of the only indoor options they have while waiting to navigate the path to U.S. citizenship.
Thousands of travelers have flocked to this border town, lured by the promise of newly elected U.S. President Joe Biden and a loosening of immigration restrictions, hoping to escape oppressive conditions in their homelands and start a new life in America.
But for many, this is as far as they will get.
According to U.S. Customs and Border Protection figures, over 172,000 people were taken into custody in March alone. Over 53,000 of them were family groups, and nearly 19,000 of them were unaccompanied minors. The numbers are among the highest monthly totals ever, and threaten to overwhelm resources on both sides of the border.
A Better Life
Pastor Gustavo Banda, who runs Iglesia Embajadores de Jesús, told The Epoch Times he has a calling to help the migrants in his church. He said they have arrived from as far away as Venezuela, Nicaragua, and El Salvador.
"God speaking to us in the Bible has pushed me to help all these people that have nothing," he said. "All these people are important, and I'm making do with what I have available to help and serve them."
The pastor has opened his church to migrant caravans previously. In 2018, a wave of Haitian families seeking Mexican work visas lived on the property. Some successfully found work; others were sent back to their home country by the Mexican government.
"The difference now is that the migrant families here traveled thinking they would be granted access and papers for America upon reaching the border, and they are crying because it is a very difficult time," Banda said.
"They don't know what is going to happen with their life in this moment. They cannot return to their homes because of the threat of gang violence."
A recent arrival, Jose Melcio, made the journey from Honduras with his wife and infant son after his brother was killed by drug cartels in their home city.
"We were changing house to house to avoid getting killed by the narcos. Once we found out that there was a specific threat against me, I knew we had to escape," he told The Epoch Times.
Like many in the migrant caravans, Melcio made the trip after word spread through social media that American citizenship was a great possibility through the Biden administration. He chose the risk and dangers of the long journey with his family over staying in Honduras with the possibility of getting killed, he said.
"We sold what we had to get to this point, and had to leave my mother in Honduras for the time being. I want a better life for my son, and the dangers created of the narcos are a big reason for us seeking a new life in America."
Fabio, 28, is also from Honduras. Like Melcio, he was given the impression on social media that the American borders were open for the U.S. citizenship process. Arriving in Tijuana, however, has left him uncertain.
"We heard that within Biden's first 100 days opportunities were opening up for migrants to become citizens, but it does not look that way for us as of right now," he told The Epoch Times, as he sat with his son in front of the church.
He said the two made the journey from their home in Honduras in 18 days, by walking and occasionally riding in trucks and trains.
"My son needs a better life, but I am not sure about the days that are ahead for us," he said. "All I know is that it is safer for us here than Honduras for right now."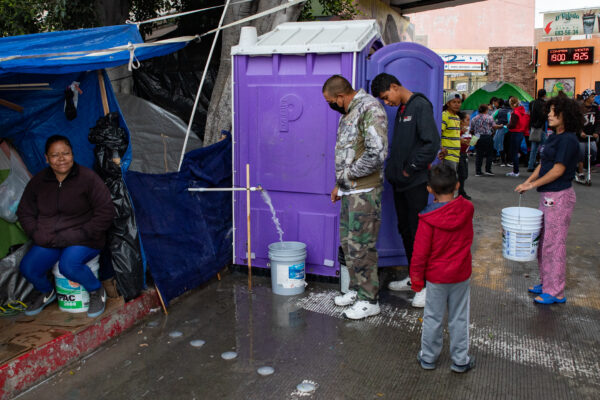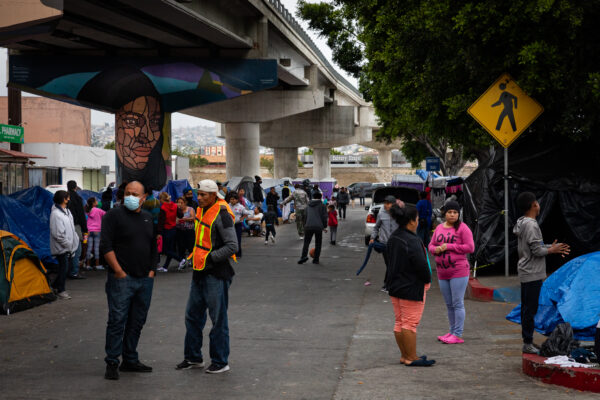 Fleeing Dangerous Cartels
Inside the church, a man wearing a baseball cap and holding a clipboard talks with migrants in the far corner of the room, as a group of children chases each other while jumping over sleeping people.
Rene Boseta is a psychologist, volunteering his services at the church as the migrants continue to arrive. He said many people left their lives behind based on incorrect information they saw on social media.
"So many people in this room gave everything up to come here," Boseta told The Epoch Times. "They were badly misinformed about immigrating to the U.S. at the present time."
After connecting with each of the migrant families taking temporary residence in the church, Boseta said he has found that Mexico's drug cartels have had a significant affect on the caravans traveling to the border.
"They feel the dangers of the cartels outweigh the dangers of the journey to get here, as gang violence continues to escalate not only in Mexico, but also the countries in the south," he said.
"In many cases, traffickers connected with the cartels promise to get them to America, but leave them scattered and far away from their promised destination. Migrants pay them a large sum of money, and alternatively they are subject to violence, kidnapping, and all kinds of abuse."
When passage to America doesn't work out, he said, "they are left with nothing and stuck at the border … if they make it that far."
The Children Shall Lead
Northeast of the church is the San Ysidro border crossing area, known as El Chaparral, where an estimated 1,500 migrants have gathered in a makeshift camp, hoping to be granted entry and citizenship in the United States.
Tents, tarps, and clothing are hung up to dry in the morning sun. They fill the temporary settlement, located roughly 800 feet from American soil.
Over 500 of those dwelling in the camp are children—including 10-year-old Agil, who spoke with The Epoch Times near a bookshelf containing educational workbooks that are offered to the children to keep them occupied while they are not in an official school.
"It was a hard journey," said Agil. "I feared some of the people I saw along the way as possible threats to me and my family."
Agil sipped on a Coca Cola. Nearby, a line formed for a makeshift water faucet next to portable toilets set up by Mexican authorities.
The three-month-old encampment grows daily, while its living conditions worsen. The effects of overcrowding have prompted officials to begin relocating migrants to a nearby sports complex, said to be safer and more organized for larger gatherings of people.
"I really hope to cross," Agil said, as his elder brother joined him and shared his Coca Cola. "I want to study and learn business; that way I can take care of my mother one day."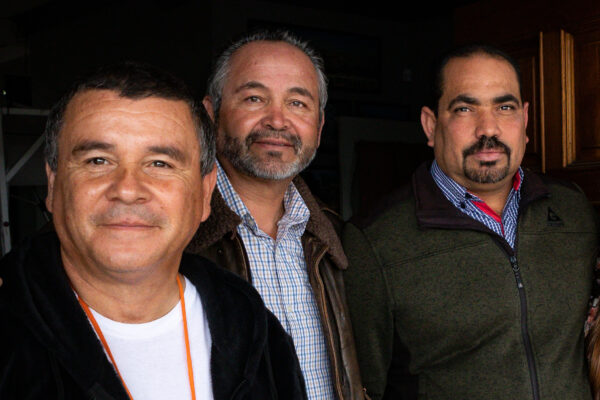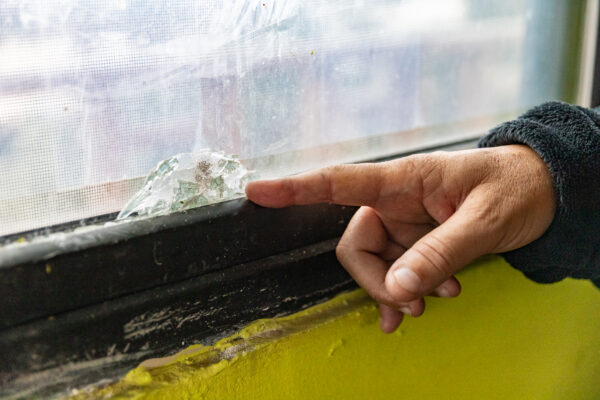 Called to Serve
A few miles away, at the Centro Familiar Cristiano in the neighborhood of La Mesa, three pastors meet to discuss the migrant situation.
"Immigration is always going to challenge society, whether it be on the traveler or on the authorities," Carlos Rafael Kateztain Ruiz, the church's 51-year-old pastor, told The Epoch Times.
Ruiz and the others are dedicated to helping the migrants on their journey.
"Our reasoning to serve is that we recognize that every foreign immigrant here needs to be treated with dignity and with love, as they come in from all over the world," he said. "Our lives are temporary, and we are all foreigners in this world as we come and go, in life and death, before God."
The pastors provide the migrants with around-the-clock ministry services, including food, hygiene products, counseling, and medicine. When local donations are limited, they pay for the expenses out of their own pockets.
"We are very fortunate to have giving people here in Tijuana that partner with us in serving the immigrants and the community," said Ruiz. "That's the wonderful conviction God puts on his people to help each other."
Pastors Carlos Castro and Albert Rivera—both immigrants themselves, living in Tijuana—also attended the meeting.
"If an immigrant in the camps does not have shoes, or if someone is sick and needs medicine, we want to help," Castro told The Epoch Times. "I look in the mirror and see that immigrant as myself. We are called to serve. Our actions serve as taking the message of the Lord to these visitors."
Rivera, originally from Puerto Rico, oversees Agape Misión Mundial, a nonprofit organization that works with Mexican and U.S. authorities to help immigrants secure legal American citizenship. He operates out of a colorful, multistory building complex near Plaza Loma Bonita, at the top of a hill overlooking the Pacific Ocean, in a neighborhood that was formerly the trash dump of Tijuana.
"The migrants who accept an invitation to come here do so by agreeing to not jump the border wall illegally. If they do that, they cannot come back to this location," Rivera told The Epoch Times.
There are currently 115 people living on-site that are pursuing legal attempts for U.S. citizenship, most fleeing the violence of drug cartels. Rivera said 50 percent of them leave the complex and work during the day, while waiting for their appointments for immigration in the court.
"Everyone takes care of their spaces and we all have chores to do around here, but each morning start the day together by seeking the Lord in prayer," he said.
Rivera connects migrants with immigration lawyers who offer their services pro-bono. He also coordinates with Mexican officials, who help the migrants with their applications to the United States and arrange their transportation to the California Border Patrol.
He said official police reports are also necessary for migrants applying for amnesty due to direct cartel violence against them—but these can prove problematic.
"There are family members here who have had brothers, sisters, and loved ones get killed, or have even been shot by the cartels themselves," he said. "We help them in their process to file a police report here in Mexico, because it's [a] necessary but sometimes difficult task when they are applying for amnesty."
Organized crime and corruption continue to threaten migrants after they provide details to the police, according to Rivera. "They're going to come and go after your family once they find out a police report has been made against them."
In Mexico, the victim of a crime in one state cannot file a police report in a different state, he said, adding that if filed reports are rejected, a victim would have to go back to the state where the assault occurred to continue the process.
On the second floor of the Agape Misión Mundial, Rivera points to a bullet hole from a recent encounter with a local cartel. He said other bullet holes nearby were shot through a window by masked men that came into the shelter after mistakenly thinking a migrant man committed a robbery in the area. The allegation later proved to be false, once the real culprit was captured.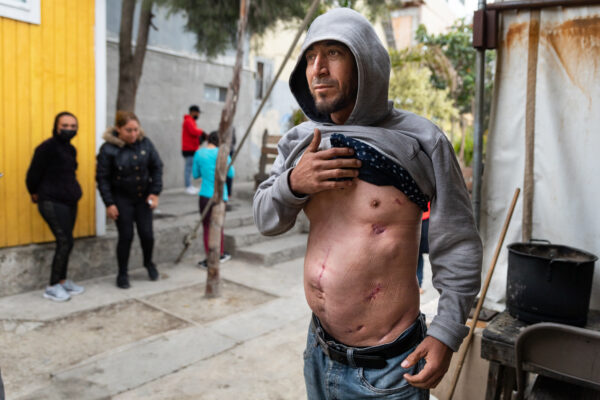 The Newest Americans
Just outside the bullet-riddled windows, migrant children scream joyfully as they kick around a ball in a concrete sports area, after their daily on-site schooling taught by affiliates of the United Nations.
A man in a grey hoodie slowly approaches, wearing an elastic brace around his abdomen. He says his family is from the Mexican state of Michoacán—where he was recently shot five times in the stomach after being caught in the crossfire of the warring cartels.
"After I was shot, we were all obviously frightened. We started to travel to just get out and escape. We were afraid that they were going to be following us and everything," Jaime Vega told The Epoch Times.
He said things have gotten so bad in his former home that "the cartels are even teaching little kids how to shoot rifles at people right now in Michoacán."
"Even just last Monday, my mama and my brothers and family members were walking in my hometown and the cartels started shooting at one another. Then they were shooting towards my mother and she ran inside a store," he said.
"They then started throwing grenades at one another. Luckily the store worker locked up the shop while my mom was inside, which kept her safe."
Once the Vega family arrived in Tijuana, they joined the other migrants at the El Chaparral encampment. Then they made an appointment to talk with Mexican immigration officials.
"They said, 'You might as well just go back to Michoacán … where you guys came from, because there's no opportunity for you to cross over.' They didn't even give me a chance to tell my story that I was shot five times."
After connecting with Rivera at the migrant encampment, Vega and his family moved into Agape Misión Mundial, where they began the process of seeking asylum in the United States.
"I made this decision because we needed to go to the shelter with my gunshot wounds and the cold temperatures for the kids at night," Vega said. "We cannot have our kids suffering out here, and we need to go."
Once the Vegas relocated to Agape Misión Mundial, Rivera began networking with the correct immigration officials. The process often involves a lengthy wait, he said, and can take up to two years.
In this case, his work paid off sooner than expected.
"In not even two months … we got all the permits and everything we needed to relocate the Vegas to [the] United States. He and his family are crossing with [a] special case given to them," Rivera said, smiling with joy.
The pastor was appreciative to the higher authorities. "We can all praise the Lord and see Him at work in all this," he added.
On April 22, the Vegas legally crossed into the United States, to relocate with extended family in central California.
"We were in such danger back home. My kids can have a better future and a better life," Vega said with excitement. "They can even go to school! When there's a drug war going on, the kids can't go to school."
The hardships of the Vega family mirror those suffered by many of the asylum seekers, who continue to wait hopefully in the encampments for their meetings with immigration officials.
Rivera hopes to commission the people he helps to pay it forward.
"I want them to bring with them the peace of the Lord back to America, like the prodigal son. We are very grateful to the Lord for the opportunity the Vegas had to cross," Rivera shared.
"Basically, it's their turn to serve and honor God in their new home now."