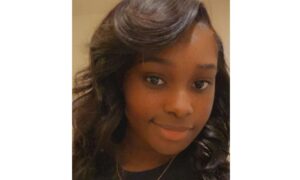 Authorities in New York said they suspect that a missing Buffalo State University student took her own life, but they have not discovered her body.
Saniyya Dennis, 19, was last seen leaving her residence hall on April 24, officials said.
"It appears that this poor girl took her own life," Erie County District Attorney John Flynn told reporters on Thursday. He said that her body has not been located but they reached their conclusion based on a timeline.
Flynn said that on April 24, Dennis got into an argument over the phone with her boyfriend, who lives in New York City. After attempting to contact him dozens of times to no avail, she called another friend in New York City and said she would kill herself, according to the district attorney.
Flynn added that she was seen leaving the campus at around 11 p.m. on that day, adding that she was seen throwing away personal items in a garbage can. Based on that footage, Flynn said it led officials to believe she wasn't coming back to her dorm, WGRZ reported.
Dennis then sent a photo of Niagara Falls to her friends on Snapchat at around 1 a.m., said the district attorney. The last outgoing text from her phone was 1:22 a.m., he added, saying there was no cellular activity from her phone.
New York State Park Police Major Clyde Doty told WGRZ: "It's a sensitive case to work with, and to deal with. We all do work the hardest we can to bring closure to this matter the best way we possibly can. The State Park Police will continue our efforts, as we always do in cases likes these."