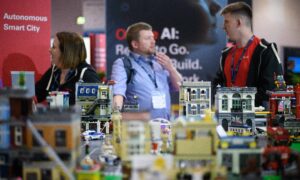 Emerging smart cities will likely become attractive targets for malicious actors, an expert at the UK's National Cyber Security Centre (NCSC ) warned on Friday.
The warning came as NCSC published its first guidance for the development of smart cities in the UK.
In a blog post introducing the guidance, Ian Levy, the NCSC's technical director, said that an "Italian Job" would be "catastrophic" in the 21st century when computers "control more aspects of our physical lives than ever before."
Levy was referring to the 1969 heist film "The Italian Job," in which magnetic storage tapes for the Turin traffic control were switched to create a gridlock as a part of the escape plan.
"A similar 'gridlock' attack on a 21st-century city would have catastrophic impacts on the people who live and work there, and criminals wouldn't likely need physical access to the traffic control system to do it," the blog reads.
"Failures within individual systems can have terrible impacts, but as they are increasingly connected and become interdependent, the compound effects are magnified," Levy wrote.
"Combine this with the potential privacy intrusion (for example, if the data are collected or processed in a dumb way) and there's lots to worry about."
Levy said that "as these 'connected places' [smart cities] become increasingly joined up, the ubiquity of the services they provide will likely make them a target for malicious actors."
He said now is a good time to take precautions because these so-called smart cities are "just emerging in the UK."
The "Connected Places Cyber Security Principles" published on Friday is the first guidance for national and local authorities and cybersecurity professionals. Levy said the NCSC expects to "create some very specific guidance over the coming years."
NCSC is a part of Government Communications Headquarters (GCHQ), the UK's National Security Agency.
Last month, GCHQ director Jeremy Fleming warned that the UK and its allies must adapt to evolving technology to stay ahead of digital threats, naming the speed of technology growth in China and Russia as major concerns.
Fleming said the CCP (Chinese Communist Party) virus pandemic and the increased reliance society had placed on technology had not only benefited the UK and its allies, but also "our foes," who have exploited "accelerations in connectivity and poor cybersecurity."
In response to this threat, Fleming said it was now vital that the UK adapt in order to keep up with the evolving threats, calling it a "moment of reckoning."
PA contributed to this report.