Entrepreneur and business coach Lewis Howes explains how painful moments in life teach us valuable lessons
Lewis Howes had a major breakdown about 13 years ago.
He had just begun his career as a professional football player, playing in the Arena Football League.
But a devastating wrist injury ended his prospects.
"I felt like my life was over—my whole dream shattered," he said in a recent interview. He was fresh out of college. With no money or job, he ended up living in his sister's house.
"I remember being very angry, upset, [and] depressed for about 1 1/2 to 2 years. I kept thinking, 'Why did this happen?' The thing I love so much, I care about so much—I don't get to do it anymore."
He was stuck, but knew he didn't want to be in that situation forever.
One day, Howes decided to seek out people on LinkedIn, then a nascent platform, and ask them about how they found success.
Surprisingly, many people replied with their advice. That was when he realized there was nothing stopping him from trying the things he wanted to do.
So Howes started a podcast, interviewing influential people to learn their tips and habits for overcoming challenges and achieving their goals—from successful athletes, to entrepreneurs, and actors.
His show, The School of Greatness, has had more than 100 million downloads and is still going strong.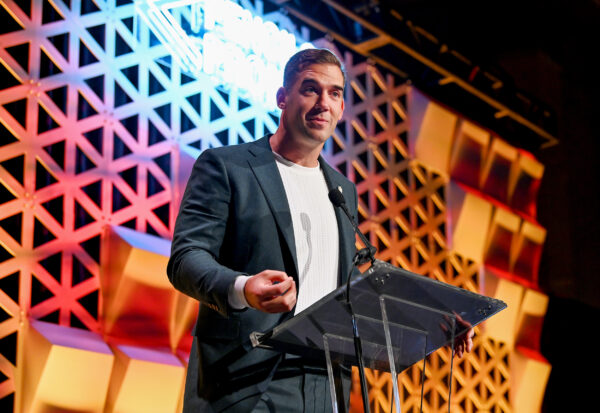 Howes truly believes that anyone can achieve their goals. "It's our job to discover what our unique talents and gifts are, out of every stage of life, and to pursue those talents and gifts, and then make the impact on the people around us in that pursuit," he said.
Through his podcast, his New York Times-bestselling book by the same name, and his coaching exercises, Howes hopes everyone can take something from the material and use it for growth—whether furthering a business or learning to forgive someone.
"We should always be challenged. I personally feel like we are the most fulfilled when we're growing. We're happier when we have a beginner's mind," he said.
Howes started attending salsa dancing classes. He also grew interested in another sport, handball, and became determined to join the national team and represent the United States at the Olympics. He achieved just that. In 2016, he competed at the Rio Olympics.
These days, he is taking Spanish lessons three days a week, having always wanted to master a foreign language.
As a motivational coach, his task is to encourage people with thought exercises.
For example: "Imagine that you had this big goal, that you think is impossible, to accomplish in the next 12 months. And imagine for whatever reason, if you didn't accomplish it, that you or someone you cared about died—do you think you would figure out what to do in your life to make that goal happen?"
Most people, he said, would be able to come up with tangible steps toward achieving that goal. Then the key is to schedule those steps into your calendar so you're held accountable every day. Having a mentor or friend for support is also helpful.
While Howes has made a business out of helping people achieve their dreams, he also warns against the urge to measure one's worth by counting accomplishments.
He instead evaluates himself based on the following principles: "If I keep my word, my integrity—if I show up present in moments with each individual—showing up the best version of myself with the energy that I have at that moment. Or did I waste the day by being distracted when I was with people? Did I lie? Did I do something I wasn't proud of?
"For me, it's more about who I've become and the journey of getting to the goal," he said.
He is grateful that his experience a decade ago shaped him into a stronger person and set him on a different path. "Look what it helped me overcome. Look at all the things I learned. If I were to stick with football, I would have been one-dimensional, just an athlete—[or] maybe had a bigger injury."
He finds his new work far more fulfilling. "I can do this for decades," he said.
Though Howes wouldn't recommend anyone experience a breakdown for themselves, he said that it can provide an opportunity for one to gain clarity.
"Unfortunately, or fortunately—however we look at it—these breakdowns, or these painful moments, create a lot of openings for us to see things differently," he added. "Growth is available for people if they're willing to go after it and try."