In the pastel painting "Heaven Cries," Spanish painter Montse Jara depicts an adorable young angel in heaven. He's deep in thought, but he's not contemplating play. His face is forlorn, and a couple of tears escape him. His left hand gestures toward the earth below as he timidly points his index finger gently down in condemnation.  
His tears are for us.
Traditionally, angels have symbolized the protection of human beings. In particular, Roman Catholics view angels as intermediaries between God and men, Jara said in an email.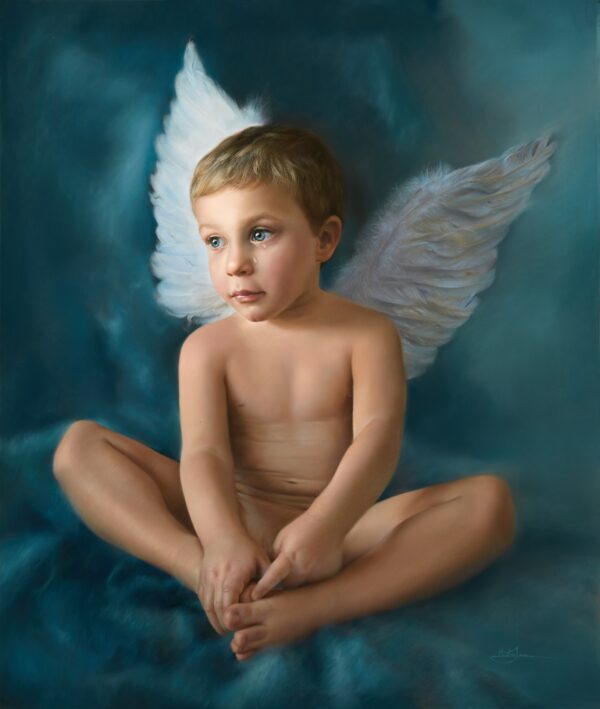 She explains that this messenger of God is denouncing the time in which we live: "He observes, from above, how the human being destroys himself and his surroundings." Jara sees our time "as a time of selfishness, where there is no empathy between people, and where nature is threatened by the decisions of men." 
Jara has emphasized the angel's woe by using a cold color palette for the background. Rather than showing the lightness of heaven, she depicts the heaviness of the angel's turmoil. 
Jara won a Conté à Paris Award at the 5th Biennial International Pastel Painting Competition 2020 for "Heaven Cries." 
Currently, Jara is focusing on creating realistic figure paintings with a touch of fantasy. She particularly enjoys painting children, as she says that their expressions help her convey tenderness and sincerity. And, although children can be a challenge to paint, she loves re-creating their delicate tones and figures.
To find out more about Montse Jara's paintings, visit Facebook.com/Montse.JaraChaves