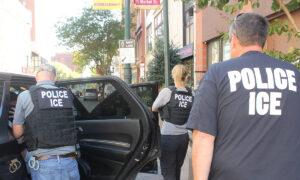 Arizona and Montana attorneys general are asking a judge to order the Biden administration to stop abiding by guidance that narrowed which illegal immigrants should be deported, leading to a new record-low number of deportations in April.
In interim guidance issued in February, acting Immigration and Customs Enforcement (ICE) Director Tae Johnson ordered agents only to focus on deporting illegal immigrants presumed to be priorities linked to national security, border security, or public safety.
That meant illegal immigrants convicted of driving while under the influence or assault would not be deported, the White House said.
After the order, and similar guidance, the number of illegal immigrants ICE booked per month plummeted, from over 5,000 to about 2,000, according to a court document filed by Arizona Attorney General Mark Brnovich and Montana Attorney General Austin Knudsen.
The number of deportations also dropped, from 5,732 in the bulk of January to under 3,000 in April.
ICE is averaging one arrest in the interior of the country per 2.5 months per officer, Brnovich and Knudsen, both Republicans, said.
They argued the guidance violates the Administrative Procedure Act because it is "arbitrary" and "capricious," with ICE failing to supply a reasoned analysis for the change in policy. They also charged that the guidance clashes with 8 U.S. Code § 1231, which dictates details of removing illegal immigrants.
If the court doesn't block the guidance, plaintiffs believe they will suffer irreparable harm through escalating costs they must bear due to the decrease in removals, as well as the monetary cost of crime "given the statistical certainty of recidivism," they said.
"It is illegal and unconscionable for the federal government to force the release of dangerous criminals into Arizona communities when they are required to be deported by statute," Brnovich said in a statement. "Upholding the rule of law and preserving public safety must always come before any political or special interest group agendas."
The filing came in Arizona, State of et al v. United States Department of Homeland Security et al, which originated in U.S. District Court in Arizona earlier this year.
The Department of Homeland Security did not return a request for comment. ICE did not immediately provide a statement.
In a separate filing, lawyers for the government asked District Judge Susan Bolton, a Clinton nominee, to dismiss the lawsuit.
They asserted that Congress has vested the Homeland Security secretary with broad authority and that Montana and Arizona are seeking to displace the executive branch's "enforcement discretion by effectively dictating which noncitizens must be removed, in what order, and when."
The states lack standing and fail to clear thresholds in place to actions challenging policies on the basis of the Administrative Procedure Act, defendants also said.
The court previously denied the plaintiffs' motion to halt the Biden administration's 100-day deportation pause, because a federal judge in Texas already halted it for now. But Bolton said during a hearing last month that the ICE guidance could be addressed separately.