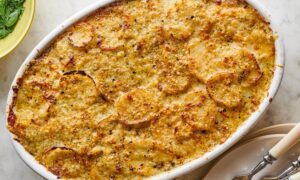 Choosing the greatest potato dish of all time is an impossible task. Frankly, there are far too many options and they're all irresistible. But choosing my favorite potato dish to make? That's an entirely different story, and the answer comes easily: a cheesy potato gratin.
Potato gratins are quick to prepare and always crowd-pleasers. But what I love most about them is that their simplicity allows for endless spontaneity: You can switch up the potatoes, cheeses, and spices however you fancy. What some might see as a simple side, I see as a blank canvas, and I consider this particular rendition my Mona Lisa.
Inspired by the flavors of ranch dressing, this zesty potato casserole is just as creamy and rich as the original, but a little bit tangier and far more herbaceous. When served warm and bubbling from the oven, it's nearly impossible to resist. Here's how to do it.
How to 'Ranch-ify' Your Potato Gratin
These three ingredients turn a classic potato gratin into a ranch-lover's dream.
Sour cream: Gratins are typically made with milk, heavy cream, half-and-half, or a bechamel sauce. For this recipe, I added a heaping helping of sour cream to the heavy cream to add tanginess and extra creaminess.
Fresh herbs: For me, the perfect ranch vibe is a combo of dill, chives, parsley, a little grated garlic, and lots of freshly cracked black pepper, so you'll find all of them in this gratin.
Dill havarti: This herby cheese provides creaminess, a little tang, and some extra ranch oomph, thanks to its copious amount of dried dill.
Cheesy Ranch Potato Gratin
Serves 8
2 tablespoons unsalted butter
4 pounds large russet potatoes
6 ounces dill havarti cheese
2 ounces Parmesan cheese
4 cloves garlic
1 medium lemon
2 tablespoons finely chopped fresh chives
2 tablespoons finely chopped fresh dill
1 tablespoon finely chopped fresh parsley leaves
2 cups heavy cream
1 cup sour cream
2 1/2 teaspoons kosher salt
1/2 teaspoon freshly ground black pepper
Arrange a rack in the middle of the oven and heat the oven to 400 degrees F. Coat a 9-by-13-inch or other 2 1/2-quart baking dish with the unsalted butter.
Peel the potatoes. Cut with a sharp knife or mandolin into 1/8-inch thick rounds. Place in a large bowl and add enough cold water to cover. Grate dill havarti cheese and Parmesan cheese on the large holes of a box grater (keep them separate).
Finely grate garlic cloves into a second large bowl. Finely grate the zest of the lemon into the bowl. Finely chop the following fresh chives, dill, and parsley, and add to the bowl. Add heavy cream, sour cream, kosher salt, and black pepper, and whisk to combine.
Drain the potatoes and pat dry with a kitchen towel. Add the potatoes and half of the havarti cheese into the cream mixture and toss to coat. Transfer the potatoes one handful at a time to the baking dish, arranging them into an even layer. Pour any remaining cream mixture over the potatoes. Tightly cover with aluminum foil.
Bake for 40 minutes. Uncover and sprinkle with the Parmesan and remaining havarti cheese. Bake uncovered until the potatoes are fork tender and the top is golden brown, about 30 minutes more. Let cool 10 minutes before serving.
Recipe Notes
The gratin can be assembled the same day and refrigerated until ready to bake.
Refrigerate leftovers in an airtight container up to four days.
Grant Melton is a contributor to TheKitchn.com, a nationally known blog for people who love food and home cooking. Submit any comments or questions to editorial@thekitchn.com. Copyright 2021 Apartment Therapy. Distributed by Tribune Content Agency, LLC.