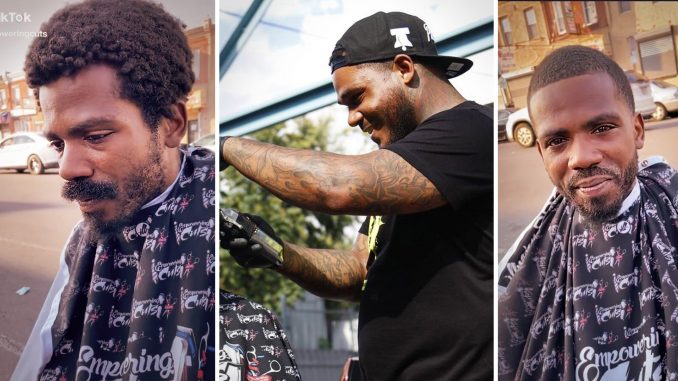 A viral video of a homeless man undergoing a transformation in the form of a haircut has left TikTokers in amazement. The clip shows a military vet having his grungy hair sheared cleanly and gruffy beard neatly trimmed, completely changing his appearance.
The final touch of the barber's clippers leaves the man looking like new—as though all traces of homeless had vanished—if only for a while.
The cut was given courtesy of Joshua Santiago, a Philadelphia barber who offers free haircuts to people in need.
(Courtesy of Joshua Santiago)
"I know all too well what it is like not to be able to afford something as simple as a haircut," Santiago wrote on his crowdfunding page Empowering Cuts.
"When I was a child, my father would cut my hair and mess it up every time because we didn't have the money to afford the luxury of going to a barbershop."
Santiago's brother, however, was the one who inspired the barber to take up the trade, he told The Epoch Times.
"My brother, he started to cut my hair, my brother was better than what my dad was," Santiago said. "And everything that my older brother wanted to do, or everything that my older brother did, I wanted to do because he was my role model."
While in barber school, he got the idea for offering free cuts.
"My whole life honestly changed when I turned 25 years old, and I actually enrolled into barber school," he said. "That's when my whole life changed."
He first began providing haircuts for the homeless about three years ago, while still in barber school. "The idea was that if someone was experiencing homelessness, they were less likely to care if you messed up their hair," he explained.
"Me personally, as a man, I know how important it is to give these individuals a free haircut, not only to boost their self esteem," he said. "But me personally … I just like love having a haircut. I love being able to provide a free haircut to someone else, especially individuals that can't afford one."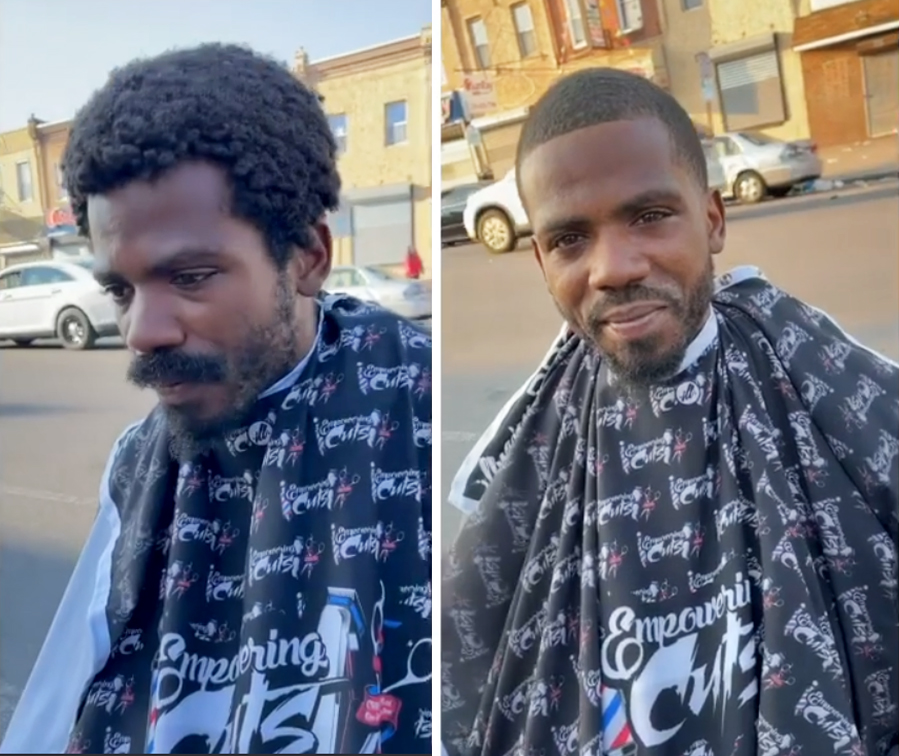 It was clear from the smile creeping up on the homeless veteran's face just how much the cut meant to him—as if, for a brief moment, he'd been whisked from the streets, transported back to happier times.
The man—who'd served in the military but had fallen into drug addiction—walked away with a smile.
Viewers were amazed.
"It is crazy what a haircut can do to a person," commented TikTok user Meatheadhumor.
Nor could others hide their excitement, with many viewers gushing over how handsome the man looked after his transformation.
"My brother looking clean sheesh," wrote Williamwillis15, whose comment attracted over 24,000 likes.
Another viewer, Jala-1245, could not help but admire the handsome fellow. "Not me screaming damnnnnn!" she wrote, punctuating her comment with a heart emoji.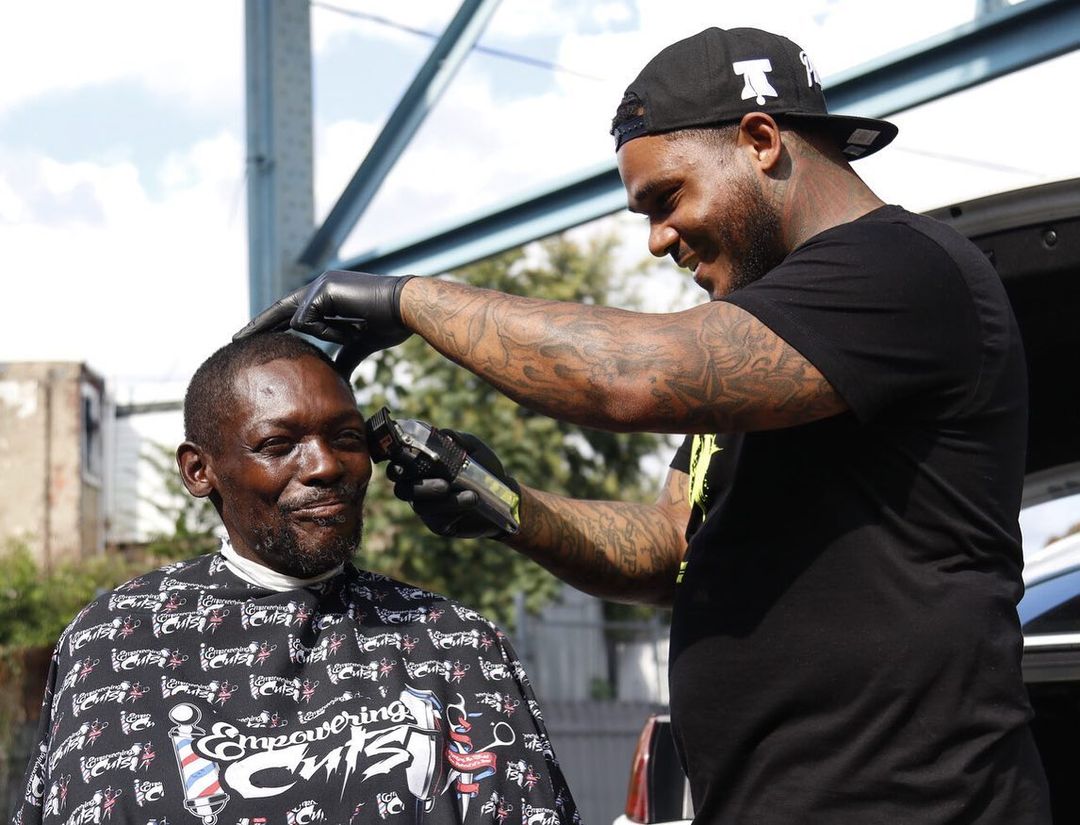 Since his days in barber school, Santiago became less concerned with making money cutting hair, and more concerned with "blessing the person whose hair [he's] cutting." Now, he offers people in need free haircuts through his current endeavor, Empowering Cuts, which he started about 16 months ago.
Santiago runs the nonprofit, traveling all over the country, offering free haircuts to children, homeless people, and those experiencing financial strains.
Apart from offering free haircuts, Santiago's team also offers other goodwill services to people in need of them, such as providing food and drink, cleaning supplies, hygiene supplies, and full grooming services.
Most of the funding for the organization comes from money contributed through online donations.
Share your stories with us at emg.inspired@epochtimes.com, and continue to get your daily dose of inspiration by signing up for the Epoch Inspired newsletter at TheEpochTimes.com/newsletter