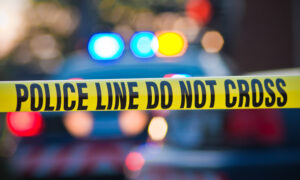 At least three people, including students, were injured at a shooting in an Idaho middle school, officials said.
Two students and an adult sustained "non-life-threatening injuries" during an incident at Rigby Middle School in eastern Idaho, said Monica Pauley, the executive assistant and board clerk for the Jefferson School District, according to the Idaho Statesman.
The suspect, meanwhile, was apprehended, officials said.
"Today we had the worst nightmare a school district could encounter. We had a school shooting here at Rigby Middle School," Jefferson School District Superintendent Chad Martin told KMTV. "What we know so far is the shooter has been apprehended. There is no further threat to the students."
Students at the middle school were evacuated to Rigby High School.
Layne McInelly, the head of the Idaho Education Association, said the incident is being investigated.
"We send positive thoughts to the victims of this tragic incident and hope for their full and rapid recovery," McInelly told CBS2. "Patience will need to be at a premium while school officials and law enforcement agencies investigate the situation. The IEA and our local education associations are ready, willing, and able to provide whatever support is needed for the staff, students, and community impacted by today's act of violence."
Elected officials from Idaho shared messages after the shooting.
"I am praying for the lives and safety of those involved in today's tragic events," Idaho Gov. Brad Little wrote on Twitter. "Thank you to our law enforcement agencies and school leaders for their efforts in responding to the incident. I am staying updated on the situation."
"I am praying for those affected by the horrific events in Rigby today. I am grateful for the service of law enforcement, first responders and teachers responding quickly to keep students safe," Sen. Mike Crapo (R-Idaho) tweeted.
The name of the suspect was not disclosed. Other details about the incident weren't provided.