Schools will be able to ban aggressive and violent parents from entering school grounds under a new bill introduced into the Victorian state parliament on Tuesday.
The law will grant principals and other authorised persons the ability to issue 'School Community Safety Orders' to parents, carers, and others who display abusive and harmful behaviour either in-person or through social media and other communication channels.
"We teach our kids not to bully, intimidate or abuse others," Education Minister James Merlino said. "But the lesson doesn't seem to be getting through to a minority of parents."
"That's why we're changing the law to protect principal, teachers and school staff against abusive and violent parents—and giving them more power to ban and restrict those who threaten or harm staff, including on social media."
A survey conducted in March showed a majority of school principals were subjected to offensive behaviour, ranging from gossip to violence.
Victorian principals are welcoming the changes, with many saying violent behaviour towards them has gradually increased over the years.
Glenda Harry, the principal of Orchard Grove Primary School, said it was now essential for a principal's office to have two entryways so there was an escape route for extreme circumstances.
"I had a drug-affected parent who didn't have access to his children and he came to the school looking for me," Harry told ABC radio. "That's when it's fantastic to have a principal's office with two doors."
Harry, who also mentors other principals, said she has heard many stories of teachers subject to verbal abuse or physical violence, such as getting attacked during parent-teacher interviews.
"I think parents are wanting to be an advocate for their child… and schools have become a little like a local church, which isn't as available anymore to the degree it used to be, so they feel that this is their place and that they can come and behave in such a way," Harry said, adding it was especially true in primary schools, where parents were much more involved in their child's education.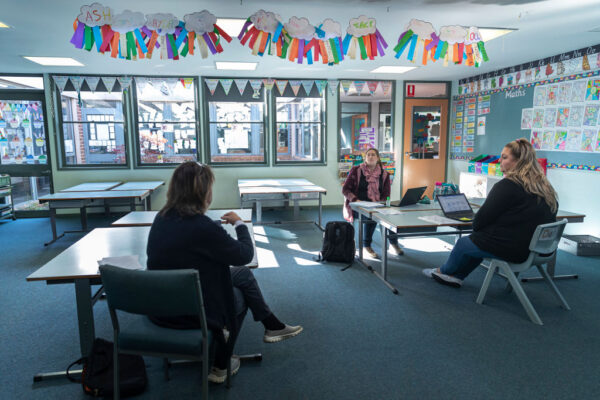 Andrew Dalgleish, president of the Victorian Principals Association, said it was sad to see that teachers were now the focus of blame for poor student performance.
"It's probably something that has been building up over time," Dalgleish told 3AW radio. "Sadly we see in the community, our first responders, our emergency workers also face both verbal and physical threats now."
He said the negative behaviour contributed to a decline in the number of people interested in becoming principals.
"It may be due to workload pressure, but it is also due to the behaviour that they face, sometimes on a daily basis," Dalgleish said.
Parents who are issued safety orders will still be able to communicate with the school and stay informed about their child's education.
Those who fail to comply could be taken to court by the school where they could face civil penalties of up to $10,000.
Opposition leader Michael O'Brien showed support for the newly proposed laws, telling The Herald Sun it was greatly needed in the current times to support the state's principals and teachers.
"We do welcome this idea, we want to obviously see the details of the legislation, but the principle is one that we very much support," O'Brien said.