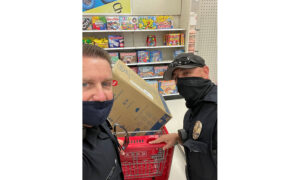 Being pulled over by police turned out to be a blessing in disguise for one Orange County mom.
Police in Irvine, Calif., said they pulled the woman over April 27 for not having her three children properly secured in their seats. One of the youngers, a three-year-old girl, was riding in a heavily-worn car seat.
Traffic Officer Brian Smith made the stop, and said the woman expressed concern over being fined because she was a single mom on a tight budget.
"The last thing she needed was a ticket," Smith told The Epoch Times May 5. "[But] I couldn't leave her with the kids and the condition they were in for their safety."
The officer, after speaking to the woman and understanding the family's background, decided to lend a helping hand.
Smith took a look at the car seat to figure out why it wasn't strapped in properly. He said it was in such poor condition that it was no longer functioning properly.
To help ensure the child's safety, Smith proceeded to call his colleague, who is a certified child passenger safety technician.
"I asked him to come and help me try to get this car seat condition good enough that we could get her home," Smith said.
Officer Shane Holloway soon arrived at the scene and attempted to get the car seat inserted as safely as possible.
Upon addressing the safety issues of the current car seat, it was clear to both policemen that a new car seat for the toddler wasn't affordable for the family.
After parting ways with the family, the officers headed to a local Target and bought the three-year-old a new car seat. They picked up some toy police toy cars for her siblings, Smith said.
"We wanted to do something nice for her, and also the main thing was for her daughter…. we wanted to make sure that she had a car seat that was functional," he said.
The officers arrived at the woman's Irvine residence with the gifts to surprise the family of four.
Smith stated that the mom was overwhelmed by the gesture. Before departing, the officers installed the car seat and showed the mom how to use it.