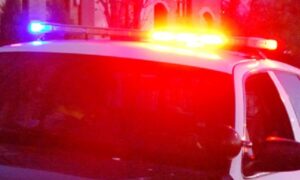 Police say they have arrested a man who stabbed two women in San Francisco on Tuesday afternoon.
The women were Asian American and were 65 and 85 years old, according to police.
A 54-year-old San Francisco man was arrested on suspicion of committing the attack several hours later, police told the station. The alleged attacker's race has not been disclosed.
An initial statement from San Francisco Police Department's Public Information Officer Robert Reuca said the incident took place at 4th and Stockton streets and that the suspect had initially fled the scene.
Witnesses told KPIX-TV that a man clutching a knife was walking down Market Street when he approached a bus stop, stabbed the women, and then walked away.
Police found the women shortly before 5 p.m. they were taken to a hospital. They are undergoing surgery procedures as of late Tuesday, reported the outlet.
Police did not say whether the women were specifically targeted or whether the attack might be a hate crime. The charges against the suspected attacker are pending.
Matt Haney, a member of the San Francisco Board of Supervisors, called the attack "disgusting and horrific." He later wrote on Twitter, "nothing more sickening than stabbing an 85-year-old woman while she waits for the bus. Horrific."
In a separate statement, Haney said both victims were out of surgery and are stable.
The Associated Press contributed to this report.