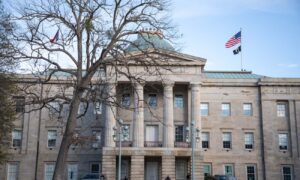 The bill would ban abortions based on race, sex, or Down Syndrome diagnosis.
Republicans in the North Carolina legislature on Tuesday advanced a bill that would make it illegal to carry out abortions if the procedure is done because of the unborn child's race, sex, or because of a prenatal diagnosis of possible Down Syndrome.
The state's Republican-led House's Health committee approved the bill and forwarded it to the judiciary committee. The proposal is set to be considered on Wednesday, and if approved, it would move to another committee before going to the floor for a vote. The measure advanced in about 45 minutes with limited discussion or debate, reported The Associated Press.
Democratic Gov. Roy Cooper's office did not immediately respond to The Epoch Times' request for comment.
Under the bill, a doctor who performs abortions would be fined if he or she is found to have performed the procedure while knowing that the motivation was based on sex, race, or a diagnosis of Down Syndrome.
Down Syndrome causes developmental delays and potentially other medical conditions such as hearing loss and heart defects.
The bill HB 453, titled "Human Life Nondiscrimination Act/No Eugenics" also stipulates that the doctor who is facilitating the abortion must document a number of factors, including the method used to estimate the gestational age and other measurements of the child, and the results of such measurements, including any prediction of race, sex, or presence of Down Syndrome in the test.
Among other documentation, the doctor must make a statement "confirming that the woman did not tell the physician and the physician has reason to believe that the woman did not seek the abortion because of the unborn child's actual or presumed race or sex or the presence or presumed presence of Down syndrome."
"It's time to face the issue head-on and ensure that every little North Carolinian is protected from discrimination before and after birth," state Rep. Pat McElraft (R-Carteret), a primary sponsor of the bill, said in April, reported The News & Observer.
Another primary bill sponsor, state Rep. Dean Arp (R-Union) said at the time, "If we truly want to eradicate discrimination based on race or disability, we must ensure that this protection begins in the womb. We don't want to be the kind of society that disposes of children because of the way God created them."
"Children shouldn't have to pass a genetic test to earn the right to be born," state Rep. John Bradford (R-Mecklenburg) said in April, according to Christian Action League.
State Rep. Verla Insko (D-Orange) told the AP she thinks the measure threatens a woman's right to an abortion and would create another unfair hurdle for them. She said the bill is "discriminatory against pregnant women."
The NC Values Coalition, a pro-life group, celebrated the bill's advancement and encouraged supporters to pray for the measure. It said in a statement on Twitter, "Planned Parenthood is trying to stop this pro-life bill. Don't let them."
Planned Parenthood South Atlantic had called the measure "yet another attempt to push abortion out of reach." It said in a statement on Twitter, "The fact is this bill does nothing to fight discrimination against people with disabilities nor provide support to them and their families."
"Instead of playing a divisive game to score political points, our lawmakers should work to ensure North Carolinians have access to the real services they need, appropriate accommodations when they need them, & work to actually improve the lives of people with disabilities," the statement reads.
Julie Scott Emmons, a representative of the NC Values Coalition, told the AP that the measure "actually places a hedge of protection around an entire class of human beings who should not have to pass a genetic test to earn the right to be born."
A ban on Down Syndrome abortions was signed into law in South Dakota in late March.
Other states such as Ohio and Arkansas that passed similar laws have recently faced legal battles, but the measures were ultimately upheld. Last month, a federal appeals court narrowly ruled to uphold a 2017 Ohio law that bans Down Syndrome abortions, reversing two earlier decisions that blocked its enforcement. In November 2020, another federal appeals court ruled that Tennessee can enforce a ban on Down Syndrome abortions.
Arkansas is seeking to pass a similar measure on Down Syndrome abortion that's facing a block. Attorney General Leslie Rutledge in April asked the U.S. Supreme Court to review a decision by the 8th Circuit Court in January 2021 that upheld another decision in 2019. The 2019 decision had blocked a measure to ban Down Syndrome abortions.