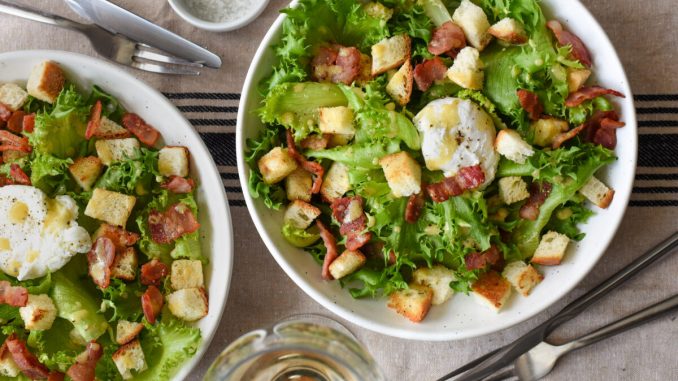 Salade Lyonnaise brings together bitter frisee, crisp bacon, and velvety eggs in simple but delicious harmony
As its name indicates, salade Lyonnaise hails from the city of Lyon, in southern France, renowned as being the gastronomic capital of the country. Home to chefs such as Paul Bocuse and George Blanc, the highest concentration of restaurants per capita in France, and the vineyards that produce the famous Beaujolais Nouveau wine, Lyon is a food lover's mecca.
Some of the city's most remarkable specialties are quenelles, fish dumplings with the lightness of a souffle, bathed in a rich sauce; cervelle de canut, an herbed cheese spread; saucisson brioche, a whole, pistachio-crusted sausage baked inside a brioche; bugnes, light, golden fritters dusted with icing sugar; and of course, salade Lyonnaise—all of which can be enjoyed in the countless bouchons, the name for Lyon's unique bistros, strewn around the city.
If you've never been to Lyon or enjoyed its food, salade Lyonnaise is the perfect introduction. This is standard French bistro fare, served as a salade-repas, a meal-sized salad, which is a very popular lunch option among the rushed working crowd.
As a representative of its origin city's cuisine, the recipe relies on everyday ingredients—leafy greens, bacon, bread, and eggs—thoughtfully combined to create a timeless dish. Fresh, bitter frisée; salty, fatty bacon bits; crunchy croutons; velvety poached eggs; and a sharp vinaigrette come together into a simple yet luxurious experience that'll take you right to France.
Here's how to make it.
Breaking It Down
The Frisée
Sometimes called curly endive, frisée is a frizzy salad green of the chicory family, along with radicchio and escarole. Its bushy heads and lacy fronds give it a refined look and a unique crunchy texture. Despite being lighter in color than other leafy greens, frisée has a stronger taste, with a slight bitterness. Therefore, it works especially well when paired with creamy dressings and rich toppings, such as bacon and croutons, which mellow out its bitterness.
Although less common and slightly pricier than lettuce or spring mix, frisée can usually be found in your regular grocery store starting from the end of spring and all throughout fall. Once purchased, a fresh head of frisée can be stored in the fridge, in a ventilated bag, for up to one week.
When you're ready to use it, avoid cutting it with a knife, which will flatten the curly shape of the leaves. Instead, wash the head right before serving and tear the delicate curly leaves by hand into large pieces, dropping them right onto the serving plates.
The Lardons (or Bacon)
Salade Lyonnaise contains cured pork belly, which is very common to find in France in the form of lardons: short, thin strips that are sold pre-sliced and ready to cook. To make your own, find thick-cut bacon and slice it across the grain into short matchsticks. Pancetta sliced into thin sticks also works well.
The Croutons
A staple in French salads, crisp croutons add great texture, and are the French's favorite way to use up leftover bread. For homemade croutons that will crisp up nicely, use a day-old, sturdy loaf of bread, such as French, Italian, or even a sourdough boule or a baguette. Avoid using soft white breads, like dinner rolls or pre-sliced white bread.
The Eggs
Poached eggs not only bring extra protein to this salad-repas, but also contribute to the overall texture. The idea is to place the just-cooked egg right on top of and in the middle of the frisée leaves, so that the runny egg yolk oozes into the salad and acts as a rich, velvety dressing.
To ease you into the potentially intimidating process of poaching eggs, here are a few rules to keep in mind:
Use the freshest eggs possible. Once cracked, a fresh egg should have a white that is tightly attached around the yolk. The white will then hold together well in the poaching water and create a nice round shape. Older eggs will have ragged, liquidy whites that will disperse in the poaching water.
Make sure the water is deep enough. You should have at least 4 inches of water in your pot, to give the eggs enough room to be fully submerged and poach into a round form. If there isn't enough water, the eggs will poach flat.
Add a splash of vinegar to the water. This will further assist in keeping the egg white together. If you are worried about your eggs having a vinegary taste, you can later pass them under cold water, to stop the cooking process and to rinse off any vinegar taste (of which there is very little).
Crack each egg into a small ramekin first, then pour it into the poaching water. Using a ramekin allows you to check that the egg looks fresh, the yolk isn't broken, and no shell has broken into the egg. It also makes it easier to pour the egg into the water in one smooth motion.
Swirl a vortex in the water. Just before dropping in the egg, use the back of a wooden spoon to swirl a vortex in your pot of water. This will further encourage the egg to poach in a round shape, as the white wraps around itself.
Putting It Together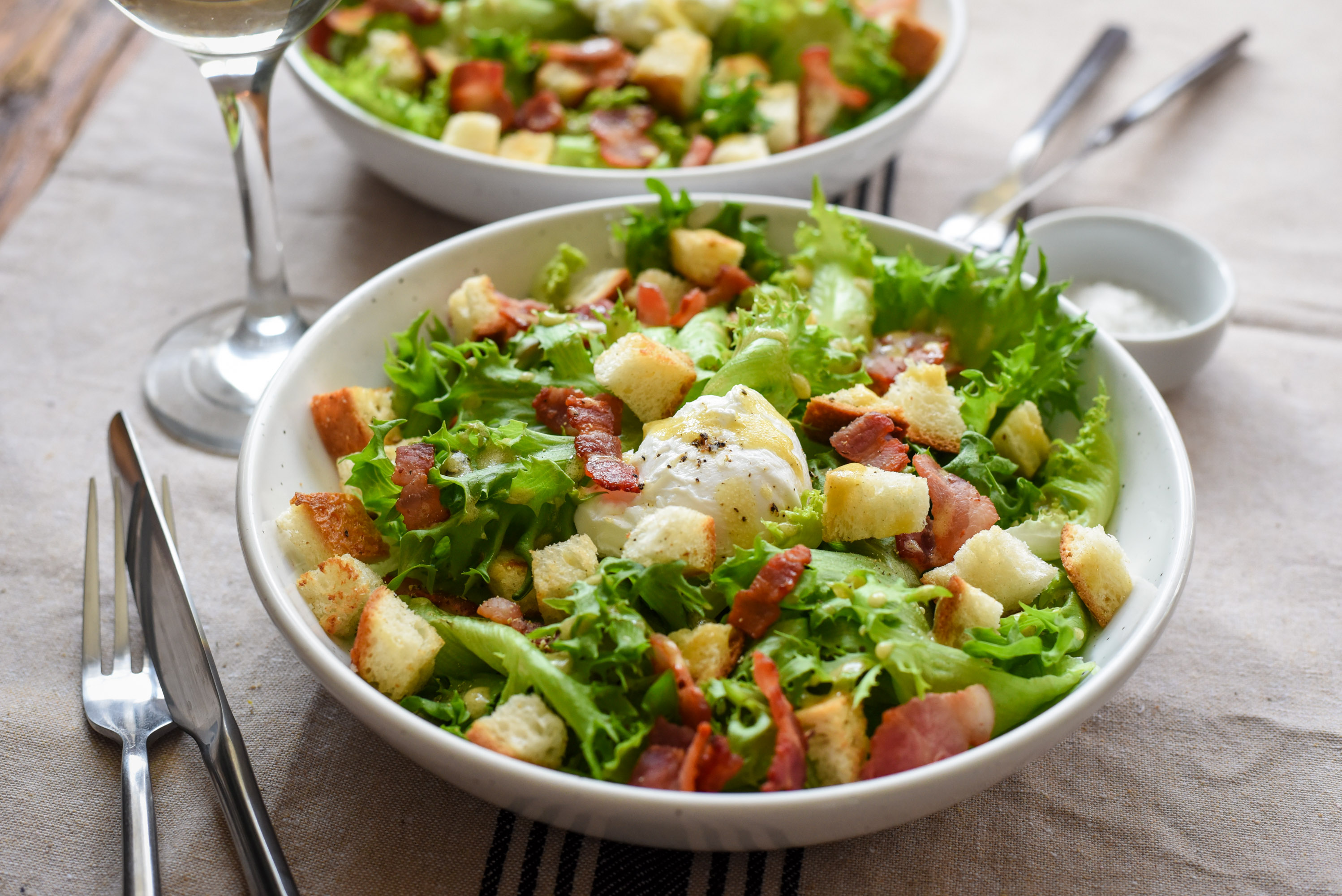 Salade Lyonnaise is all about assembling ingredients in the right way. You should start by preparing the vinaigrette, which can be made a few hours ahead—or longer, and kept tightly covered in the fridge.
You can then prepare the croutons, and then the poached eggs. Cook the lardons (or bacon) last, just before assembling the salad, as you want them to still be crisp and warm when serving.
Salade Lyonnaise (Frisée Salad With Bacon and Egg)
Serves 4
For the Vinaigrette
1/2 teaspoon salt
2 tablespoons red wine vinegar
1 tablespoon Dijon mustard
6 tablespoons neutral oil, such as sunflower seed, grapeseed, or canola
1/4 teaspoon freshly ground black pepper
For the Salad Components
1 teaspoon unsalted butter
1 cup cubed day-old bread, such as a sourdough boule, a baguette, or any French or Italian loaf
1/4 teaspoon fine sea salt
4 large eggs, the freshest possible
1/4 cup white vinegar
5 slices (about 5 ounces) bacon, cut into short, thin matchsticks
8 cups frisée lettuce, hand-torn into large pieces
Prepare the Vinaigrette
In a medium bowl, combine the salt and red wine vinegar, and whisk with a fork until the salt has dissolved. Stir in the mustard. Pour in the oil slowly, stirring all the while to create an emulsion. Sprinkle generously with pepper. Taste and adjust seasoning if needed. (If not using right away, cover and refrigerate until ready to serve. Leftover vinaigrette keeps for up to 1 week in the fridge, in a glass jar with a tight lid.)
Make the Croutons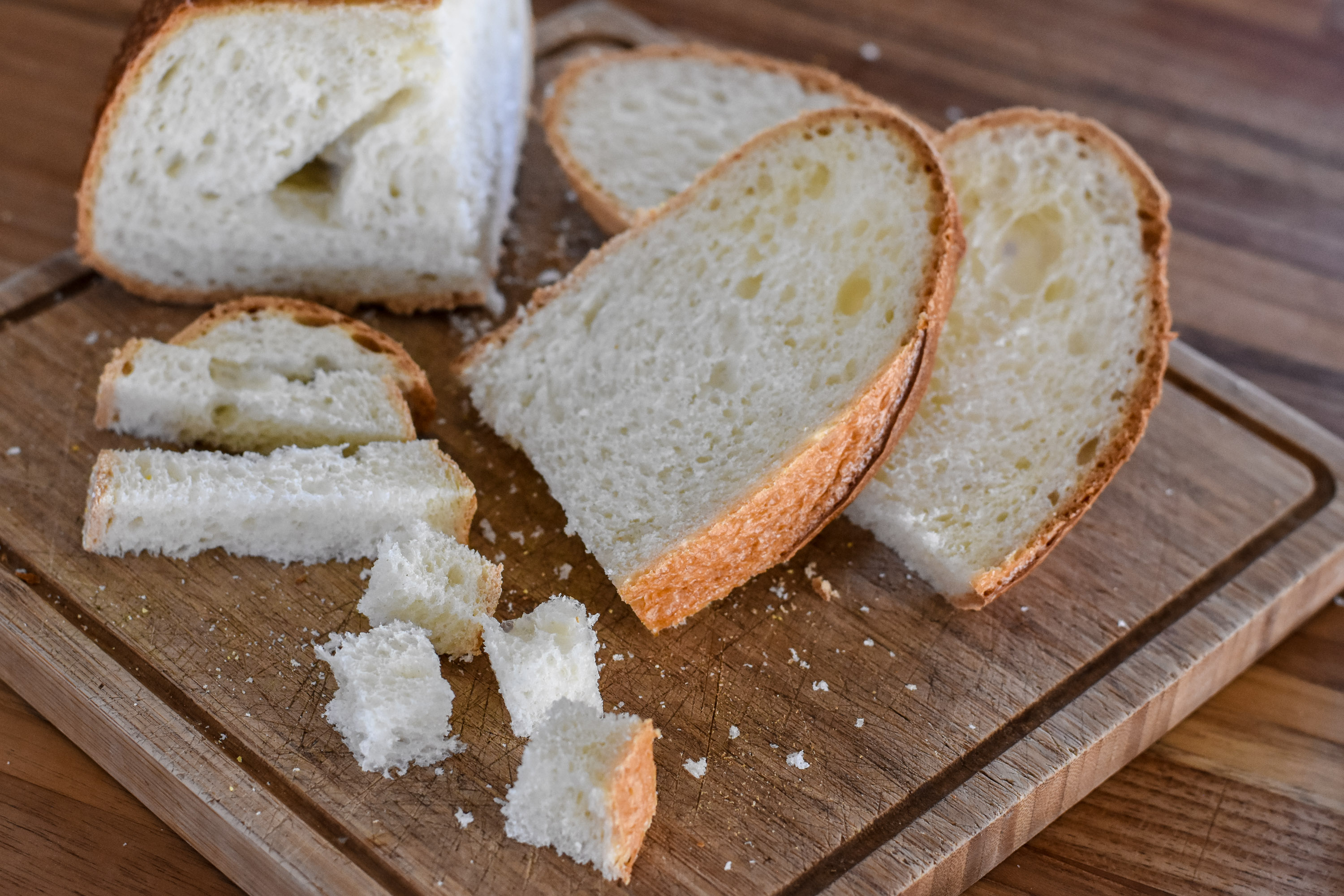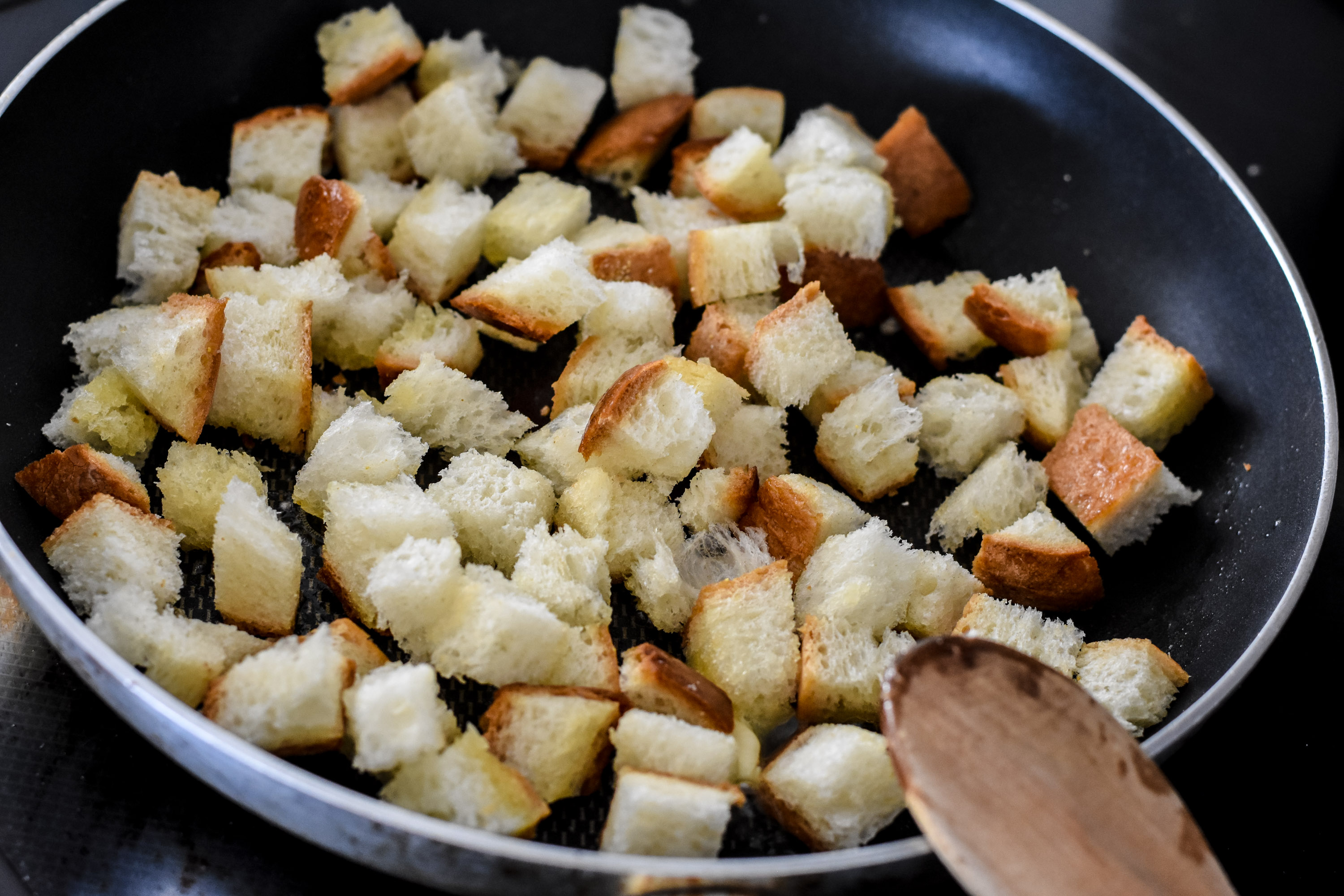 In a small skillet, melt the butter over medium heat. When it foams, add the bread and salt. Cook, stirring frequently, until golden, about 3 to 5 minutes. The croutons will crisp up as they cool.
Poach the Eggs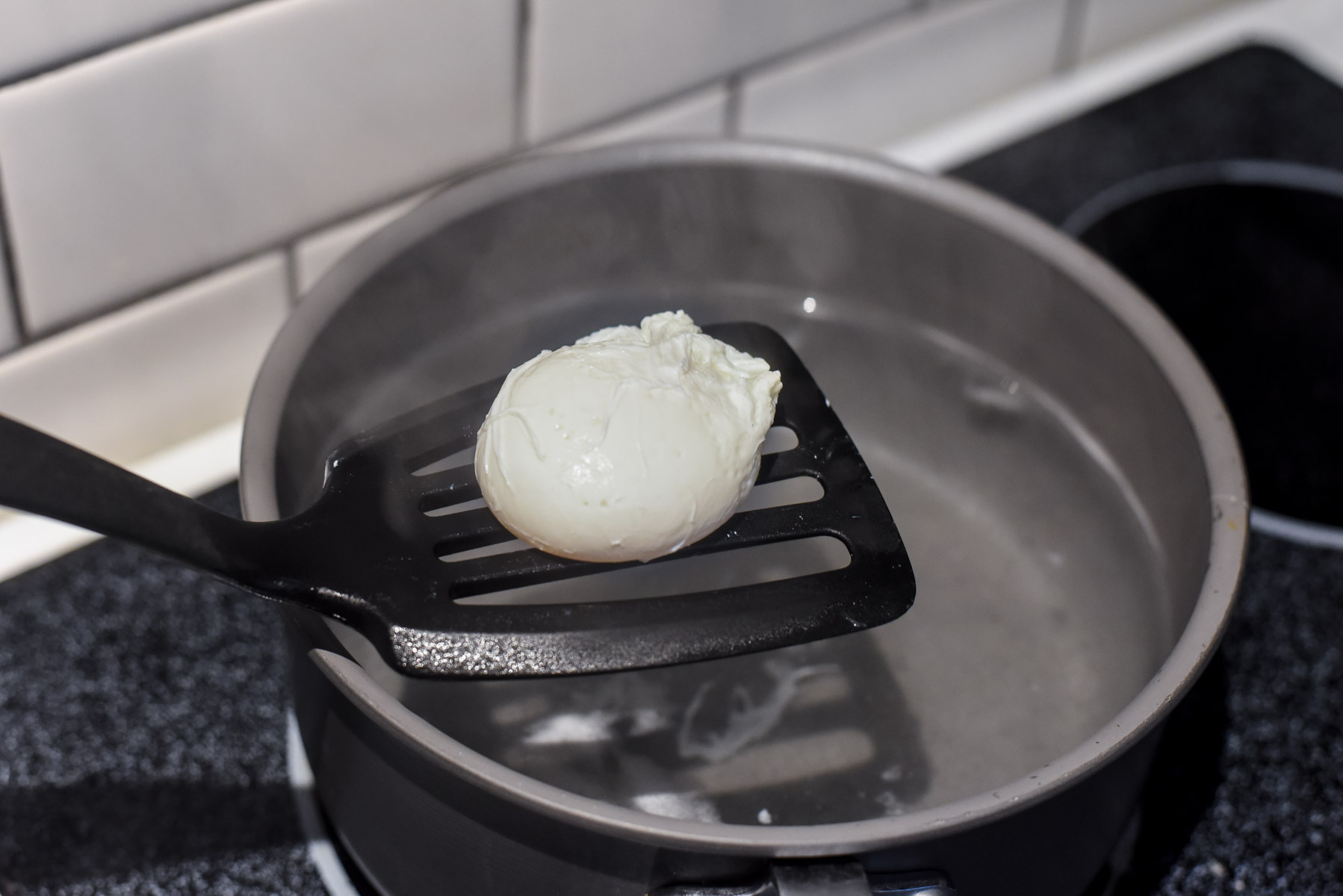 Break each egg into individual ramekins. Bring a large pot of water (at least 4 inches deep) to a gentle simmer with the vinegar.
With a wooden spoon, stir the water to create a gentle whirlpool in the center. Immediately and carefully drop an egg into the center of the whirlpool. Cook for 3 minutes, until the white looks set. Carefully lift the egg with a slotted spoon, run it under a gentle stream of cold water, and transfer it onto a kitchen cloth or paper towel. Repeat with the other eggs.
Fry the Lardons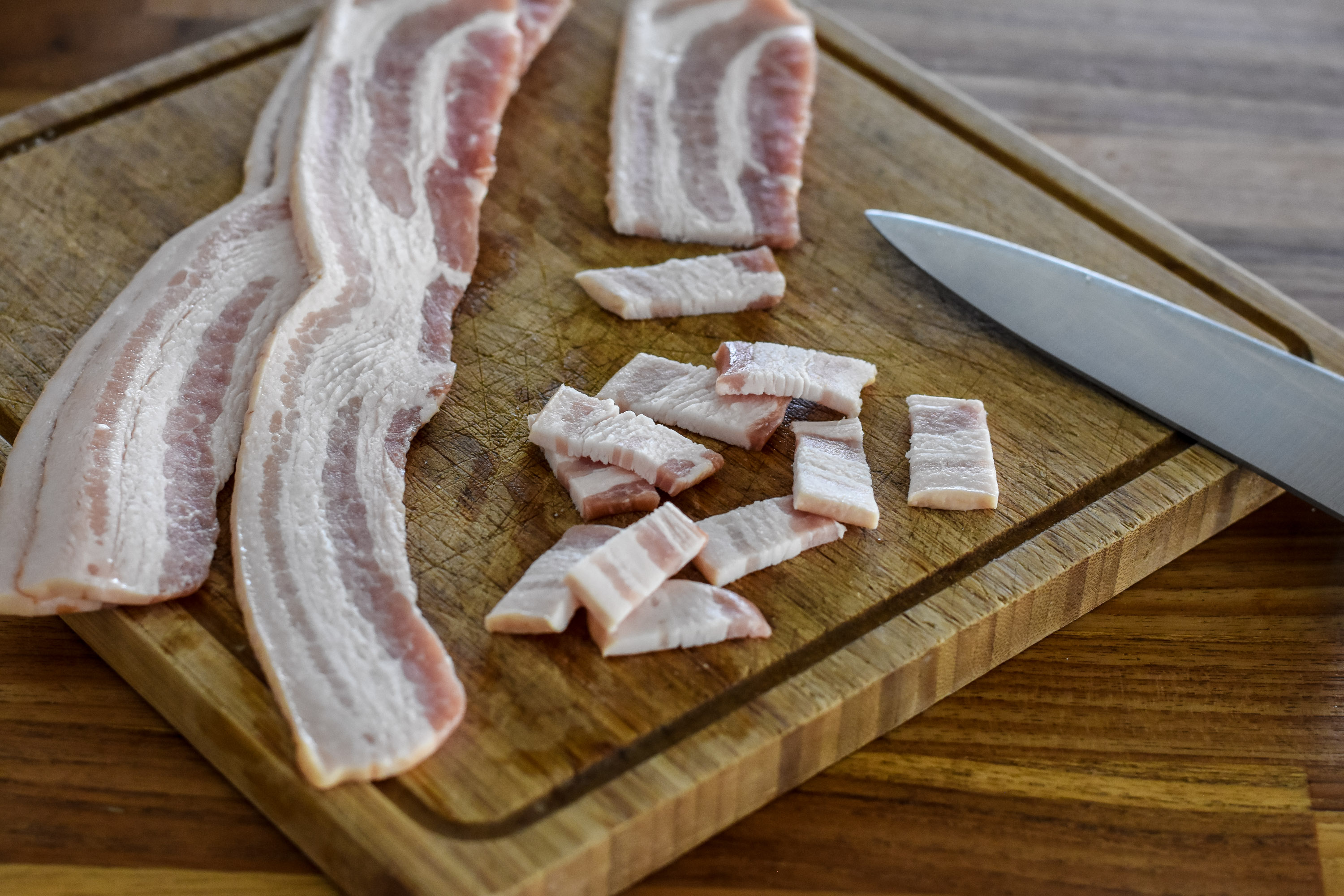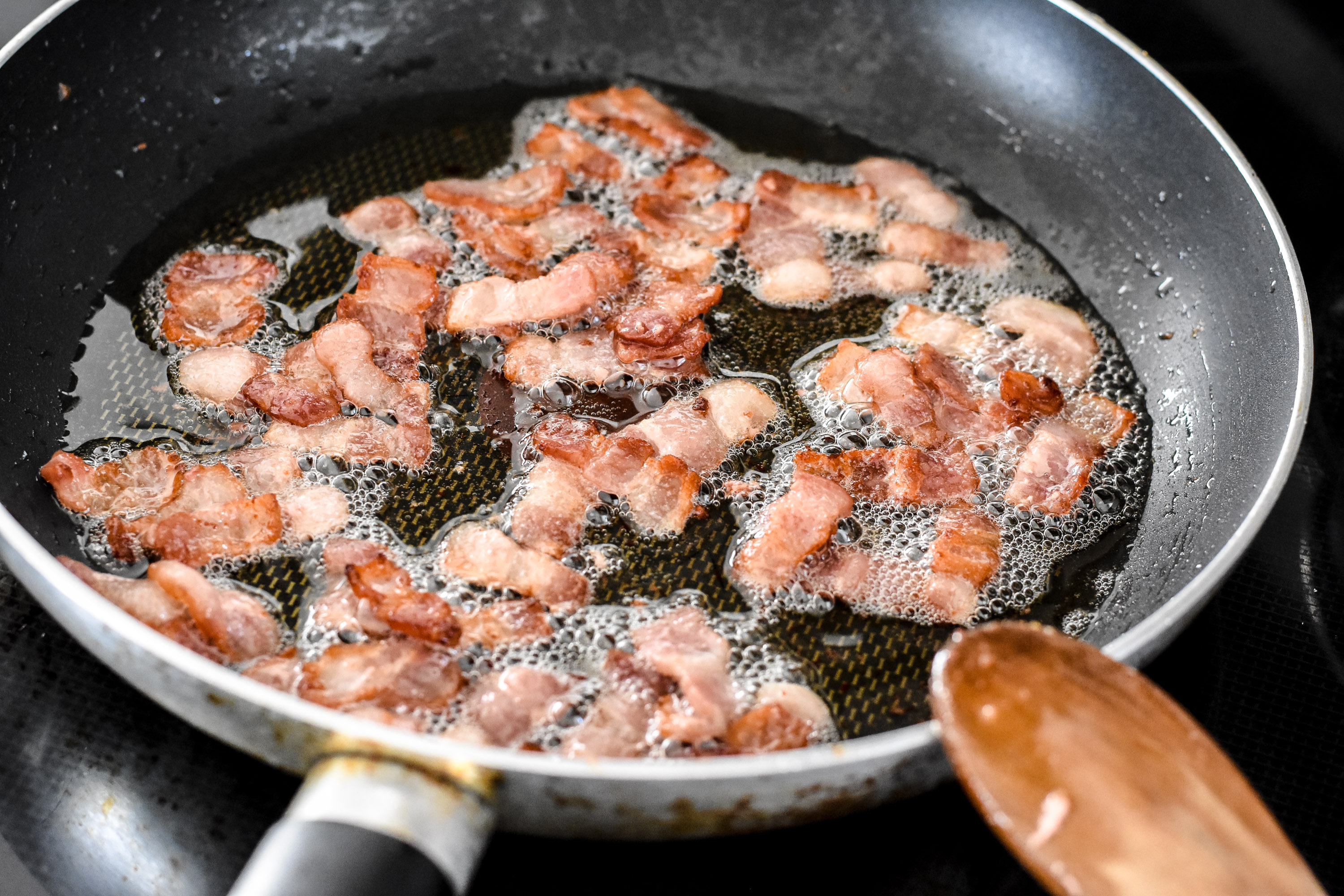 In a dry skillet over medium heat, cook the bacon, stirring frequently, until browned, about 5 minutes. Scoop into a bowl. Discard or keep the rendered fat for another use.
To Assemble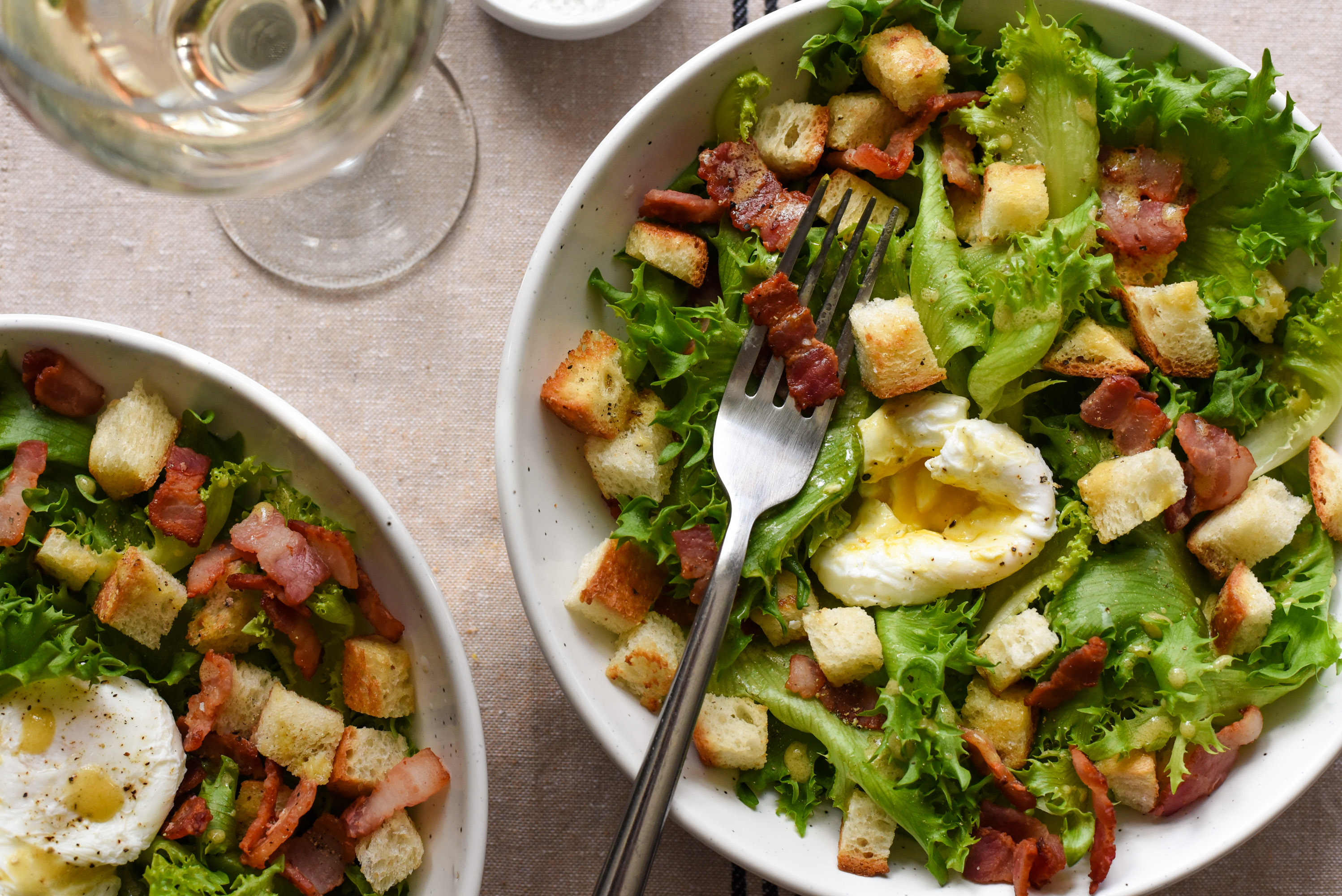 Divide the frisée among salad plates, forming nests. Top with the poached eggs and sprinkle with the bacon strips and croutons. Drizzle each salad plate with vinaigrette and serve immediately.
Audrey Le Goff is a French food writer, photographer, and creator of the food blog, "Pardon Your French," where she shares recipes and stories from her beloved home country, France. She is the author of the cookbook "Rustic French Cooking Made Easy" (2019). She currently lives in Niagara, Canada. Follow her on Instagram @pardonyourfrench