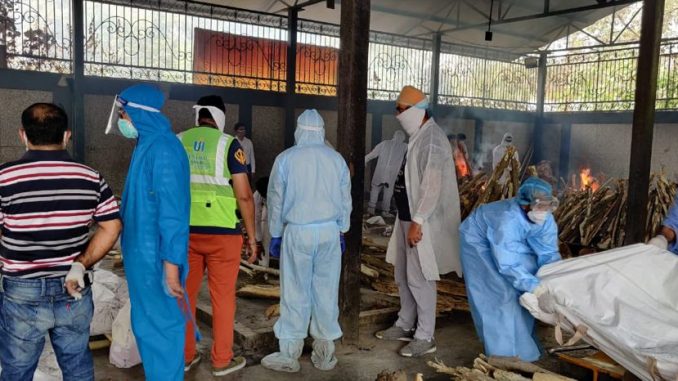 According to the Institute for Health Metrics and Evaluation (IHME), a research wing of the University of Washington (pdf), without decreased social mixing and face mask use, the current forecasted death toll by August 1 is expected to be over 1 million.
India has seen COVID-19 cases of over 350,000 per day for the past ten days.
Parvinder Singh, a director of United Sikhs, a non-governmental organization headquartered in New York City, told The Epoch Times that his three mortuary van teams received on average a total of 75 cremation requests per day since April 25. While the mortuary van teams pick up dead bodies in New Delhi and perform rituals at cremation sites, Parvinder has focused on providing oxygen to patients.
He recalled one of the most unforgettable moments: "I had seen two cases where somebody had passed away in my arms when we were providing oxygen through the cylinder. A 30-year-old person died in my arms. That scene is not leaving my eyes day in and day out. It's coming into my head."
"It's haunting me: we are not able to provide sufficient health facilities to our people in India. That's the really difficult situation we are facing right now," added Parvinder. "The hope that somehow we can manage to give something extra that he can survive. But we were not able to provide any better service to that person. He died in front of me."
The man was the family's only son, and he died in the presence of his parents, who were completely in shock. He had tested COVID-19 positive in late April and wasn't able to get oxygen for two days. He finally got it at a drive-through location. The place had long lines, so each person could only inhale oxygen for two to three hours. After he went home, his oxygen level dropped again. It was too late when Parvinder arrived at his home with an oxygen cylinder.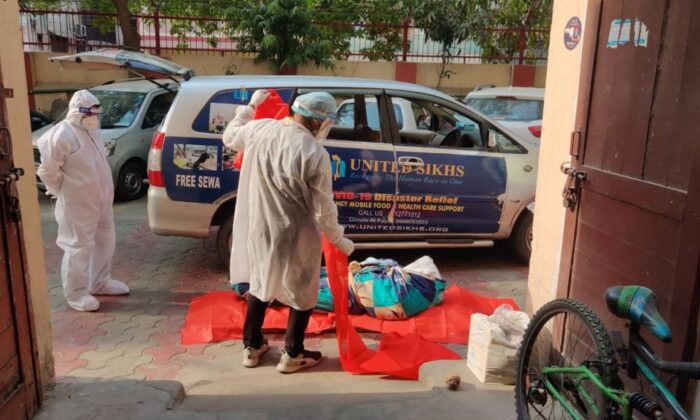 Pritam Singh, another director of United Sikhs, is in charge of one of the mortuary vans. He told The Epoch Times that he began his volunteer work at 6 a.m. local time on May 5. Within two hours, the three teams had cremated a total of six bodies, and his team has received a total of 24 cremation requests. The bodies his team processed aged between 18 and 92. He wasn't sure if they died of COVID-19 complications or from other diseases. He only knew that they had succumbed to oxygen shortage.
Hardayal Singh, a United Sikhs director based in New Jersey, told The Epoch Times that the organization has about 70 volunteers working on the ground in India, focusing on providing PPE kits, oxygen concentrators, and cremation services. The U.S. headquarters had been getting between 400 and 500 emails a day. These emails are mainly from Indians in America asking the organization to help provide oxygen concentrators or cremation services to their family members.
United Sikhs have sourced close to 700 oxygen concentrators since April 25 and have about 235 on their way to India as of now, according to Hardayal.
Parvinder said that government hospital doctors in New Delhi told patients to bring their own oxygen for admission. He added that people would watch TV news channels that kept broadcasting, "hospital A is left with only one-hour oxygen (supply). Hospital B is left with only two hours of oxygen (supply)." Therefore, people move from New Delhi to nearby states such as Punjab, where oxygen beds and ICU facilities are still available.
Reuters reported that India's COVID-19 cases might peak between May 3 and 5, according to a team of scientists appointed by the Indian government. In Hardayal's view, it would take India months to contain the virus this round.