A British police officer suffered a serious wound to his face during protests on Sunday against the owners of the Manchester United football club, the Greater Manchester Police Federation has said.
"Our brave colleague went to work yesterday to keep the people of Greater Manchester safe—and he ended up coming under attack. He is incredibly lucky not to have lost the sight in an eye," said Stu Berry, chairman of the federation, on Monday.
The officer remains in "lots of pain" and will need an extended period off work to recover, the federation said.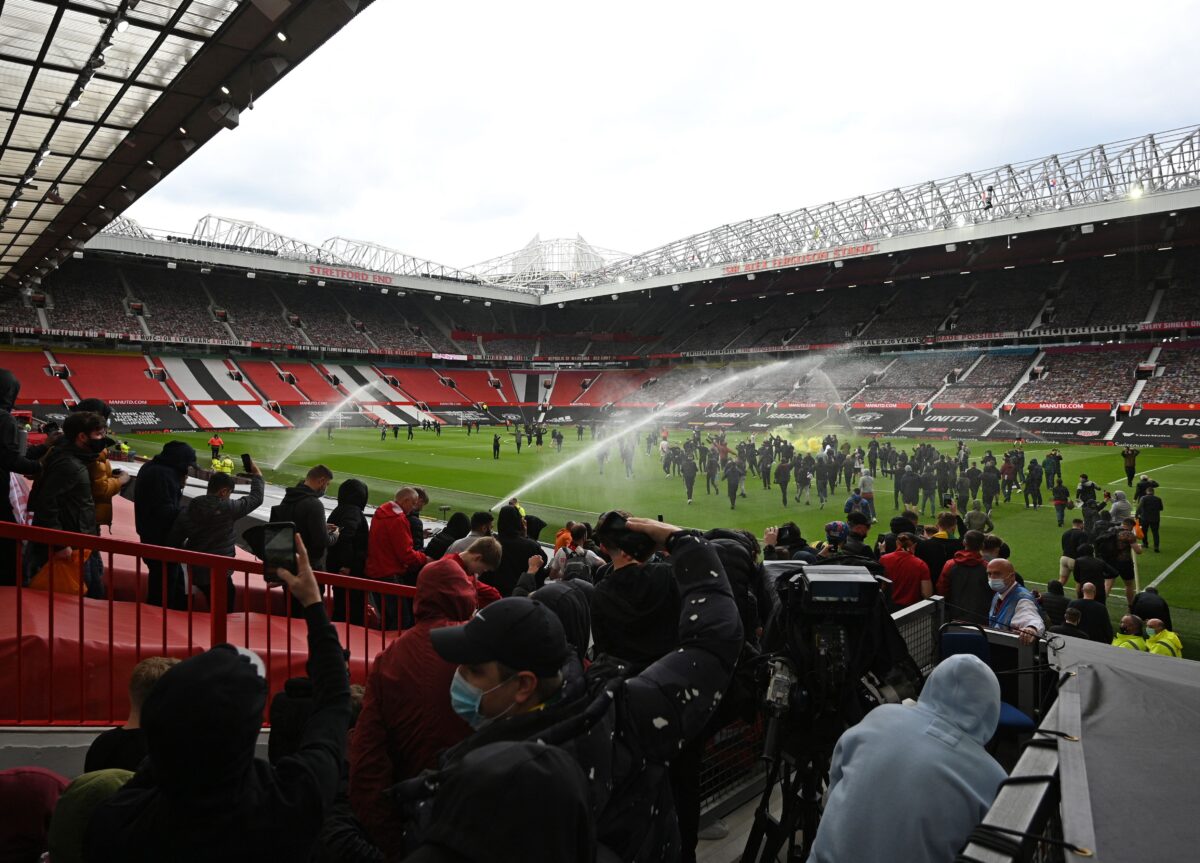 "This is not right. Police officers are mothers, fathers, husbands, wives, and partners. They are sons and daughters. They are human beings who should be able to go home to their families in one piece at the end of their shifts. Not be rushed to hospital," said Berry.
"We are offering support to our injured colleague and will continue to do so as he recovers from his injuries."
Greater Manchester Police (GMP) confirmed on Sunday that two officers were injured when some United fans threw bottles and barriers at the police. One of the officers was attacked with a bottle and sustained a significant slash wound to his face, requiring emergency hospital treatment.
It happened after around 100 fans stormed the pitch at Old Trafford on Sunday ahead of the game in protest at Manchester United's American owners, the Glazer family, over the club's decision last month to sign up for the breakaway European Super League, which collapsed within 48 hours amid protests from football associations, fans, and politicians.
Berry said police officers "must be properly protected and appropriately equipped with public order gear—including helmets and shields—when policing these protesters."
Britain's National Police Federation said the violence should be condemned in "the strongest possible terms" by football pundits, clubs, and players.
"Yet again we've seen a so-called peaceful protest turn to violence with that aimed at my colleagues. Officers were injured and required hospital treatment. This is completely unacceptable," said John Apter, chairman of the federation.
Reacting to Sunday's incident, Prime Minister Boris Johnson said: "I don't think it's a good idea to have disruptive behaviour, demonstrations of that kind.
"But on the other hand, I do understand people's strength of feeling. And I think that it's a good thing that we have been able to do things that make it pretty clear that the European Super League is not going to be appreciated by the people of this country, or by this government," he told reporters during a campaign visit to Hartlepool.
PA contributed to this report.