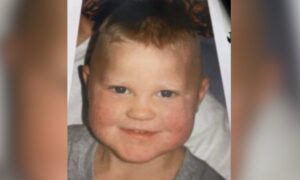 A 44-year-old woman was taken into custody on Monday and charged with abduction of a toddler boy in Virginia, authorities said.
Noah Gabriel Trout was recovered safely by FBI agents and members of the Virginia State Police (VSP) Tactical Team following an abduction that happened on May 2 at a nursery at Riverview Baptist Church in Ripplemead.
"Thankfully, we've got some good news to tell you," Giles County Sheriff's Office Chief Deputy Scott Moye said during a press briefing. "Noah Trout is safe in the hands of FBI agents and state police in Alleghany."
"This happened about 20 minutes ago … As of right now, they're still trying to go through all of the leads that they have, talking to him, making sure he's OK," he added.
Officials identified the suspect during another press briefing that happened later on Monday.
Nancy Renee Fridley of Clifton Forge was named as the abductor and she has been charged with one count of abduction and one count of felony child endangerment, police said. A motive for the abduction is unclear at the time, but an investigation remains ongoing.
The community Noah was abducted from also confirmed on their official Facebook page he was found safe. They also said, "a suspicious vehicle" was parked across the church parking lot for an extended time during morning service on the day of the abduction.
Sunday evening services were canceled as the church asked residents to pray for the boy's family.
The relationship between Fridley and Noah is unclear, though it appears they are not family.
"Thank you to all of you who provided tips and helped us keep this case front and center. Because of you, Noah gets to rest peacefully this evening under the watchful eye of his parents," said Stanley M. Meador, FBI special agent in charge of the Richmond Field Office.
Officials had issued an Amber Alert on behalf of the Giles County Sheriff's Office over the weekend for the 2-year-old boy.
"The child is believed to be in extreme danger and was last seen at Big Stony Creek Road, Ripplemead," the now-canceled Amber Alert reads.
From NTD News.