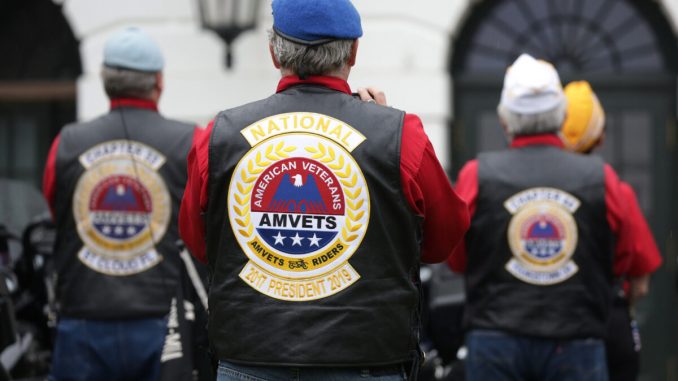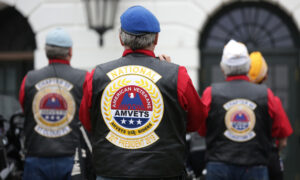 The Department of Defense is continuing to withhold a parking permit from the annual Memorial Day veteran motorcycle rally, according to Rep. Brian Mast (R-Fla.)
"The Biden Administration is the only thing stopping this Memorial Day tradition from happening," Mast wrote on Twitter on May 3. "It's sad that it is easier to cross the border illegally than it is to get a permit to pay our respects to our nation's fallen heroes."
The Pentagon had approved a permit for Rolling to Remember on March 11 but revoked it a week later citing an administrative error, according to a letter Mast send to Defense Secretary Lloyd Austin last month. At the time, nine local, state, and federal agencies had already approved Memorial Day permits.
"The event is now only a month away, and further delays could further jeopardize this important Memorial Day event," Mast wrote on April 20, urging Austin to approve the permit.
AMVETS, the organization that applied for the permit a year earlier, said in a statement on May 3 that the Pentagon had formally notified them on April 30 that the permit has been denied due to the pandemic of the CCP (Chinese Communist Party) virus, commonly known as the novel coronavirus.
"The biggest disappointment in the Pentagon's denial was that AMVETS was ignored for months as its professional staff in Washington requested numerous times an opportunity to hear the Defense Department's concerns and present a COVID-19 safety plan to the Pentagon's decision-makers before rendering a decision," AMVETS National Commander Jan Brown said in a statement. "In the end, the Pentagon decided to deny the application without any meaningful communication with AMVETS."
AMVETS is a member of the Biden administrations COVID-19 Community Corps. When the corps was launched, AMVETS National Executive Director Joe Chenelly appeared on screen with Vice President Kamala Harris.
"The administration included AMVETS in this new group as 'a trusted voice in communities across the United States' but the Pentagon wouldn't have a conversation with us to share their concerns and give us the chance to address them before deciding to refuse our application," Chenelly said. "If we had those conversations and still came to the conclusion that safety was not possible, we would have pulled our application ourselves. We told the Pentagon that."
The veterans' group said that the Pentagon's parking lots make for a perfect staging location for the arriving veteran motorcyclists on Memorial Day.
"But there are no options with as much space and convenient routes to the memorials, meaning it will be more difficult, disruptive, and expensive than if the Pentagon parking lots were available," Chenelly said. " We don't have time to worry about who has said no to us, at this point. We are now squarely focused on puling together everything we need in the final few weeks before Rolling to Remember."