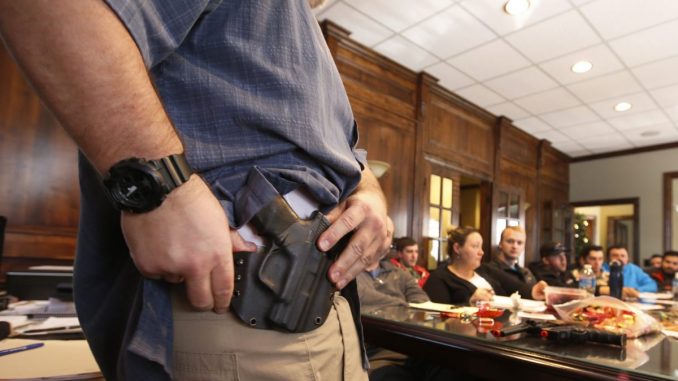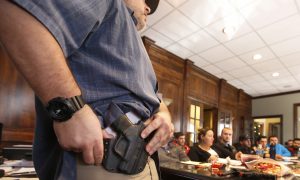 Kansas lawmakers on Monday voted to override Gov. Laura Kelly's veto of a gun bill, lowering the minimum concealed carry age from 21 to 18 years of age.
After a short discussion, the House voted 84 to 39 to override the Democratic governor's veto of HB 2058 that proposes to let more people carry guns if they have a proper permit. The Senate also voted to override the veto 31 to 8.
Republicans currently hold an 84–41 majority in the state's lower chamber and a 29–11 majority in the state Senate. A two-thirds vote in both chambers is required to overturn a veto. With that achieved, the bill will be enacted without the governor's signature.
Kelly said previously in vetoing the bill late last month that she supports the Second Amendment but that the bill would allow more guns on school grounds, which would "drive prospective students away from our schools."
The legislation proposes that Kansans aged 18 to 20 would be eligible to carry concealed guns provided they complete gun training, a background check, and pay the required state fee. Currently, people aged 21 years and above can conceal carry and aren't required to have a license.
"The governor in her message indicated that she has always supported the Second Amendment," Rep. John Barker (R-Abiline) said of Kelly's decision to veto the bill last month. "Well, I find that hard to believe sometimes because we already have 18-year-olds that can carry a gun [openly] in the state of Kansas."
Critics of the legislation argue that lowering the minimum concealed carry age to 18 has its risks.
"It's not a bad bill," said Democratic lawmaker for Kansas City Louis Ruiz. "There's some good parts to the bill. The part that we had problems with on our side was the 20, 19, and 18-year-olds carrying firearms. Even though they're trained, the maturity level of the brain lacks."
Barker, who carried the legislation on the floor, pointed out that the bill requires training for the age group to be eligible to conceal carry.
"This requires them, if they are going to carry a concealed weapon, to get training and to get a permit and to have a background investigation … Any time people can get training, that's a good thing."
The protection of Second Amendment rights has drawn renewed scrutiny since President Joe Biden, who has repeatedly called for tougher "gun control" restrictions, took office.
Kelly's office didn't immediately respond to a request for comment by The Epoch Times.
Zachary Stieber contributed to this report.