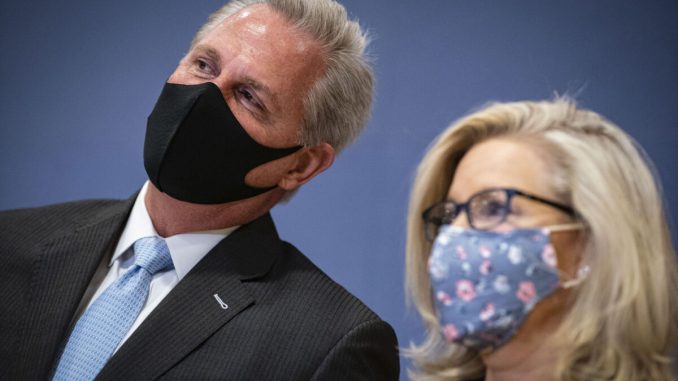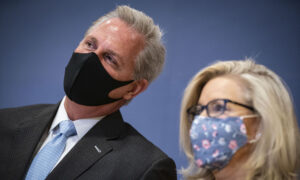 House Minority Leader Kevin McCarthy (R-Calif.) said Tuesday that Republicans had voiced concerns about House Republican Conference Chair Liz Cheney's (R-Wyo.) leadership ability after she made comments critical of former President Donald Trump.
"There's no concern about how she voted on impeachment. That decision has been made," McCarthy (R-Calif.) told "Fox & Friends" Tuesday.
But McCarthy said he's heard "from members concerned about her ability to carry out the job as conference chair, to carry out the message. We all need to be working as one if we're able to win the majority," he said. "Remember, majorities are not given, they are earned. And that's about the message about going forward."
Cheney, the No. 3 Republican in the House, has been a vocal opponent of the wing of the GOP that supports former President Donald Trump. Within the Republican Party, Cheney is one of the most vocal critics of Trump and was one of 10 Republicans who impeached him for a second time.
Last month, Cheney—the daughter of former Vice President Dick Cheney—said she does not believe Trump has a future in the Republican Party. She went a step further last week, saying that senators who helped lead the efforts on challenging the election results should be barred from running for the GOP presidential nomination in 2024.
"I think we have a huge number of interesting candidates, but I think that we're going to be in a good position to be able to take the White House. I do think that some of our candidates who led the charge, particularly the senators who led the unconstitutional charge, not to certify the election, you know, in my view, that's disqualifying," she told the New York Post.
But Rep. Lance Gooden (R-Texas), an ally of Trump, on Saturday predicted that she is on her way out.
"Liz Cheney has promised she will campaign on impeaching Trump 'every day of the week.' Good luck with that, Liz! PREDICTION: she'll be out of her GOP leadership role by month's end," he wrote on Saturday.
Trump himself issued a statement on Monday about her prospects of winning.
"Heartwarming to read new polls on big-shot warmonger Liz Cheney of the great State of Wyoming," Trump said. "She is so low that her only chance would be if vast numbers of people run against her which, hopefully, won't happen. They never liked her much, but I say she'll never run in a Wyoming election again!"
Cheney has already survived one campaign led by pro-Trump House lawmakers in February.