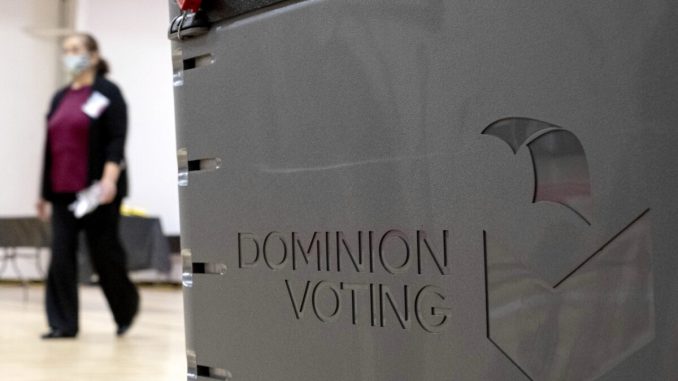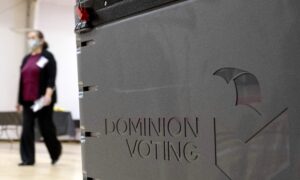 A Dominion Voting Systems worker has dropped a lawsuit against Newsmax after the broadcaster apologized to him for allegations it said were unfounded.
Newsmax apologized to Eric Coomer, Dominion's director of product strategy and security, for covering claims by lawyers for former President Donald Trump and others that he "played a role in manipulating Dominion voting machines, Dominion voting software, and the final vote counts in the 2020 presidential election."
"Newsmax subsequently found no evidence that such allegations were true," the company said in a statement. "Newsmax has found no evidence that Dr. Coomer interfered with Dominion voting machines or voting software in any way, nor that Dr. Coomer ever claimed to have done so. Nor has Newsmax found any evidence that Dr. Coomer ever participated in any conversation with members of 'Antifa,' nor that he was directly involved with any partisan political organization."
"We would like to apologize for any harm that our reporting of the allegations against Dr. Coomer may have caused to Dr. Coomer and his family," the network said. Coomer said in his lawsuit that he had gone into hiding because of death threats.
Coomer sued Newsmax, Trump's campaign, and others in December 2020, accusing them of defamation.
"Defendants, by their actions, have elevated Dr. Coomer into the national spotlight, invaded his privacy, threatened his security, and fundamentally defamed his reputation across this country," the lawsuit said.
Coomer on Friday removed Newsmax from the suit. The other defendants have not been dropped.
Neither Newsmax nor a Coomer spokeswoman would comment on whether Coomer was paid anything to drop the company from his lawsuit.
Newsmax also said in its statement that "many of the states whose results were contested by the Trump campaign after the November 2020 election have conducted extensive recounts and audits, and each of these states certified the results as legal and final."
An audit is currently taking place in Arizona's largest county but officials there have said it is meant to restore confidence in election integrity moving forward, not alter the results of the 2020 election. Dominion has referred to the process as a "'bootleg' audit" and criticized the firms chosen by Arizona's Senate to conduct the audit.
The Colorado-based company, which produces election machines and other equipment used in over half of the 50 states in the country, has been aggressive after a burst of allegations in the wake of the 2020 election. It has sued Fox News and MyPillow's Mike Lindell, among others.
Newsmax previously issued a statement in response to a legal notice from Dominion, stating that "it has not reported as true certain claims made about" Dominion and Smartmatic, an election software firm.
The Associated Press contributed to this report.