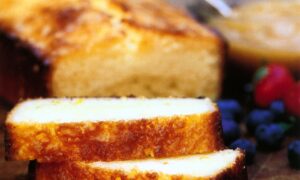 Mother's Day can be filled with anxiety. How best to celebrate your mom? Does she like going out to dinner, spending the day at a long brunch, or tea with the family, or maybe a hike and a picnic? Once you decide what makes her happy, you can proceed.
So, what am I hoping for this Mother's Day? Brunch or tea with my daughter. And nothing makes me happier than when she lays out a simple but inviting table of goodies that include this sunny lemon-lime pound cake.
This cross between a tea bread and a cake is chock-full of citrus flavor. Cake flour produces a lighter crumb texture than all-purpose flour. (Don't worry, all-purpose flour will work fine.) Serve with fresh berries or fresh fruit salad and a dollop of lemon curd or lemon yogurt. The lime glaze adds another flavor layer and a pretty presentation.
You can double or triple the recipe easily, so you can give your mom an extra loaf to take home. It can also be made a day ahead. So, add this to your Mother's Day brunch or invite your mom over for tea and serve this for a perfectly lovely moment celebrating your mom.
Citrus Quick Bread With Lime Glaze
Serves 6
For the Cake
1 cup cake flour
1/2 teaspoon baking powder
Pinch salt
1/2 cup unsalted butter, room temperature
1 cup sugar
3 large eggs
1 teaspoon vanilla
1 tablespoon finely chopped lime zest
1 tablespoon finely chopped lemon zest
2 tablespoons milk
2 tablespoons lemon juice
For the Glaze
1/2 cup powdered sugar
2 tablespoons lime juice
To Serve
Fresh fruit salad or berries
Store-bought lemon curd or yogurt
Preheat the oven to 325 degrees F. Prepare a 9-by-5-inch loaf pan with butter and flour. (I use baking spray.) Combine the flour, baking powder and salt in a medium bowl.
With an electric mixer on medium speed or in a food processor fitted with a metal blade, beat the butter until softened. Slowly add the sugar and beat the mixture until it is light, thick, and lemon colored. Add the eggs, vanilla, and zest and beat until incorporated. Slowly add the flour mixture, alternating with the milk and lemon juice until just incorporated.
Pour the batter into the pan and bake for 45 minutes or until a wooden skewer comes out clean and the top is nicely browned. Cool for 10 minutes and then invert onto a cake rack which has been placed on top of waxed paper.
While the cake is baking prepare the glaze: In a medium bowl combine the powdered sugar and lime juice and mix until the sugar has dissolved, and the glaze is smooth with no sugar lumps.
Spoon the glaze over the cake in a pretty pattern. Place on a serving plate. Serve with a bowl of your favorite berries or fresh fruit and lemon curd or yogurt, if desired.
Advance Preparation: This may be made a day ahead, covered well and kept at room temperature.
Diane Rossen Worthington is an authority on new American cooking. She is the author of 18 cookbooks, including "Seriously Simple Parties," and a James Beard Award-winning radio show host. You can contact her at SeriouslySimple.com. Copyright 2021 Diane Rossen Worthington. Distributed by Tribune Content Agency, LLC.