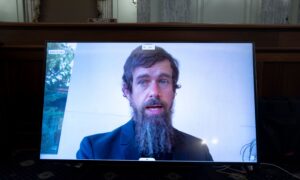 Twitter's stock dropped about 13 percent on Friday to $56.74 per share after the firm issued weak second-quarter guidance on revenue growth while its user numbers fell short of expectations.
The San Francisco-based tech giant said its average monetizable daily active users increased 20 percent year-over-year to 199 million. Some analysts had expected the number to exceed 200 million.
CFO Ned Segal said Twitter's results were a "solid start" to the year and said that app promotion and brand advertising increased.
"Advertisers continue to benefit from updated ad formats, improved measurement, and new brand safety controls, contributing to 32 percent year-over-year growth in ad revenue in [the first quarter]," he said in an earnings call.
Segal said that revenue growth was down in the United States was because of the COVID-19 pandemic.
"Remember COVID had a varied impact in different parts of the world at different times of the year," he said.
Meanwhile, CEO Jack Dorsey was asked about how large the U.S. market can grow for Twitter, saying he believes it could be "quite large," without elaborating. "Everything we're doing is around serving [the] two core jobs" providing topics to talk about and giving them a platform, Dorsey said, according to MarketWatch.
Revenue was $1.04 billion in the three months ending March 31, while net income was $68 million, according to a shareholder letter (pdf).
"We want to make it easier for people to find what they are looking for when they come to Twitter by better organizing content around Topics and Interests," according to the letter. "In Q1, we launched more than 700 new international Topics and deepened coverage in popular English categories like Food, Science, and Entertainment, to provide a more tailored experience. People can now choose from more than 7,000 Topics across nine languages to keep up with what's happening on Twitter."
Meanwhile, the firm said it has 6,100 total employees, up about 20 percent from a year ago.
There have been persistent fears among analysts that the company's move to suspend former President Donald Trump from the service earlier this year would hurt the company's growth as Trump would consistently draw engagement and controversy on the website.
In its shareholder letter, Twitter made no mention of Trump and did not address concerns about censorship. The company has drawn significant criticism—particularly among conservatives—that it has de-platformed users for merely expressing differing political viewpoints.
Recently, Twitter suspended Project Veritas, leading its founder James O'Keefe to file a defamation lawsuit against the social media platform.